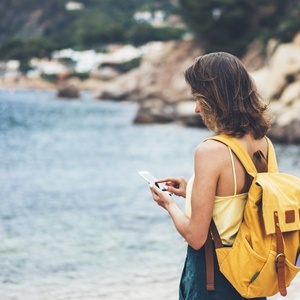 Students seek study help outside of hours.
In 2018, our universities collectively educated over 1 million students, reports Universities Australia. Our high volume of students, both international and domestic, contribute massively to the industry's yearly revenue of over $30 billion. In fact, enrolment of international students places education as Australia's third most valuable export, after iron ore and coal.
It's clear that the enrolment and engagement of students is vital to the high performance of Australia's education industry. So, it's important to understand what students need and how they think in order to offer the best outcomes.
With the growing trend of a consumer driven economy, student habits and expectations have more importance than ever before. When these expectations are met, educational outcomes improve for the students, alongside the reputation of education institutions.
The growing demand for on-demand
Technology is rapidly increasing the rate with which we can access what we want, when we want it.
Take, for example, the online streaming service Netflix. Use of the service in Australia has grown massively with numbers rising by just over 70 per cent between Q1 2016 and Q2 2017, according to Roy Morgan. Meanwhile, its free-to-air competitors have seen gradual declines in viewership, with Network 7 dropping by 2.3 per cent in an average seven days.
This, alongside the rise of other services such as Uber and online banking, suggests a growing desire in Australia to access products and services when it suits the consumer, rather than as dictated by business hours or program schedules.
Why is consumer culture important to universities?
Consumer habits are becoming intrinsically linked with student behaviours.
Students are more than just consumers - they're people who are there to be guided, nurtured and who will create a significant impact on the workforce of the future.
However, with the eldest members of Generation Z leaving school and entering high-level education, consumer habits are becoming intrinsically linked with student behaviours. Nielsen reports that Generation Z represents the largest segment of the consumer market at 26 per cent, meanwhile McCrindle forecasts that one in two of the next generation will hold university degrees. So, with consumers favouring on-demand services at the same time the largest consumer market enters university, are educational institutions prepared to provide what students need?
How can universities meet demand for effective online study help?
Lecturers can't always be available to provide immediate assistance to students 24/7. By extending study support with Studiosity, universities are able to provide personalised help at scale to its students on demand with a real Subject Specialist.
The service works in two ways:
Our Writing Feedback service, provides students with constructive formative feedback on their written work. This feedback is given by a qualified Subject Specialist on our team and provides students with constructive comments on core skills such as grammar and structure.
We also offer a Connect Live service, with which students can communicate directly with a specialist via chat, collaborative whiteboard and file sharing. Our specialists will work to support and guide your students towards uncovering answers for themselves, equipping them with the right methodology to tackle future problems. We employ specialists in a broad range of fields who are available late into the night, so your students will be able to get knowledgeable support when lecturers are unavailable.
Studiosity offers proven results. At James Cook University, we found that students who used our service earned a mean GPA 0.92 points higher than those who did not. Better still, there no negative impact on daytime academic support services provided by the university.
Read the studies below to find out more about the benefits Studiosity can bring to your university or school.
Lee, C.B, & Hanham, J. (2017, June). Evaluating the impact of online tutoring (Studiosity).
Lynch, A (2017, April) The JCU Learning Centre approach to enhancing student success and the role of the Studiosity service. Presentation at the Universities UK Conference for Excellence in Teaching and Learning, London.
National Centre for Student Equity in Higher Education, Curtin University (2017). Higher Education Participation and Partnerships Program: seven years on.
Studiosity National student survey (2018)
Studiosity Plagiarism Impact Study (2018). Conducted by Adjunct Professor Marcia Devlin, School of Education, RMIT; Dr Jade McKay, Senior Researcher, The Right Consulting Group; Mr Zhiwei (Jerry) Yang, Data Analyst - Predictive Modelling, Studiosity.