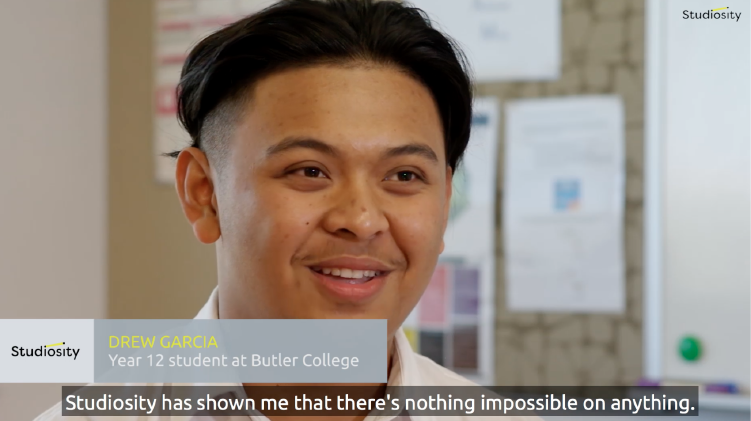 Christine Vinaviles tells us what it's like to work at Studiosity alongside studying a Bachelor of Software Engineering.
For Christine Vinaviles, putting what she learns at university into practice is invaluable. In her second year of studying a Bachelor of Software Engineering at UTS, Christine undertook a six-month internship, which she found so helpful that she decided to take her degree part-time and start working alongside it.
"Putting the theory of what I learn into a practical, hands-on experience has been so beneficial to me. It helps me with understanding concepts and accentuates why I chose my degree. University is hard, but I enjoy the practical part so much that it shows it's all worth it," says Christine.
Software Developing at Studiosity
Two years ago, Christine found Studiosity at a university careers hub, when the study-help platform was looking for a technical support officer. She applied and was delighted to have been offered the job, later moving into a software engineering role that involves using Ruby on Rails and liaising with product designers to update any changes to the service.
"I've always found it important to put what I learn at university into practical, hands-on experience."
Christine has shone both at Studiosity and in her university degree. In 2016, she was awarded the 'WiseTech Global Software Engineering Prize' for one of her university assignments, for which she received full marks. On top of this, Christine received a High Distinction for Software Architecture and Software Engineering Practice.
"Obviously university can be hard, but Studiosity are great at understanding this. They are super flexible and always give me days off if I need to study," says Christine. "The culture here is great and Studiosity has given me so many opportunities. There aren't many women in STEM subjects, however Studiosity is really supportive with it. They don't have gender quotas to fill, but instead hire based on skillset and work ethic, which in my view is the answer to getting more women in STEM careers."
Eventually, Christine would like to become a Solutions Architect, but in the meantime she looks forward to finishing her degree and hopefully working for Studiosity full-time. "I'd like to remain as a developer - I want to really understand the technical concepts and then be able to implement them. Refining my logic is important."
A two-way partnership
The team at Studiosity works hard to make the service we offer as relevant to current student life as possible. We've already identified that an online, on-demand service is what best fits with the current student lifestyle, and we want to ensure that we continue to be as relevant as possible.
"University is like swimming against a running river, it can get tiring and can be difficult; Studiosity is that bridge that helps you get to the other side."
Christine, as a current university student, is in a unique position to give Studiosity feedback on what life is like in higher education in Australia, and our product designers frequently ask her perspective on university.
"We've got a shared goal in that we both want to improve the university experience," says Christine. "I enjoy university, but it's a very independent life, much more so than I originally anticipated. It's not as immersive as it should be, and Studiosity is great because it fills that gap. University is like swimming against a running river, it can get tiring and can be difficult; Studiosity is that bridge that helps you get to the other side. "
Studiosity is proud to be able to support students through their time at university. Our service is all about helping people put the theory of what they're learning into practice, and being able to assist Christine do this with her work for us has been very rewarding.
To find out more about our online, on-demand study help platform, contact us today.