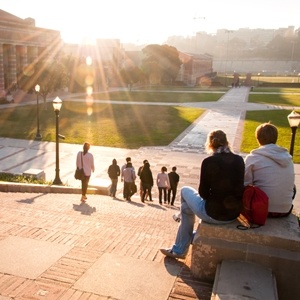 The student experience - it's a term that encompasses all aspects of student living, from academic studies to social interactions and campus life.
Why has the phrase become so important in the last few years? Because the number of people attending higher education has surged, and the amount they're paying to do so has increased even more. This means universities need to find ways of providing additional support to those who may not have been admitted to higher education previously.
In Australia, many students can pay over $30,000 a year for their study, with medical or veterinary degrees costing even more. With the government announcing a rise in fees of 7.5 per cent by 2021, the student experience is paramount for universities wanting to differentiate themselves from competitors.
University attendance is growing, as are fees, so the student experience is coming into focus.
What have students come to expect?
Universities worldwide have conducted a range of studies to find out exactly what it is that students expect of their higher education experience. The quality of and access to academic teaching scores highly in all of these.
92 per cent of respondents to a University of Adelaide study said feedback on drafts of their work is important to learning.
For example, a University of Adelaide study into student expectations found 87 per cent of students believed having "ready access" to lecturers and tutors outside of face-to-face teaching is important to their success. Almost all (92 per cent) said feedback on drafts of their work is important to learning.
International students were much more likely to agree with this last statement, perhaps reflecting difficulties with English as a foreign language, as well as the increased fees they have to pay. Higher fees mean there's more pressure to pass, as well as more expectations about what they're going to get for their money.
With the education of international students bringing in $20.3 billion in 2016, according to Universities Australia, it's essential that universities are able to meet their expectations to stay afloat.
How to meet students' ever-growing demands
Lecturers have their own research and publication commitments, and the growing number of students means it's often near-impossible for them to deliver the ready access mentioned by the respondents to the University of Adelaide study.
Key to "ready access" is flexibility, which already abounds in students' personal lives.
This is especially the case as key to this access is flexibility, which already abounds in students' personal lives. They are no longer tied to the TV schedule, for example, but instead can watch Netflix at their own convenience. Students have begun to expect the same level of flexibility in their access to learning.
Digital study-help platforms such as Studiosity will go a long way in meeting expectations and improving the student experience. Our subject specialists deliver on-demand help, no matter the time, on a range of academic literacy skills and core subject support.
Rather than replacing any expertise and support by lecturers, Studiosity delivers the essential, core skills support that lecturers' time constraints mean they are unable to give themselves. This includes formative writing feedback on drafts, and working with students in an interactive classroom to help them understand a particular process or solution to a problem.
An examination into the effectiveness of Studiosity at the University of Macquarie found that teaching staff were very positive about the platform: "While teachers still had to give the same amount of feedback to students, marking assignments was easier as submissions were easier to read."
On average, students who utilise Studiosity receive 15 per cent higher marks when compared to those operating in the same performance band who don't use the service. For accessibility, to help meet regulatory frameworks, and for student equity, it's the Australian standard - if you still need to start, get the information you need, here.