'Ding' goes your phone, telling you it's time for a meeting - and 'MUUUUM!' wails your 4-year-old, for about the 17th time that minute. You swallow your exasperation and calmly say "yes?" to your child, while glancing anxiously at your laptop. How are you going to do this? HOW!?
There are so many parents for whom this is par for the course - diligently getting work or study done while also managing family life from the home. Even within our head office we have quite a few working-from-home parents - so we asked around, and complied all their best advice, hacks, and tips for you here.
Set up routines and schedules, but stay flexible
If your partner is home too, organise your calendars at the start of each day so someone can look after your kids while the other is on a call or in an online meeting. Try to spread them out, so you each have a couple of hours uninterrupted where you can focus and be present in meetings.

Alternatively, whoever is taking on a bigger chunk of the care during the week could get uninterrupted time on the weekend to catch up/get ahead.

Have a timetable which is broken up into things you do with them and things they do themselves. Have that timetable somewhere they can see it and talk to them about it.

Be flexible with your work hours where possible - speak to your workplace about doing flexible hours. Sometimes it's easier to get smaller tasks done during the day, and get the focus work or study done when they're sleeping. We're all in this boat together right now, and if that means you'll get more done, then it's a win-win.
Be strategic with activities and timing
Each evening, break your to-do list for the following day into TINY chunks. Continue with this when things come in throughout the day - that way you can get some easy wins in, tick things off your list without feeling too stressed about incessant interruptions.
Try to get as much as you can done earlier in the day. It may seem better to tire the kids out and then work, but according to a seasoned expert, it's not. And I quote: "The wheels come off after 1pm". So, you can use up your screen time in the morning and then entertain the kids yourself in the afternoon.
If you can, ensure they engage with only one activity at a time and then pack this away before moving on to the next (this will save your sanity not having to help them pack it ALL away after you've worked a full day).
Mix up your activity ideas
There are TONS of online resources and ideas for kids activities, for all ages. Get googling.
Be sure to get some outside time every day if you can, go for a walk down the street, let your kids play in your garden if you have one. The fresh air will be good for everyone!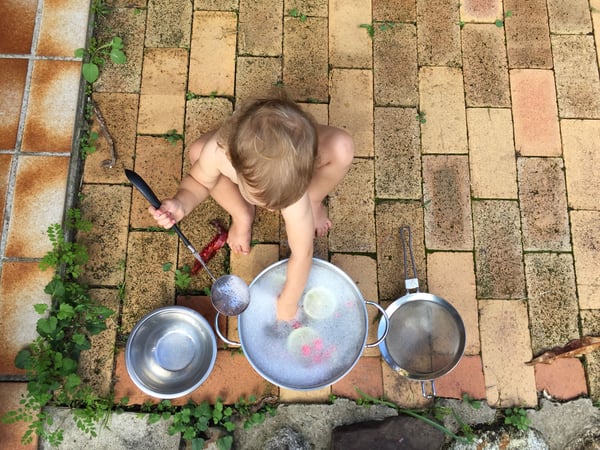 For younger kids: plan some NOISY time. For example, for 20 minutes, have a loud dance party with the speakers in the living room, and make a video. Let them play "drums" on pots and pans or cardboard boxes, let them sing on the porch to their heart's content. This will help expel some energy, give them some creative time and then you can have some quiet time and plan important thinking time or phone calls.
For older kids: give them complex situations and ask them to do group projects to work on with their friends online and in group chats. Give real-world problems to engage with: how would you get accurate information to people in a situation like this? How would you get needed supplies to hospitals in a situation like this? How would you like to be taught, if it weren't in a school? What would be some positive outcomes of people staying at home for a while, and how could that affect our planet?
Clever tips for attending online meetings or lectures
Plan your conference calls and meetings while on a neighbourhood walk, if your little one is in a pram.
Have special activities for meetings - and get the kids to choose or create these activities.
Save screen time for when you have meetings or lectures scheduled - you'll have less chance of getting 'mummed' every five minutes. Also, make sure you give them food before a meeting… otherwise you can guarantee they'll be starving to death five minutes into your hour-long call.
Wear headphones for meetings (as soon as the kids hear someone, they'll want to talk to them!)
Screen time is OK
Don't beat yourself up if your child is getting a little more screen time than usual right now (within reason). You can still make screen time interactive and useful, too, with educational apps and games (or how about a virtual excursion / field trip?) As Scott Goldstein, an instructor of clinical paediatrics at the Northwestern University School of Medicine, said - "It's not the time, it's what you're doing with the time."
Ensure their safety and security (even when you're a little distracted)
Have a dedicated snack cupboard/space for them to get their own from when they're hungry, and include their plates/cups so they can do it all themselves.
If your child sometimes struggles with independent play, one mum recommends spending 5-10 minutes playing WITH them, then stepping back.
If they're old enough, have your child shower instead of bath. Then you can fold laundry or get other chores done nearby, without worrying about them (also, request your child sings you a song while you do this so you can hear that they're ok!)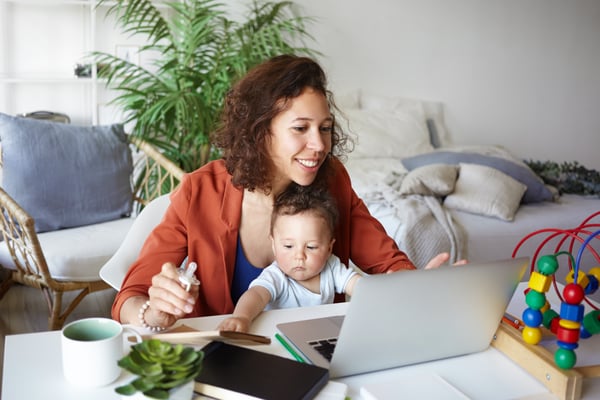 Last, but not least, your kids need to know that everything is going to be ok. They are likely picking up on the stress and tension of this situation, and we can all expect increased behavioural issues - which is very normal and expected under these circumstances. They will need comfort and love, so whenever you can, do something nice with them; have a laugh, play a game, snuggle up and read a book, and tell them that everything is going to be alright.
And hey - when the going gets tough, at least we don't have it as hard as Justin Trudeau - who is trying to run a whole country and take care of three kids right now - from home. 😬
---
See also: incredible student and mum Naomi gives her tips on studying and parenting, our Specialist Mentor Stacey talks about managing work and learning as a single parent, and for a bit of inspiration don't forget to watch our interview with Litia, mother of EIGHT, where she says "if I can do it, anyone can."
Got any tips of your own, for studying or working from home with kids at home? We'd love to hear them - reach out to us on hello@studiosity.com, or tag us on Instagram @studiosity.