We shouldn't need a specific day of the year to appreciate the incredible work of teachers, but in any case it's nice that the entire world can come together for this purpose annually! UNESCO's World Teachers' Day is this Saturday, 5 October, and this year, the theme is Young Teachers: The future of the Profession.
We reached out to one of our amazing student users, Tegan, to tell us her thoughts as she is currently in the middle of her Bachelor of Education (Primary/Early Childhood) degree, studying online with Southern Cross University. With the teaching profession so regularly discussed in public discourse, but often undervalued or underestimated, we wanted to get more of a sense of what students studying teaching really think about the 'future of the profession'.
Like many students, Tegan has returned to study as a career change, and undertakes her degree completely online, fitting it around her busy work, family, and home life.

Because 'every child deserves a champion'
Education is really important to me because growing up I was taught by incredibly talented teachers who are passionate about their jobs and I realised, I want that. I'm also a big fan of Rita Pierson and like her, I believe every child deserves a champion, someone who won't give up on them and expects the best from them. I want to be that champion.
Because a good teacher can have a lifelong impact
I'm consistently inspired by my mum, who after 35-ish years of high school teaching is still so passionate about the kids she teaches. I've also got friends who have inspired me along the way, plus my grade 6 teacher Mrs Harmer, whose kindness and drive to ensure that I succeeded is still fresh in my memory - she even sent me a card when I finished grade 12! On top of that, I currently work as a teacher aide in a special education unit at our local school. I am consistently inspired by some of the teachers within our unit and school. They aren't just great educators, they really care for these kids. I'm consistently in awe of them.
Because it's never too late to chase your dream
As I mentioned, I have been working as a teacher aide in our rural school, and after a year working closely with some really inspiring teachers, particularly our
Heads of Special Education Services (
HOSES), the special education teachers and some amazing classroom teachers, I knew it was time to have a midlife crisis and enrol back to uni! I wanted to better myself, not just for me, but to show my kids it's never to late to chase that dream.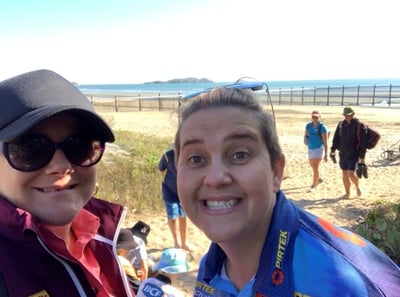 Tegan on the left, at a grade 5 camp with students & the Heads of Special Education Services
Because learning is hard, but worth it
The teaching course has been very
different from what I expected
. I thought, given I've been a teacher aide for so many years and I've been in so many classrooms, it would be a breeze! It wasn't, I realised very quickly there is SO much more to teaching than meets the eye. I've also learnt a lot about myself personally, and how important it is to
manage my time efficiently
!!
If you're thinking about studying to become a teacher, my advice would be do it - but do it wisely. Use the facilities the uni offers you (like Studiosity!), to help you succeed, and enjoy it!
Because you can work with your local community
After I graduate, I'd love to work at our local primary school and then transition to special education. I've got a passion for helping those who might need a little bit of extra help.
Because the future can be shaped now
Looking ahead 10 years, I think the use of technology will be well embedded within the classroom. With technology I hope it brings about a more individualised curriculum that meets the needs of every student at every level - no two students learn the same, so if we can
use technology to engage every learner
I think that will be a win! I would also love to see schools go back to a play-based pedagogy!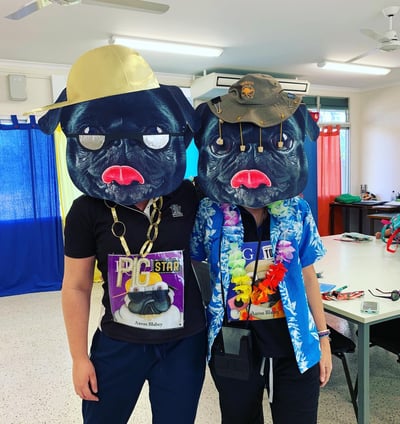 Dressed up for Book Week recently. :)