"How's uni going?"
That's the first question I'm asked when I run into old teachers, friends, and family. And even though I'm studying the majors I dreamed of, I find myself telling them that I really dislike uni and kind of wish I could go back to high school. As someone who struggled to manage stress and social drama in high school, as someone who couldn't wait to leave, this shocks people.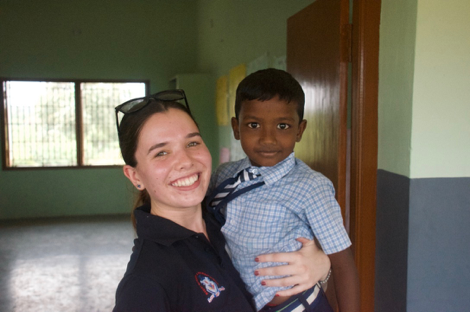 Me on a high school immersion trip in 2017, assisting at a local primary school in Trichy, India
Uni life: Expectations vs Reality
University is isolating. I thought I'd have a close-knit circle of friends by now and we'd be navigating the late-night study sessions and endless note-taking together. In reality, it's hard to make new friends when every time you step into a lecture hall, you barely recognise anyone; there are seemingly 500 new faces every new day, all looking at their laptops and phones (me too).
You're too busy to enjoy it, or always on a bus. Even in tutorials where you work in smaller groups, conversations can feel awkward and forced, especially when the tutor is making you introduce yourself. So far, the only new friends I've made have been from a group project, and even then, I don't see them outside of uni time as our schedules are all jam-packed with work and study, and we all have long commutes home to different parts of Sydney.
It's hard to get advice. I've only had a few uni assignments, and the instructions are vague. In high school, you were given marking criteria and detailed instructions for what to do, and you could also ask your teacher to look over a draft or clarify any questions you had. I'll keep looking. I also haven't received any marks or grades yet. So it's very hard to tell if I'm actually doing well or not. But I'm still searching for different people and ways to get help, so this might get better in time.
This is all understandable - it's uni, not high school. It shouldn't be the same. But universities have new worlds of information, resources, and people to learn from, and it feels like sometimes it's all set up to block attempts to start exploring or asking or being part of it all.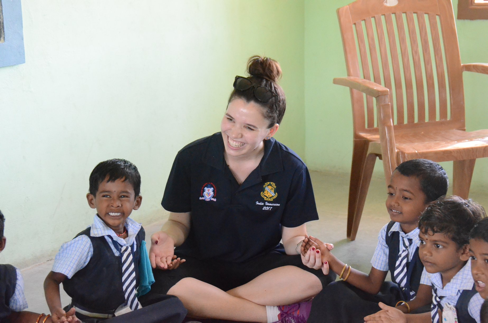 Me with some delightful students on a high school immersion trip in 2017, assisting at a local primary school in Trichy, India
How did I get here? My university choice, and why
I'm studying a Bachelor of Science combined with a Bachelor of Advanced Studies. I chose to study at this particular uni because I always thought going to a prestigious university was very important. It's not, I wish I chose a uni that's closer to home so I wouldn't have such a long commute.
However, it's great that I am able to study both nutrition and food science in a four year degree though, which as far as I know isn't offered anywhere else. This is important to me as I couldn't decide between the two when I finished school.
What would I have done differently? Back myself more. I didn't think I would get the required ATAR to get into the course I wanted at another university. I did! But I didn't add it as a preference, so missed out. So year 12 students, have faith and take the chance on what you really want.
Staying proactive and looking ahead
Some people say that high school is the best time of your life. Others, like my mother, say that this is absolute rubbish and that the real world is full of exciting new experiences beyond 'mean girls' and cramming for subjects the night before every exam. In my final year of school, I found myself in agreement with my mother. I found high school, and specifically year 12, very mentally draining and stressful.
Despite this, I recently told my younger brother to make the most of his remaining time in high school. Now at uni, I miss talking with people, seeing friends, talking about assignments and ideas. The teachers also seemed to really care about my academic success, and I always knew where they were when I needed help.
As a first year student, I don't have a lot of academic freedom right now - there's a lot of stats and maths that I thought I'd be done with when I finished year 12. However, I know that as I approach my final year of university study I'll be able to complete more of my own research projects based on my own ideas, which genuinely excites me.
Despite everything, I know it's early days and I'm sure I'll grow to love university. And besides, university shouldn't be just like school, it's meant to be new and different, so I'm staying optimistic. When I finish my degree, I'd like to travel overseas for a year or so before completing further study or beginning full time work.
My advice (from my first six weeks!): Persevere, look for help, ask for it, even if it's hard to find. Make the most of your commutes with online study and resources. It can be hard not being as social as you'd like, but try not to miss out completely! I'll tell you how I go...
Danielle is a guest blogger for Studiosity, and a student at a Sydney-based university, in her first year of Food Nutrition / Food Science, in a combined Science / Advanced Studies degree.
Feeling stressed about study?
Breathe. Anytime, anywhere, online study support is free thanks to your university, here: