The way that 2020 transformed the higher education landscape affected all aspects of university life, and not in the least the lives of university staff and faculty, and the way they teach.
Professor Chris Tisdell, as well as being one of Studiosity's Academic Advisory Board members, is a Professor of Mathematics and Mathematics Education at UNSW. He's also a champion of education, particularly digital education, a YouTube star and a DJ.
I spoke with Prof Tisdell recently, as part of the Symposium session "Staff in mind: creating a new normal for university staff wellbeing", about what 2020 was like, from a staff perspective, and how he sees the future of higher education as we navigate the 'new normal'.
Universities are still reeling from 2020
Our universities have had a really big, monumental challenge. They had to transition to fully online almost overnight. And most universities are neither agile, nor nimble. A lot of universities have seen a huge growth in overseas student enrolments over the last 20 years, and that bubble burst last year. So it was almost a double-whammy: suddenly universities were forced to get out of their comfort zone and go digital, and their revenue streams decreased massively.
At the macro and micro levels, people on the ground have seen their colleagues under severe stress, severe pressure through job losses and a whole contraction across the sector. Whether that's redundancies or disestablishment of positions, a lot of people are very stressed out, not only for job security, but also you've got that 'survivor syndrome' as well. You feel guilt if you're one of the people who survive the cuts. And then there's huge workload challenges - you may not be teaching as many students face to face, but you're still teaching a lot of students. So how do you navigate and manage these sorts of resourcing issues?
"One thing that I've been super impressed with is the camaraderie between staff."
One thing that I've been super impressed with is the camaraderie between staff because many, many staff have been out of their depths and in this totally new environment. And I've seen a lot of my colleagues helping each other. And that's amazing, that's one of the really amazing things to come out of this is terrible pandemic.
We don't have all the answers yet
Some of the specific challenges that we've seen on the ground have been things like, teaching in different time zones. How do you teach a live stream class when it's the middle of the night on the other side of the world? How do you get interaction between students in your classes when you pretty much only see names on a screen, you don't actually see faces, and many students are quite hesitant to speak or even turn their cameras on? How can you get that community going? Another of the huge challenges we've seen is with assessment. How do you ensure academic integrity? How do you ensure that the person who is supposed to be taking the assessment really is doing it? And what's the balance between online invigilation and academic integrity? These are huge issues that that haven't been worked out yet. We're still working through them.
There is no 'back to normal' - online isn't going away
Staff have really had a shock. And the more time we're in this state, the more real and the more normal it's going to seem. I think a lot of staff are waiting to get back to normal. They can't wait to get back to the face to face classes and and kill all online stuff because they don't really believe in it. I think that's very dangerous in my personal opinion.
"A lot of staff are waiting to get 'back to normal'... I think that's very dangerous in my personal opinion."
What I think would be useful is if we can all learn from this experience and keep going with the things that we think are effective or have potential into the future. There are so many factors at play, I don't think we can really predict what's going to happen in the future. But I think we're much more ready than we were two years ago, when online teaching was still probably on the fringe - and now it's more dominant than probably in the history of humanity.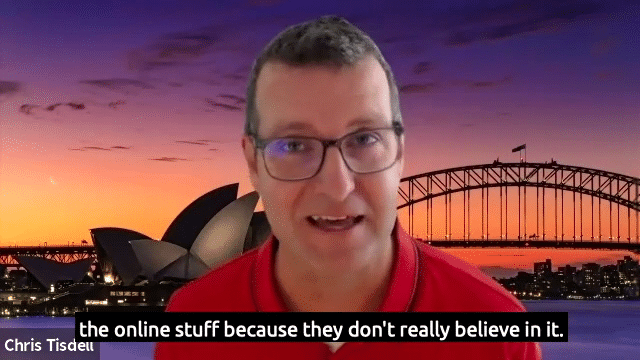 The big opportunity for future-proofing higher education
In hindsight, really, we should have been pushing and up-skilling and cross-skilling staff members much earlier, for the online and digital experience. I feel like we wasted the last 20 years or so. But I mean, hindsight's a great thing. It has always been a challenge to even get some staff and some decision makers interested in online education because they didn't necessarily see the need for it. Well, the pandemic comes along and there's no choice.
So moving forward, how can we build on on what we've learnt in the last year, and how can we ensure there's this capacity pipeline moving forward with staff? Of course, these raise other questions like what kinds of online learning work best and for who? How can you really foster a sense of learning communities? What can staff do to get those interactions and that active learning between students who are in different parts of the world, different time zones?
We don't have all the answers yet, but I'm excited about the future of digital education. I just wish we didn't have to go through this terrible pandemic to get that change.
Further reading
>> Personalisation, feedback, and flexibility - the keys to learning online

>> See all previous Students First Symposium session recordings