In an effort to extract and amplify the expansive wisdom of our Academic Advisory Board, we've been dialling in to their 'isolation stations' and asking these higher education oracles how they see the impact of COVID-19 playing out across the sector, and what advice they have for education leaders at this time.
---
Professor Chris Tisdell is Director, Scientia Education Academy, UNSW, and was previously Associate Dean of UNSW's Faculty of Science. Chris has created more than 500 free YouTube university-level maths videos, attracting over 15 million views. He is a mathematician, educator, author and former DJ, driven by a mission for free and flexible education and universal access for all students to maths education.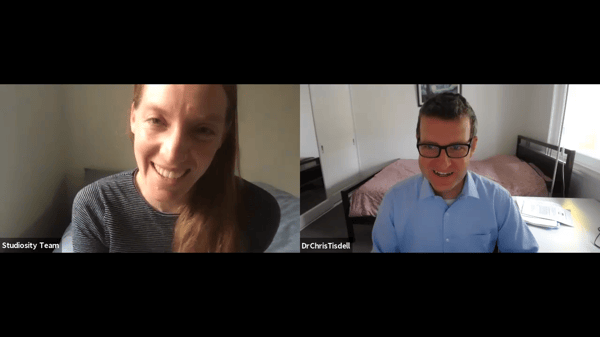 Studiosity: How is the current situation impacting students' learning?
Chris: What we're going through now is obviously a big challenge, that has come on quickly and at a huge scale. People have had to quickly change how they're learning; at home rather than at universities or in schools. One of the challenges that I can see in in this environment is the isolation that people are going through (I think a lot of people have talked about this). Students aren't learning face to face as a community in institutions. How can we best form learning communities in this digital world? To me, that's a really huge challenge, a really interesting angle. In one sense, we're apart, but also we want to be educationally and otherwise together. So how can we do that?
"In one sense, we're apart, but also we want to be educationally and otherwise together."
Studiosity: You are a well-seasoned YouTube content creator. What advice do you have for educators moving their teaching online?
Chris: So for me, it's not letting the perfect be the enemy of the good. I think if teachers, tutors, and educational providers are too worried about being perfect, that can actually be a huge disadvantage for moving online. Teaching is a work in progress. Even traditional, face-to-face teaching is a work in progress. We've been doing it for thousands of years, but we still really haven't got it right. So my key take-home for teaching online is to 'have a go'. Have a go. For teachers, your students will definitely appreciate your efforts. It won't be perfect, but nothing is. For students, definitely have a go at learning online. Build those communities, those digital communities of learning, and explore.
"...So my key take-home for teaching online is to 'have a go'."
What is your advice to educators moving their content online?
From digital innovator and YouTube star Dr Chris Tisdell.
Studiosity: What advice or tips do you have for students, when it comes to studying online, or studying from home?
Chris: Confidence can be a big thing here. Sometimes we all feel like we can't do something, or we don't believe we can. They way to build confidence is by having some positive experiences, and increasing your experiences in the online environment. Confidence is very, very key. The second thing is that you will require help. We all need support in this digital, isolated world that we live in at the moment. So don't be afraid to seek help and to ask for help, and to consider accepting help when people offer it to you. We're all in this together and you're not alone.
Studiosity: What about resources? Are there any particularly good apps or websites that you're aware of that help students with studying online?
Chris: Studiosity is a good one, obviously.
Studiosity: Your own series on YouTube is quite good as well. :)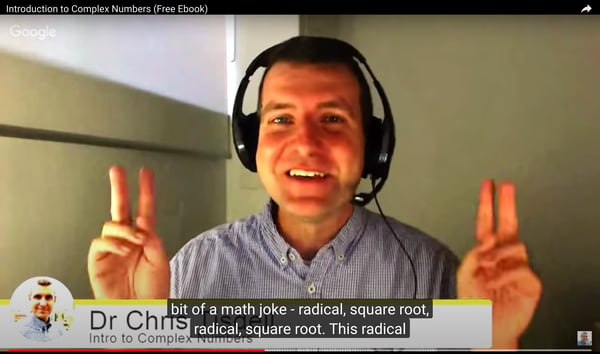 Chris: There are lots of different resources out there. What I would recommend is looking for resources that are personal, so they can be adapted to individual learning habits or preferences. Resources that offer some sort of feedback and close the loop. So you're not just passively watching something and then nothing happens. Also, thankfully with a lot of digital resources, they're available when you want them. I think that's really important, too. Whether it's 11 o'clock at night, or if you're an early riser as a student and want to start work at 7:30 in the morning, you've got that flexibility. So personalisation, feedback and flexibility, they're the key things in that that I would recommend for students looking at learning platforms.
"Personalisation, feedback, and flexibility, they're the key things in that that I would recommend for students looking at learning platforms."
Also, I think students should work with what's meaningful to them. Everybody is an individual and everybody learns a little bit differently. What works for you might not work for your friend or your classmates or your neighbour. So try to work out what works for you in a learning environment and pursue that.
Studiosity: How will COVID-19 and all of the changes occurring as a result of it affect the higher education industry, in the future? Do you think there'll be any resonating impact beyond the next year?
Chris: I think this will fundamentally change the way that we learn, and teach, and live. As you mentioned earlier, I've been working in the online space for a long time, as I know Studiosity has as well. What it looks like to me is that this global pandemic has kind of forced everybody to rethink how they learn and how they teach and how they live. 50 years from now, who knows? But I'm sure in 10 years we're going to look back & think, what did I do during that shut down? How did it change us? We'll rethink the way we learn. We will rethink the way we teach. And we'll rethink the way that we work and live, in new and digital and more flexible ways.