In Geoffrey Moore's seminal book 'Crossing the Chasm' he powerfully describes the adoption of new technology products by different user groups, and the "chasm" that exists between early adopters and the pragmatists that form the early majority.

While attending this week's Universities Australia conference I was encouraged to see that many higher education executives have moved past a begrudging acceptance that our traditional university model must change.

The majority is now actively seeking to define how their institutions' unique strengths can be effectively translated into blended models that magnify the benefits of the on-campus experience alongside complementary emerging technologies.

There is one topic that I believe warranted further discussion, and that is the close association between the dramatic savings that can be achieved using new technologies, coupled with the desire of government and students to reduce the cost of higher education.

One of the major costs of delivering the on-campus experience is of course the capital expenditure and ongoing expense associated with physical buildings, the need for which is significantly reduced in our increasingly online world.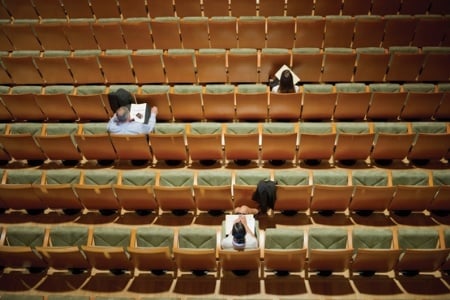 Image: A near empty lecture hall Source: timeshighereducation.co.uk
To provide some perspective, one fairly typical large university in our southern states incurred 17% of their annual expenses in 2013 on building depreciation and maintenance, at a cost of $94m. In the same year, another institution in NSW saw 15% of total expenses related to physical asset maintenance, depreciation and disposal at a cost of $101m.
Whilst I'm not proposing that our universities undertake indiscriminate and wholesale asset disposal programs, I do see an opportunity to accelerate the reduction of fixed operating costs associated with unnecessarily large campuses, in favour of more nimble balance sheets and programs best able to meet the rapidly evolving needs of students seeking greater access to online learning solutions.
Lightening the millstone of fixed asset expenses would surely reduce universities' budget pressures and drive the efficiencies necessary to compete both locally and internationally, whilst also supporting the government's and students' desire to maintain sensible costs in the higher education sector.
To quote Dr Michael Crow, President of Arizona State University "Adopting the right learning technologies has forever changed the trajectory of our university."