When a student gets one-to-one help, they do better. And all students deserve one-to-one help, anytime, anywhere. CQUniversity's Chris Veraa brought enough data - three years worth - to share with 33 other universities in the room at our annual Symposium, about the correlation between Studiosity support and student outcomes.
In 2017, 2018, and 2019, CQUniversity offered 24/7 student support powered by Studiosity. They measured retention, academic success, and rates of unit failure. The review also included students' anecdotal feedback compared to academic outcomes.
What were the outcomes? CQUniversity Studiosity users, on average have a 16.45% higher rate of retention than the cohort. The data looks like this: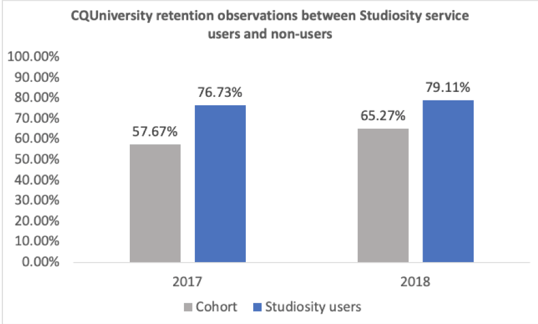 Chris reminded the room that the observations were early signs and were a correlation only:
Interesting #disclaimer from @chrisveraa at #Studentsfirst2019 "I'm but a humble professional staff member" - we ignore the expertise, insight, and scholarly activities of our professional staff to our students peril pic.twitter.com/nVX0G9qb0k

— Jennifer Lawrence (@JennyALawrence) July 25, 2019
From: Online academic support & student retention: Early signs of a positive correlation at CQUniversity, presented by Chris Veraa, Director of Student Experience at CQUniversity, at the 'Students First 2019' Studiosity Symposium
So why does student support correlate with retention?
More measurement and research is needed, as Chris pointed out.
Retention is a critical figure for universities measuring ROI on support services - and it is of course tricky to put a price on a quality, meaningful educational experience.
For now, a few phenomena are known:
Firstly, Studiosity users report being more confident after getting help, and student confidence (self-efficacy) can account for academic outcomes (Lee & Hanham, 2017).
Secondly, it appears that Studiosity users achieve a higher GPA compared to peers, even in their own performance bands, as shown in a James Cook University study (Lynch, 2017). CQUniversity's own data analysis saw that Studiosity users, on average, experience 21.7% less unit failure than the cohort.
So, it's still correlation, but a pattern emerges.
One-to-one support → Confidence → Grades → Retention
Studiosity improves students' self-reported confidence and academic performance. Is this a driver behind perceived improvements in retention amongst Studiosity users?
Personal, timely, online support is one piece of the whole student support structure at universities - albeit an increasingly critical and expected piece - both for students and the governing bodies watching those student-driven metrics.
For right now, the very act of analysis and discussion has been inherently worthwhile, normalising the idea that student services are worth measuring.
For Chris Veraa's full presentation at 'Students First' 2019, find the slides right here:
Many thanks again to Chris Veraa, Director Student Experience, and CQUniversity staff, for their time and advice at 'Students First 2019'.
>> Missed 'Students First'? Catch up here.
References:
Lee, C.B, & Hanham, J. (2017, May). Interim Report No.2 - Evaluating the impact of online
tutoring (Studiosity). Available at studiosity.com/case-study-wsu

Lynch, A. (2017, March 29). The JCU Trial of Studiosity. Data presented at Universities UK
Innovation and Excellence in Teaching and Learning Conference, London. Available at
studiosity.com/case-study-jcu-and-studiosity