Did you miss Day One of 'Students First 2019?' It's ok, catch up with these highlights.

What's different this year:
A 280% increase in delegate registrations. It threw us a little, but the reward of having 86% of Australian universities participating made it well worth the effort. It was also the first time the event was hosted in Melbourne (many, many thanks to La Trobe!)
What's the same:
Educators and leaders from the higher education sector, getting together to prioritise action for a better student experience.
Here's what happened.
Listen to your students
Professor Jessica Vanderlelie - La Trobe's Pro Vice-Chancellor Student Success - is one of Australia's most dedicated drivers of the student experience. Which makes it even more appropriate that she welcomed 'Students First 2019' delegates this year.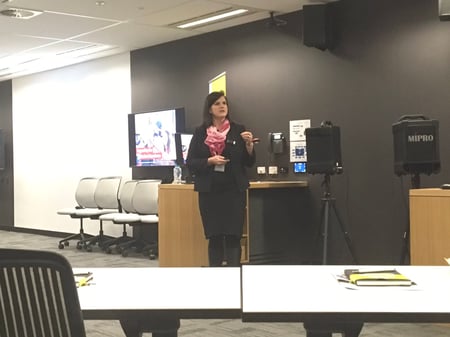 With a persistent theme of practical, progressive, student-led action, Jessica talked about student health and stress as reasons for dropout, which would foreshadow Keynote Professor Pat McGorry's sobering plea for mental health change. Meanwhile, hearing that 9% of students leave university for "administrative reasons" left some of the room amazed.
We heard that universities could learn from Kodak, and need to change a model that otherwise hasn't changed in centuries. Partnerships with academics, with students, and with industry are key to effective, innovative change that adds value to the university.

Listening to students is a critical part of driving effective change. Jessica described La Trobe University's initiatives to put student feedback at the centre, including highly segmented and targeted communications to student groups.
With Studiosity in place for two full semesters at La Trobe:
70% of Studiosity users felt they'll get a higher grade

81% of Studiosity users felt more confident

Studiosity users were 44% more likely to stay enrolled

58% of Studiosity users find it more helpful than other support services
Interesting comment at @studiosity #studentsfirst2019- students are valuing help from @studiosity more than help from academic staff, but we shouldn't shout that from the rooftops - why not? If there are things we can learn from or change we should do that

— Jennifer Lawrence (@JennyALawrence) July 25, 2019
Outcomes: Students value career prospects, and La Trobe's Career Ready Advantage program helps develop career readiness; there is a correlation with Studiosity use and positive student outcomes

Recommended action: Prioritise innovative change; listen to students, target your communications, partner with academics, students, and industry; measure your Studiosity service.
Studiosity's CEO reveals a personal ambition for universal, one-to-one, early intervention
Setting the scene in 'The future of student support,' Studiosity's CEO, Mike Larsen, described the reality of the accelerating transformation of the global education sector that's being driven by students and increasing student numbers. Mike described the company's own mission for transparency, reminding the educators in the room that they are partners on this journey.
With the room already nodding in agreement, Mike won them over again with photos of his young son, sharing his family's and son's journey with autism therapy. Universal access to at-scale, early intervention made all the difference to his son and his family. The parable was a fitting introduction to Professor McGorry's Keynote presentation on scalable, early intervention.
Outcomes: The sector is moving too quickly, and there are too many new students, to do nothing.

Recommended action: The sector needs to prioritise accessible, one-to-one, early intervention to ensure student wellbeing.
The opportunity and waste of human potential: Managing the mental health of tertiary students
Professor Pat McGorry, Executive Director of Orygen, and Professor of Youth Mental Health at the University of Melbourne stepped up, and all eyes and ears were on the former Australian of the Year.
The discussions that followed summarise the sentiment best:
Keynote speaker Prof. Patrick McGorry has the audience rapt. The cost of mental ill health to society is enormous. We need to provide personal support at scale for people through their 20's who are most likely to suffer. @studiosity #studentsfirst2019

— Jack Goodman (@jackaroo2000) July 25, 2019
Fascinating look at the patterns of disease across our lifetimes, with the comment from Patrick McGorry that we have children's hospitals to address that early spike, but not young adult mental health hospitals.. #studentsfirst2019 pic.twitter.com/ZumhxzZq0p

— Jennifer Lawrence (@JennyALawrence) July 25, 2019
Session on the cost of mental illness and an economic argument on why we should be investing in treatment for uni students #studentsfirst2019 @studiosity pic.twitter.com/YZdM3zPAVu

— The PIE News (@ThePIENews) July 25, 2019
@PatMcGorry @orygen_aus
The youth mental health brain issue
How to help young people? Inconvenience & timing of interventions, which are ailored to young people.
How to build the 'missing middle" of lifespan health care.#studentsfirst2019 pic.twitter.com/92kuITTjs2

— Sally Kift (@KiftSally) July 25, 2019
Pat also talked about better curriculum design as part of the solution, to reduce pressure on students. International students in particular were highlighted - not only for the academic pressure they face, but because some cultures are also less inclined to talk about mental health. Staff wellbeing was also described as part of the solution for student wellbeing.
.@KiftSally asks about a whole of university approach given they've been labelled "anxiety machines": staff mental health also an important consideration alongside student mental health #studentsfirst2019

— Megan Pozzi (@megan_pozzi) July 25, 2019
Outcomes: Students are a source of mental wealth; they need investment by society.

Recommended action: The Australian University Mental Health Framework Project provides universities with guidelines and standards conducive to good mental health and wellbeing. Also, improved curriculum design, staff professional development, and duty of care to international students.
National - and international - observations on student wellbeing
Symposium Chair and Studiosity Chief Academic Officer, Professor Judyth Sachs, thoughtfully brought the morning's themes together, as well as sharing results from this year's 2019 National Student Wellbeing Survey. Students feel a sense of isolation - how can universities reduce anxiety? Students want a greater sense of belonging - how can peer-to-peer services be extended? Can student wellbeing be improved by putting students at the centre of the university model - should students be recognised as customers?
Judyth then gave the room some homework, sharing the UK resource "What Works Wellbeing Centre," a resource that prioritises evidence and action to improve student mental health, before sending us all off to lunch.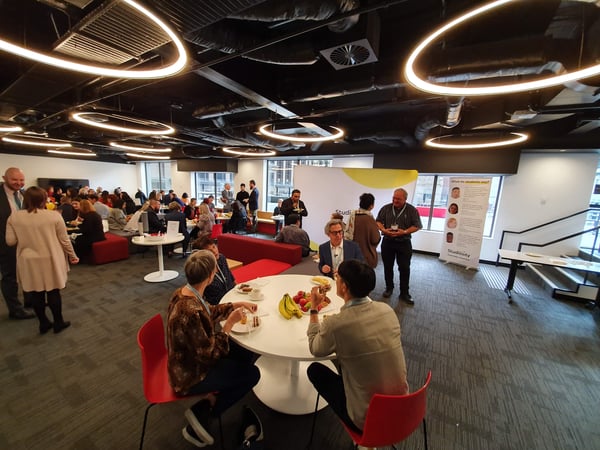 Feedback and cheating: The case for evidence-based action (or drones over exam centres?)
We are in the midst of cheating panic and some responses aren't evidence based, explains Associate Professor Phillip Dawson, Keynote, and Associate Director of the Centre for Research in Assessment and Digital Learning (CRADLE) at Deakin University. Phill asked the room to consider - what if we let important cheating regulation carry out its function, without detracting from productive student feedback processes?
@CRADLEdeakin @phillipdawson
Contract cheating: the moral panic
Extreme responses?
1. Sit in field in ur underpants
2. MCQ
3. Drones over exam centres
4. Shut down whole country's internet#studentsfirst2019 pic.twitter.com/NPMuft6qi5

— Sally Kift (@KiftSally) July 25, 2019
Also knowing a few things about getting the room's attention, Phill led with a shocking few revelations.
@CRADLEdeakin @phillipdawson moral panic on contract cheating may lead to "assessment conservatism", when v limited evidence that any of these work.
Or we can lock up your dog and Mum w CC legislation
[PS: Phil self-assesses 2nd slide as "quality joke"]
is #studentsfirst2019 pic.twitter.com/awGYo1aRlg

— Sally Kift (@KiftSally) July 25, 2019
Gasp! @phillipdawson admits he and the team at CRADLE have purchased from contract cheating sites. Here's what they found: "You don't always get what you pay for: User experiences of engaging with contract cheating sites" https://t.co/9yW9dc9mXs #studentsfirst2019

— Megan Pozzi (@megan_pozzi) July 25, 2019
Polling the room, Phill asked:
Comment from the floor #studentsfirst2019 on #2 - some areas would see that as cheating. Seems an eg of disconnect between Uni and Real World - in my real world job (at a uni) I habitually ask colleagues for feedback on documents/emails/etc I write https://t.co/JnOcrQy5AR

— Jennifer Lawrence (@JennyALawrence) July 25, 2019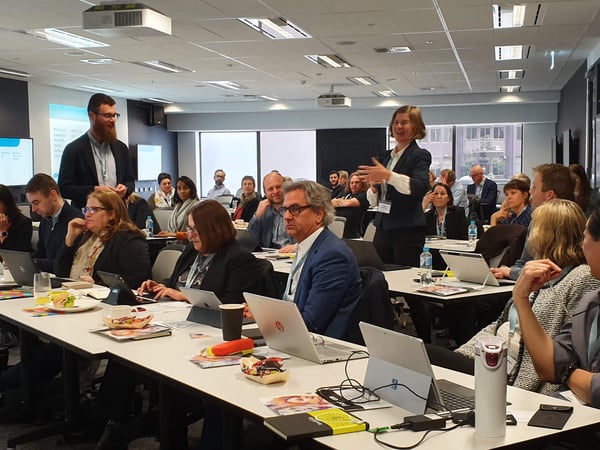 Phill entertaining and educating delegates
Getting nods from the 140 delegates, Phill asked: where is the line between cheating and not? He continued: Let's consider that for students from an English as an Additional Language (EAL) background, a focus on authoritarian measures is especially problematic because these students need to learn to write in English in addition to doing the same degree as their non-EAL peer.
Phill closed by asking delegates to consider the pedagogical approaches wrapped around Studiosity. Noted, Phill! You don't need to ask us twice. We know that the interactions between the online specialist, the student, and escalation to university educators leads to sustainable student success via feedback literacy, improved skill, and increased confidence.
Outcomes: Some punitive measures to combat cheating aren't backed by evidence; Productive student feedback processes could offer a better experience for students and educators

Recommended action: Prioritise sustainable feedback literacy; be wary of a focus on punitive measures that aren't backed by evidence; be wary of a sole focus on authoritarian punishment.
Teach them to fish: building capability and awareness of academic integrity standards
Following Phill Dawson - in what might be the most seamless transition in 'Students First' Symposium history - Mike Larsen and Sherwin Huang led a discussion on feedback literacy and Studiosity's new 'Citation Alert' feature within the Writing Feedback function.
Explaining that rather than take on another policing role, Studiosity seeks to help the vast majority of students who don't mean to plagiarise, but perhaps do - due to anxiety, feeling rushed, feeling tired.
Partnering with German-based Plagscan, the additional feature inside Studiosity is an additional, practical measure that puts feedback literacy into action, with transparent oversight for educators.
Outcomes: Most plagiarism is unintentional, how can those students be better supported?

Recommended action: Studiosity partners can switch on Citation Alert in Semester 2, 2019
Studiosity and student retention: early signs of positive correlation at CQUniversity
Chris Veraa knows what the people want:
@studiosity "we noticed you're wanting more data..."
Yes, give us ALL THE DATA mwhahahaha#studentsfirst2019 #datajunky

— Jennifer Lawrence (@JennyALawrence) July 25, 2019
Chris Veraa is Director of Student Experience at CQUniversity, and brought the room three years (2017, 2018, 2019) worth of data on Studiosity users: retention, academic success, rates of unit failure, and also how students' anecdotal feedback compared to academic outcomes.
CQUniversity Studiosity users (on average):
• Have a 16.45% higher rate of retention than the cohort
• Experience 21.7% less unit failure than the cohort
• Are 17.31% less likely to be placed on academic probation than the cohort
Interesting #disclaimer from @chrisveraa at #Studentsfirst2019 "I'm but a humble professional staff member" - we ignore the expertise, insight, and scholarly activities of our professional staff to our students peril pic.twitter.com/nVX0G9qb0k

— Jennifer Lawrence (@JennyALawrence) July 25, 2019
The 'Students First' room heard about CQUniversity's higher than national average student QILT ratings for student support, and about the university's diverse student population, high first in family, indigenous, mature aged students.
And it's a testament to Chris' presentation that the discussion kept going online.
We've faced resistance, but I think over time it's become apparent that outsourcing out-of-hours support isn't the antichrist. Similarly to student counselling, in my experience, the more supply you create, the more the demand grows. The pie gets bigger.

— Chris Veraa (@chrisveraa) July 25, 2019
Outcomes: Correlation between Studiosity and student - and institutional - outcomes is positive; a fantastic initiative to undertake this study and now more research is needed.

Recommended action: Promote to staff, promote to students (early)
The 'Students First' Panel
"If the house is not on fire and there's no blood, don't bother mum studying".
Each year, the 'Students First' panel session offers a wealth of behavioural description and insight into the lifestyles of students, and this year was no exception. On the panel this year were two of Studiosity's online Subject Specialists (graciously joining us face-to-face as a bit of a professional change from the norm!) as well as special guest panellist, CQUniversity Deputy Vice Chancellor, Joanne Perry.
Now hearing from our #studentsfirst2019 panel, including 3rd year @FedUniAustralia student (& mother, & farmer's wife) Kathryn: "If the house is not on fire and there's no blood, don't bother mum studying". Finding time to study can be a challenge. That's why 24/7 support helps.

— Studiosity (@studiosity) July 25, 2019
Delegates heard the pressure that mature age students are under, including family, business, work, and even the self-inflicted pressure to get High Distinctions, it is a mix that ultimately leads to stress. Studiosity takes the pressure off.
A common theme from the Studiosity online specialists, Graham and Helga, was the stress they see in students arriving to the 24/7 help, and the skill required to apply the socratic method stringently every time.
Fascinating panel with @studiosity tutors and students at #studentsfirst2019 - how do tutors avoid 'just giving the answer'? (sometimes concern from academics) Maths tutor describing the 'sometimes delicate balance' of inviting the student into discussion rather than q&a

— Jennifer Lawrence (@JennyALawrence) July 25, 2019
Outcomes: Student life is more complex, and more challenging, than quantitative data suggests. Circumstances are highly personal.

Recommended action: Universities could prioritise peer-to-peer networks to increase belonging; partner with external providers to cover staff shortages (for example, Headspace to provide critical help for student mental wellbeing); personal support for unintentional plagiarism would take away fear and anxiety for well-meaning students.
Shining a light on student capability
If anyone can re-energize a room at 4pm, it's Denise Stewart, General Manager Operations and Scott Harrison, Director, Partner Services at Studiosity. With the help of some props that literally helped shine a light, delegates saw first hand Studiosity's Academic Writing Evaluation (AWE) service.
Helping universities with more - and earlier - insight into students' writing abilities, Studiosity partners can already use the service now.

Outcomes: More students enrolling are less prepared. Universities need the insight to control the quality of degrees offered; and most importantly, to provide the best possible experience for the students arriving, regardless of CALD, EAL backgrounds, socio-economically diverse circumstances, including international enrolments.

Recommended action: Academic Writing Evaluation (AWE) - ask your Studiosity Partnership Manager to switch on this extra service for your students, or particular cohorts.
And that was just Day One...
With a wealth of new information, it's lucky we had Professor Judyth Sachs to guide some actions and learnings:
• Listen to your students/customers - that's where solutions come from
• 'Retention' is a deficit discourse that needs to change
• The 15-25 year age group mental health risk was the most sobering discussion today, and needs immediate attention
• The discussion around plagiarism and academic integrity is about values
• Incremental change can be as effective as major innovation - any action is important
Musing on the balance - "incremental change can be just as valuable as big changes" vs "if you're not rebuilding from the ground up you're just tinkering uselessly around the edges" - evidence for both views in #HigherEd in Australia right now #studentsfirst2019

— Jennifer Lawrence (@JennyALawrence) July 25, 2019
Next: Day Two was just as thought-provoking, but we always fit it into half the time. So, what happened? Read the Day Two highlights.