Presented online by Prof Angela Hill and Prof Rowena Harper on 28 May 2020, as the second session of the Students First 2020 Studiosity Symposium, chaired by Prof Judyth Sachs.
You can view the full session here.
As we continue this year's online Symposium series, with hundreds of education leaders tuning in each session, we're joined by Professor Angela Hill, DVC Education at ECU and Professor Rowena Harper, Director, Centre for Learning and Teaching at ECU, who are generously sharing with us today Edith Cowan University's in-depth, whole-of-institution and dedicated approach to student support.
Edith Cowan University's holistic support ecosystem, and measures of impact
Professor Angela Hill: For those of you who have heard me speak before, I don't miss an opportunity to talk about Edith Cowan University's history. I've been here since 2017. Edith Cowan is an institution deeply committed to social justice and the transformative power of education. This should not be surprising, given the institution's history and its name. ECU is the only Australian university named after a woman - the first woman elected to any Australian parliament. She was also a dedicated advocate for public education and women.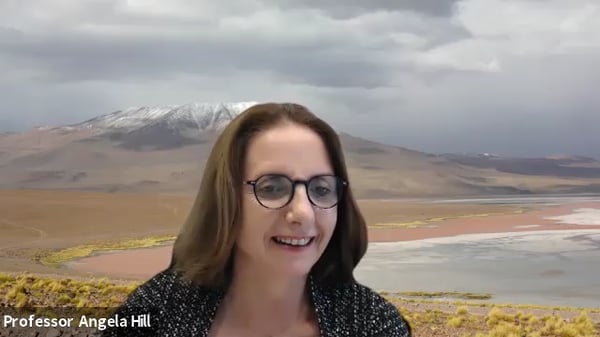 About ECU
ECU is also the quiet achiever in terms of the student experience: the Good University Guide recognises ECU's excellence in student support and among other areas, teaching quality. For 13 years in a row now, we've been ranked the top public university for teaching quality. This is quite an achievement, and we also have a rapidly-improving research ranking.
ECU has around 30,000 students, including international students from over 100 countries. We have eight schools, including the famous Western Australian Academy of Performing Arts (WAAPA), that claims graduates such as Hugh Jackman and Tim Minchin. Around 25% of our students study entirely online. That's why we were able to be quite agile in the COVID crisis, as we already had significant capability for delivering online. The university has a very diverse cohort of students with 48% of the cohort the first in family to attend university, and a predominantly female identifying cohort with the average age of 26.
"Our focus is to create impact on the success - and ultimately the lives - of students."
As a values-led institution, the culture is shaped by a clear set of ground rules, which are the basis and guiding principles for decision making and actions. There is a strong alignment between personal values and the organisation's values. The values framework creates a foundation for the student experience. Our focus is to create impact on the success - and ultimately the lives - of students.
Conceptualising the ecosystem - the six 'P's
The university has developed a series of intentionally focused, whole-of-institution student experience plans, to bring life to the overall institutional strategy. These plans have redesigned many student experience policies and are brought to life by people who have been intentionally recruited and display aligned values that support the student experience. A series of programs are designed and resourced through active partnerships with all stakeholders across the institution. For each program, the approach is designed and increasingly articulated in practice to reflect their strength-based ideology. They are also supported by a range of third-party partners to support the diverse needs of their cohort, who are chosen in line with similar values and goals.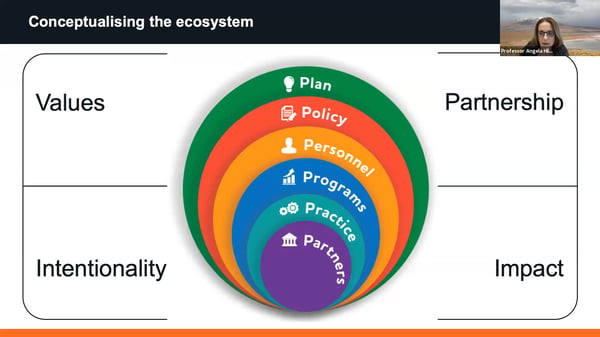 Since 2017, we have collaboratively developed three whole-of-institution blueprints or roadmaps that articulate our approach, priorities and actions for the student experience. These documents set our intentional way forward, and were developed with consultation across the ECU community, including our key partners in service centers, academic schools and, of course, with students. Our Technology-enhanced Learning Blueprint focuses on our commitment to ensuring students experience the very best learning, enabled by contemporary learning technologies. The Student Success Blueprint describes the coordinated approach to improving student outcomes, and the Equity, Diversity and Inclusion Blueprint - led by the Pro Vice Chancellor Prof Braden Hill - focuses the institution on aspirations to be a sector leader in inclusive practice.
The Student Success Blueprint
Today I'll be focussing on the Student Success Blueprint. This plan outlines a strength-based approach to student success, challenging the institution to interrogate the ways in which success is fostered and embodied. I don't want to gloss over the term "strength-based". At ECU we acknowledge we are immersed in solving a wicked problem of student success. 'Wicked' in terms of the challenges of working with a highly-diverse group of students, many of whom are first in family. But additionally, we are navigating very restrictive funding from government in terms of accessing support for this cohort. A discourse founded in 'strength-based approaches' helps us challenge simple solutions, and encourages us to invest in the inherent strengths of our students and staff, and importantly, normalise help-seeking behaviour.
"A discourse founded in 'strength-based approaches' helps us challenge simple solutions, and encourages us to invest in the inherent strengths of our students and staff, and importantly, normalise help-seeking behaviour."
Over the last three years, we have systematically reviewed all our key academic and student-oriented policies, including curriculum approval, design, assessment policies, our approach to academic integrity, as well as our approach to admissions and more recently, mental health. This approach has hopefully directed our student policies to focus on aspirational outcomes.
One example of this is the curriculum review policy that focuses our attention each year on units with high fail-rates. The policy requires us to harness evidence and systematically engage with data for each unit. We then examine teaching quality and curriculum design in each unit through a targeted program coordinated by the Centre for Learning and Teaching. This High Fail Unit program is just one example of that policy-program integration with each action embedded as a policy requirement.
Using intentional, internal networks is another way that we harness the energy of the institution and the expertise of our people, for example the student advising leadership group I lead, where areas within and outside my portfolio come together to map challenges, allocate resources, design solutions, and review data. We meet every three weeks.
Exploring the ecosystem: Learning support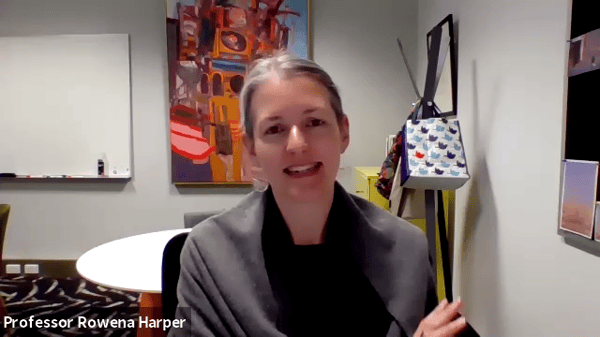 Professor Rowena Harper: Over the years I have seen a range of ways that learning support services are positioned within organisations, and ways that they are deployed within universities, and I don't think I've seen a more integrated approach to learning support than at ECU. In our strategic plan, there are two key actions that relate directly to the learning support area, which are:
Retention and peer support - which are common in the strategic plans of Australian universities.

Communication development. That's less common to see, and including a focus on language and language development - that's almost non-existent when you look across strategic plans at Australian universities. This signals the strong commitment ECU has to social justice, and recognising that we've got a highly diverse cohort for whom language development and communication skills development, both academic and professional, are key measures in their success both at university and beyond.
One of the key statements in our Student Success Blueprint is "the aim to normalise the use of key student support services". At the moment uptake of our services is mixed and uneven, which is something we're looking to address.
Learning Support in policy
I'll now delve into more detail around how this strategic agenda is implemented and actioned within the university. There are two key policies that guide these strategic aims around learning support:
Assessment: where communication and generic skills are embedded within key assessment tasks, and there is a requirement to include assessment types that assess written and oral communication .
Curriculum Design: must be developed in a collaborative environment (with both academic and professional staff), and communication skills must be contextualised and embedded across the course. Each course also has an explicit strategic requirement for English Language Proficiency, with specific entry and exit standards that are identified through diagnostic assessments compulsory for commencing students when they start, and then articulated exit standards around communication and language that we assess through milestone assessments throughout the course.
Learning Support in programs
This diagram shows how we conceive of the various programs we run in the learning support area, essentially 'degrees of embedded-ness'. Right from self-access resources (e.g. in hard copy or online, that students can access as needed, like Studiosity), through to general workshops that our Learning Advisor team runs, our peer support programs, to specialist support or support for at-risk students, and then our embedded curriculum support.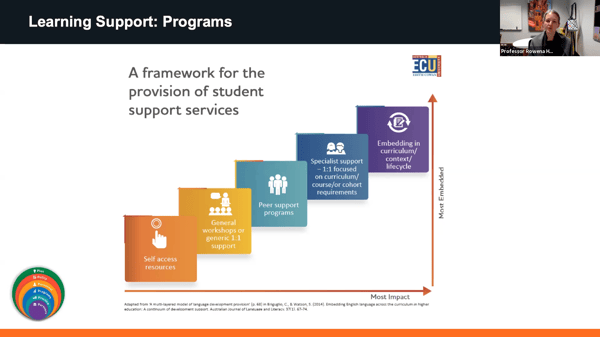 The more embedded the practice, the closer to the curriculum, the more impactful for a larger number of students, and the more impactful in terms of outcome.
The learning support team also developed a set of guidelines for learning advice practice. These guidelines have been incredibly useful for inducting new Learning Advisors, for continuous improvement and reflection, and also establishing some quality standards around how learning support is provided. These guidelines were also provided to Studiosity as a partner, with the aim that ECU students get a consistent and coherent experience across all the different forms of learning support that we offer.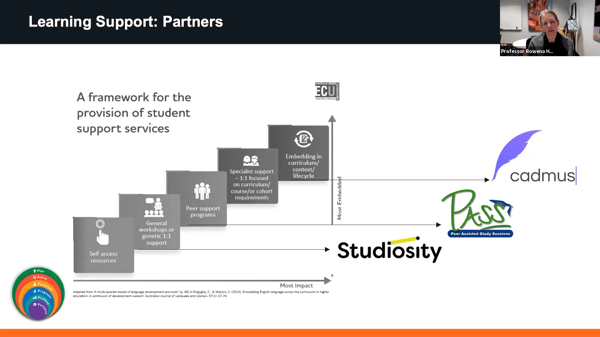 ECU works with a wide range of partners, and the above are key in the learning support area. They sit and operate at different levels within the array of programs we offer.
We work with Studiosity as a partner in the provision of 24/7 online study help, assessment advice and learning support from real people. It's closest to the self-serve, generalised level support.
The PASS program is a really important 'partnership', although not third-party, in terms of partnering with students around the provision of learning support.
Cadmus as an online academic integrity platform inside which students complete assignments, so it's very embedded. ECU focuses this platform around first year units mainly.
Measuring the impact of student support
There are a range of factors that impact on student success and retention, and academic support is just one element. So we can never confidently attribute any one form of support to a student's success or retention. There are simply too many variables. That's why we talk about correlation and not causation; we're aiming to use data in a sophisticated way, to understand the impact of support and not simply argue for its inherent value.
We first establish: who engaged in the services and who is absent? This helps us identify the extent to which we are normalising learning support. Are we getting representative access across all the student groups by campus, school, disability status, first in family, international, etc.? Then we establish who benefited.
From there we look at what difference the program made, and whether or not it was the difference intended. To determine this we use two primary measures:
Comparing success rates and pass rates of students who engaged with learning support services and students who didn't.
Using weighted average marks to look at the extent of the impact across the students who engaged.
We also want to understand what difference the programs make, which may not be the difference originally intended. When we're aiming to improve retention or success with a learning support program, what we often see is that learning support does other things. Learning support gives students an increased sense of belonging. Learning support makes students feel more confident. Learning support makes students feel reassured. And these things are not unimportant, these things also have value.
"Learning support gives students an increased sense of belonging. Learning support makes students feel more confident. Learning support makes students feel reassured. And these things are not unimportant, these things also have value."
ECU's general learning support
For our general learning support services, provided by ECU's staff, we looked at uptake and impact.
Uptake across different school groups ranges from about 4.5% of students in our Science school, through to 18.2% of students in Nursing and Midwifery.

It's likely that comes down to gender norms around help-seeking behaviour

.

It's not uncommon to see more use of learning support in disciplines like Nursing and Midwifery and Education, where there are simply more females enrolled, and lower rates of access in disciplines like Science and Engineering that are usually more male-dominated. One of our aims therefore, is looking at how we can best normalise accessing support for those specific cohorts that don't tend to.
The largest impact (% difference in pass rates) for students who accessed general learning support sessions compared to those that didn't, occurred in Engineering and Science schools (9.9%), and also for students studying online (9.8%) and for Aboriginal and Torres Strait Islander students (15.8%).
My interpretation of this is that it indicates that a student's self-efficacy is a more significant factor in a student's success, in these areas and for these groups. I would like to explore this idea more.
Studiosity analysis
Looking now at our Studiosity data. We did the same type of uptake and impact analysis that we do with our other learning support services. Normally, ECU's strategy around Studiosity is to target it towards certain cohorts of students for whom we want to provide that additional online support. During COVID-19 however, we expanded it to be available to all students.
So the uptake shows that instead of 6% of eligible students, as we've expanded the service to more students, it's now sitting at 3.2%.
Impact: The pass-rate differences there, between those who have accessed Studiosity and those who haven't, are similar - around 6% for many of those those student groups. Again, some notable outliers - Aboriginal and Torres Strait Islander students, and also school leaver students. So, again, I think some really interesting questions can be asked about what this is telling us.
ECU's PASS program
Additionally, the impact of ECU's PASS program includes:
The uptake is higher across the board. Students access PASS at higher rates than our other forms of learning support, likely because this platform is closer to the curriculum. It's always aligned to a unit which indicates that students feel that it is more relevant.
The impact is also higher across the board, up into the high teens and 20% pass-rate difference between students that've attended PASS and students that haven't.

The biggest differences in pass rates are for mature age students and internationals. Interestingly, the difference is higher for the English speaking background students, more so than for non-English speaking backgrounds students. This has helped us reflect

on the need to train all of our PASS leaders in supporting non-English speaking background students. And we've also begun to employ students who speak English as a second language and students who are international, so that our leaders bring that lived experience to the work that they do and to the PASS leader group.
Final thoughts and looking ahead
During COVID 19 these services have really helped us be agile, and continue to provide a solid framework for supporting students. The moment a decision was made about a strategic move around a curriculum design, our assessment design, or moving off-campus in terms of our offerings, it was able to be actioned really quickly down the line at all layers because the way we operate is so connected at all times.
Ultimately, student cohorts are becoming more diverse and therefore so too are our educational offerings. It's imperative to ensure that all universities are providing students with a high quality experience, and they are tracking data to monitor the impact on student success.
We leave you with a question, that you may wish to ponder over and discuss: to what extent do the layers of your university ecosystem speak to each other?
Watch the full presentation, or see the slides.