Whether you're in your first year or final year of study, it's never too early to start preparing for your future career. From researching career options, building connections and using your university services, there are lots of things you can be doing right now, that will help you when it comes to applying for that job you really want.
We recently hosted a panel discussion on this topic, where we had experts and students share their knowledge and experiences. Joining us on the panel was the University of Adelaide's career expert Fiona Brammy, recent Ulster University graduate Simon Alex Aladi, and our very own People Operations Manager, Gaya Gottardi. The panel was chaired by Jean-Baptiste (JB) Philibert, a fourth-year medical student at WSU, and Chair of the National Rural Health Student Network.
Registered for this panel were over 900 students from over 100 different institutions, across Australia, New Zealand, the UK, the Middle East, and Canada. The session was recorded, and you can watch the full 45 minutes here: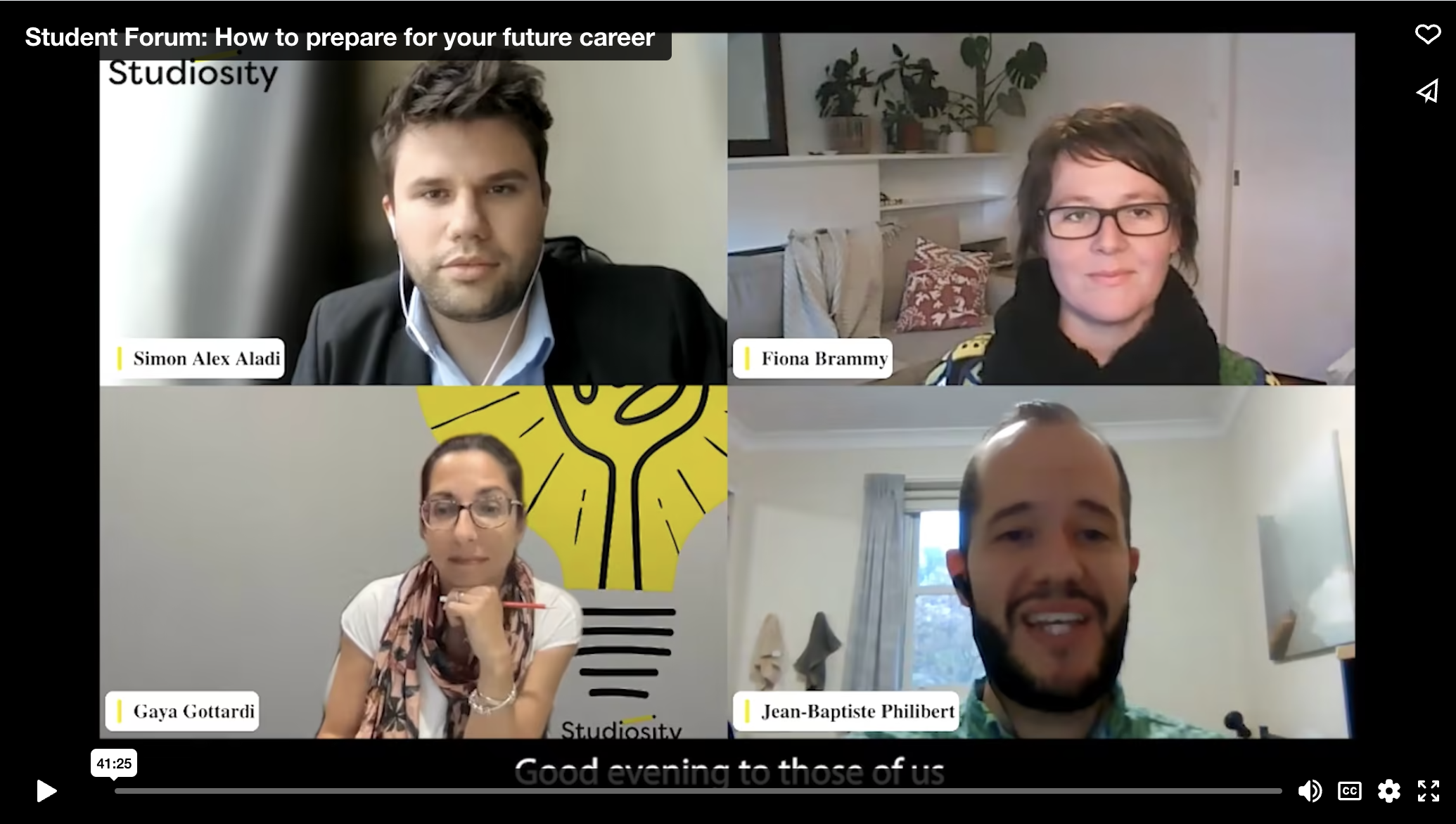 Here's a summary of the key themes and insights that were shared at the event.

How to determine your career path
Before the event, we asked students what they wanted to hear about from the panel. The most common theme that arose was around how to determine what career is right for you, whilst still studying.
Careers expert Fiona Brammy said that there are three things to consider when thinking about your career path; developing self-awareness, developing occupational awareness and also developing a sense of purpose.
Developing self-awareness
"So some of you will be quite self-aware. You're going to know what your strengths are, you going to know where your gaps are. It's always good to sort of test it out with your family or friends. Ask them, 'What do you think my strengths are? How do you think I stand out from other people?'."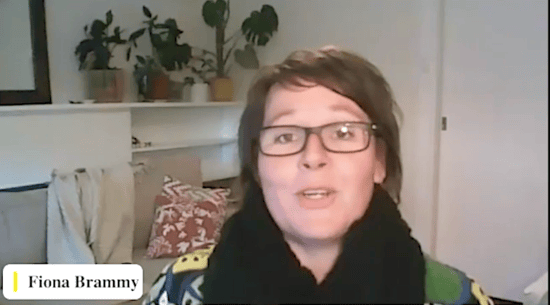 She also recommends tapping into your university career services for support, and taking psychometric tests and personality assessments for a deeper look at where your strengths lie.
Developing occupational awareness
This is the part where you can find out about what jobs exist in the industry you're interested in.
"When it comes to occupational awareness, the biggest thing is research. Here in Australia, we've got Grad Connection and Grad Australia and they're great places to give you a bit of an idea about current job titles, what organisations are looking for - and that's great big organisations right down to small, medium, firms. So desk research is where it starts," Fiona said.
Finding out more over a coffee
Then you've got to do some in-person research. Fiona said this is the part most students struggle most with, but doing it over a coffee makes it a little easier.
"Then you actually have to go and do some in-person research. You have to reach out to other people and you might be able to start by doing that via LinkedIn. But then, as conversations progress, as you learn more about different occupations out there, perhaps ask someone if you could take them out for a coffee."
Graduate, Simon, agreed that meeting people over a coffee is a great way to get to know more about certain jobs and industries.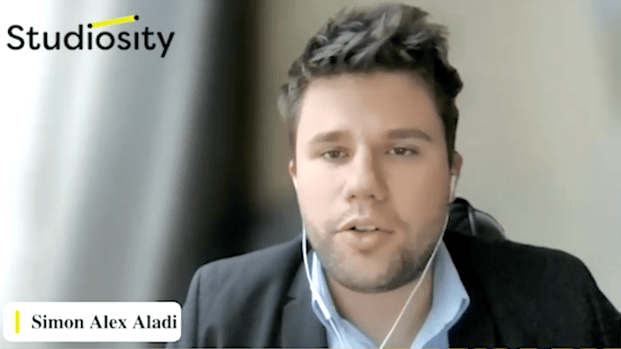 "I was asking lots of questions. I was talking to as many people at university or just in coffee shops. And asking 'what do you do?', 'how can I get there?'," Simon said.
He said sometimes it was out of his comfort zone, but it was always worth it.
"You also have to sometimes challenge yourself to get to what's really good for you."
Finding a sense of purpose
There's now lots of research to show students with a sense of purpose are more engaged and find getting a job easier. But keeping it broad is key, according to Fiona.
"My little word of warning is it doesn't need to be specific. What you can do is have a think about what's important to you. So for me it was about helping people."

Document all your experience - including your uni work
People Operations Manager Gaya said experience is really important, but it's not all about internships - documenting things you are doing at university is also highly valuable.
"Any experience you can get on to your resume is amazing and don't hesitate to put down your uni projects. Anything you've done at uni is incredible. You're working very hard on research assignments, creating programs, marketing campaigns, artwork, whatever it is you're studying, put it on there."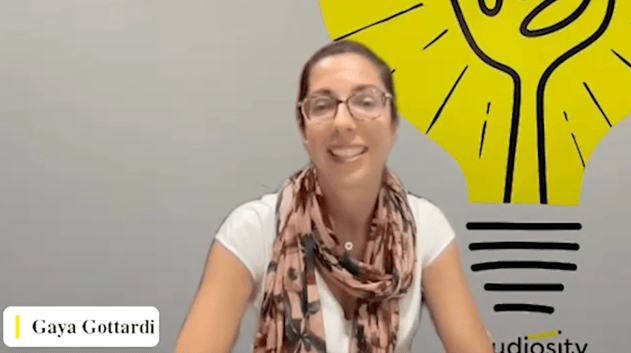 She also noted that community work, paid casual work, and online internships through websites like Forage, are worthy of a recruiter's attention, as well.
"Document everything you do as you go, not necessarily on your resume. Have a back up document with everything you've done, everything you've achieved, everything you're proud of. So that when we do connect and ask you questions, you've got loads of examples to give."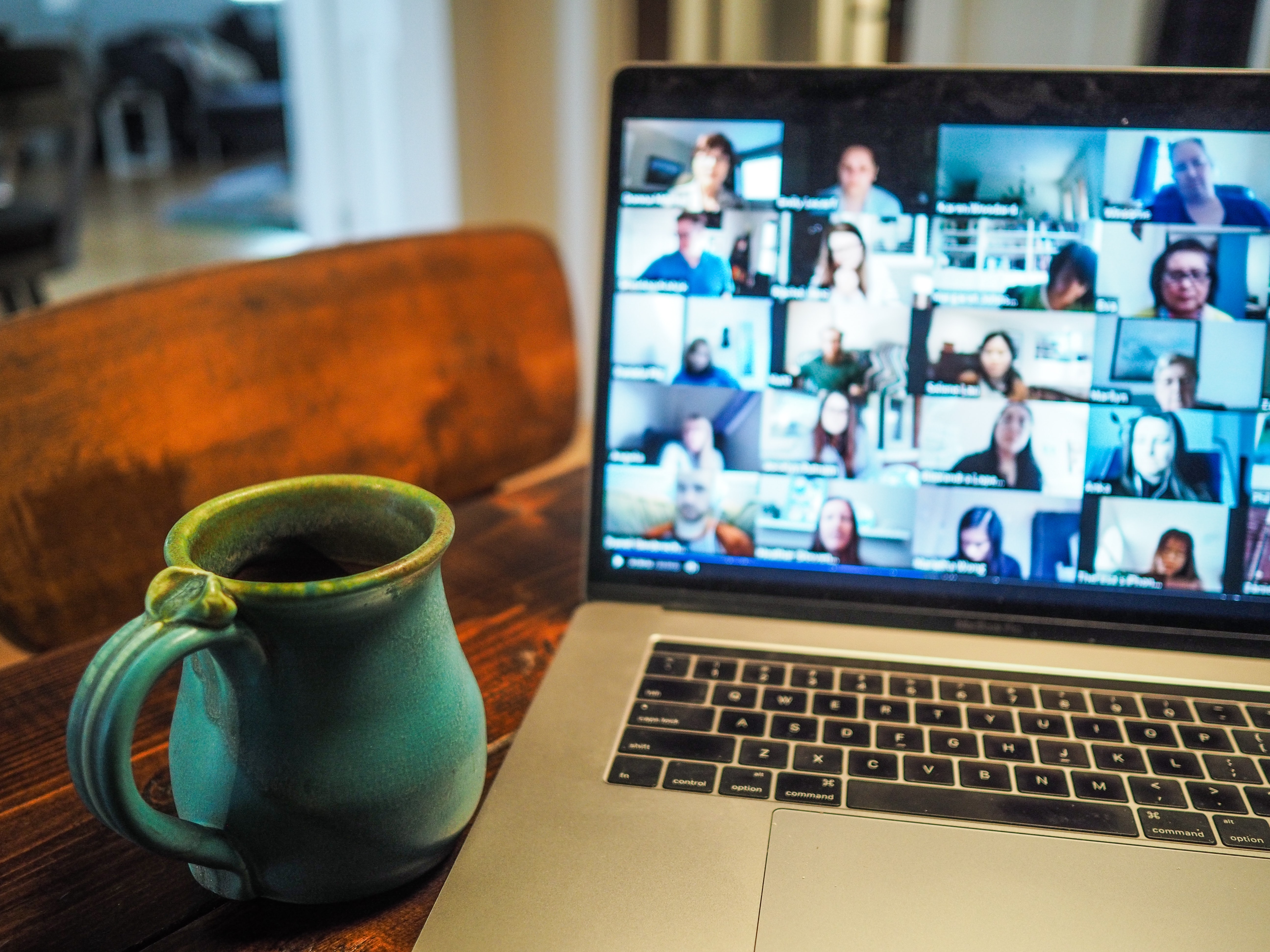 Group work and presentations can also be added to your CV

Networking is 'just conversations'
Networking can be scary. But, as Fiona said, networking is just about starting a conversation with someone, and doesn't have to be a big deal.
"At the end of the day, networking is about building a connection with someone, which we can all do."
"I've got three things that I have as a little mantra; be authentic, be respectful and get involved."
She suggested taking a friend along with you to networking events can make it a little easier.
"If it's an in-person thing, go with a friend. It's much easier to introduce yourself to other people or welcome other people into your group when you're with someone else, rather than standing there going, 'I don't know anyone'."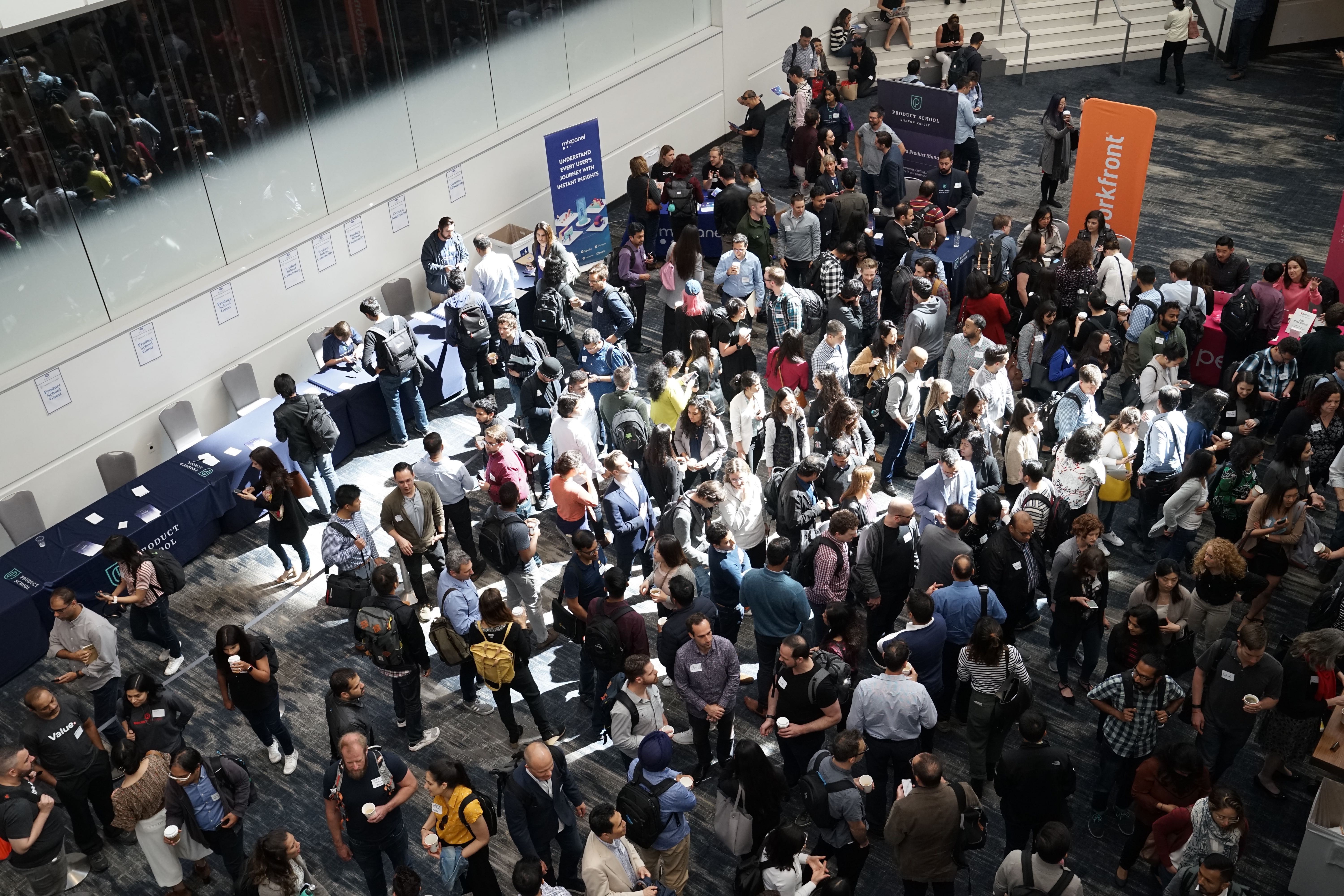 Networking can be daunting, but taking a friend along can help
"Network for the sake of it, meet people because it's great to meet people and you don't know what door that person may or may not open."

Take time to up-skill yourself
Recent Ulster University graduate, Simon, has now got a job with global consulting firm Protiviti, and said that you should find free (or provided by your university) courses to help add to your skill set.
He said things like LinkedIn Learning and Google Marketing courses had really helped him.
"I think they have really useful courses that you can just watch or if you download the app, you can just listen to them as podcasts. I think you should definitely check with your University because for example, Ulster University provided a LinkedIn learning access [free]."

Make your CV stand out
If you find you don't have a lot of experience to put on your CV yet, don't worry - there's still plenty to write about, said Gaya.
"It's about telling your own story. Focus on your transferable skills. You're soft skills if you don't have that many technical skills yet. It's all about communication, organisation, planning, attention to detail."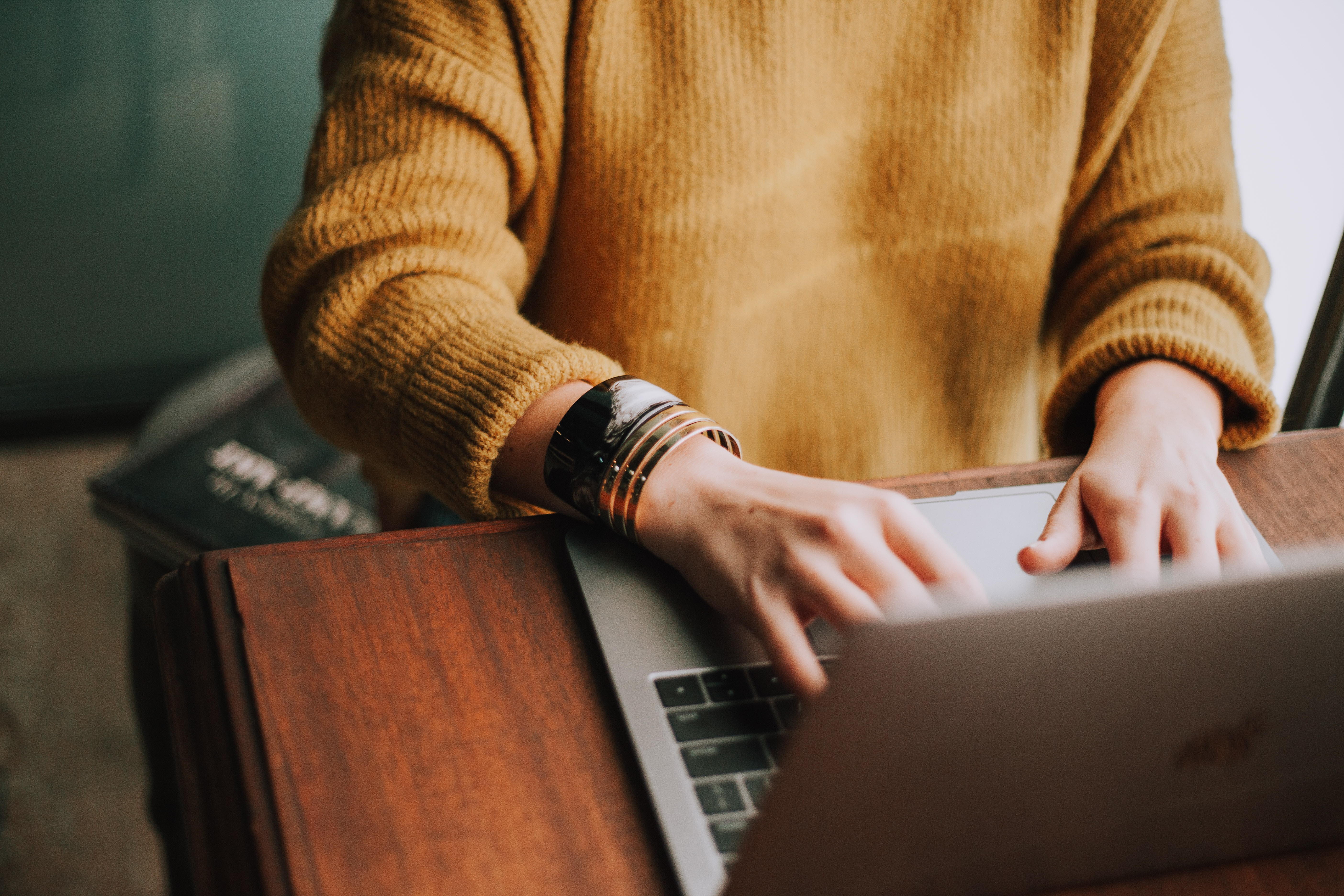 Even if you don't have much experience, there are still plenty of things to add to your CV

Use the STAR model for CVs and interviews
When it comes to CV writing and interviewing, everyone on the panel agreed that the STAR model is extremely useful.
The STAR model allows you to list your achievements using a specific framework, that employers are looking for.
S - Situation
T - Task
A - Actions
R - Results
Gaya said don't be put off by the selection criteria listed on a job ad - this is often a wish list by the employer. Gaya recommends getting into the habit of writing down your achievements in this framework, so it's easy to pull into a CV or cover letter, or memorise for an interview.

Formatting your CV matters
Gaya warned that some automated services don't pick up on some forms of CVs with columns, so it's always best to stick to a traditional CV, rather than anything too flashy.
"Simple traditional resumé sections, clear bullet points and really tell the story of who you are, what sort of value you can add to the company."
She said cover letters are an absolute must, and they need to contain key information on why you're applying for the job.
"Tell us why you're interested in acquisition, why we should consider you, how you've made the various selection criteria that are in the ad. And that's where your STAR stories come in really handy."
"A CV is just your story, and make it readable and engaging for us so we actually understand who you are and what you're about."
Simon made sure his LinkedIn profile included all his experience, courses and transferable skills, before he started looking for work. He recommends looking at how other people in your industry write their profiles, for inspiration for your own.

Utilise your university-provided services
Most universities will have a career services department that can help you with many different things to help you become career ready, from getting experience, to building your brand and learning how to stand out from the crowd, Fiona said. There are also often workshops available on things like CV writing, improving your communications skills and learning how to interview, as well as industry career fairs and professional development sessions, so she suggests keeping an eye out on what's available at your university.
She also said Studiosity can really help build core communication and writing skills, which are important skills needed before entering the workplace.
"And your written skills are really just so important… in the workforce as well. And you can actually pop your CV through [Studiosity] for spelling and grammatical feedback. Getting that looked at by Studiosity can mean that… you are marketing yourself, rather than worrying about spelling and grammar."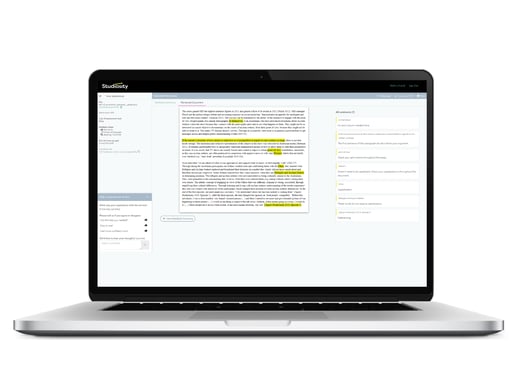 Simon added that he found Studiosity helpful to learn how to give and receive feedback, before starting his graduate position.
"So definitely when I submitted any kind of document or just my CV, the feedback was so helpful. It showed me… how to receive feedback, because sometimes there is so much more than the eye initially."

Nail your interview
When it comes to doing an interview, there are three important things to remember, according to Fiona; be prepared, do your research, and practice.
Make sure you know where your interview is, how you are going to get there, what you are going to wear and have your STAR model stories prepared before you go into the room.
"Have an idea bank before - 6 to 10 sort of stories. If I'm in an interview, I don't need to think of something on the spot. When I hear that, 'tell me about a time when' or 'can you give me an example of when', and I just need to go 'which of my stories is the most relevant that I can then bring down and start talking about?'"
Researching the organisation and the job role is also essential, said Fiona.
"Really dissect the job ad to help you understand what they're looking for."
And finally, she advises practicing your interview.
"You can practice with friends, practice in front of a mirror or use video interview software. Even if you don't have any, just use Zoom or your camera and film yourself. Watch yourself back, it gives you a great indication of of how you're responding and how natural you feel."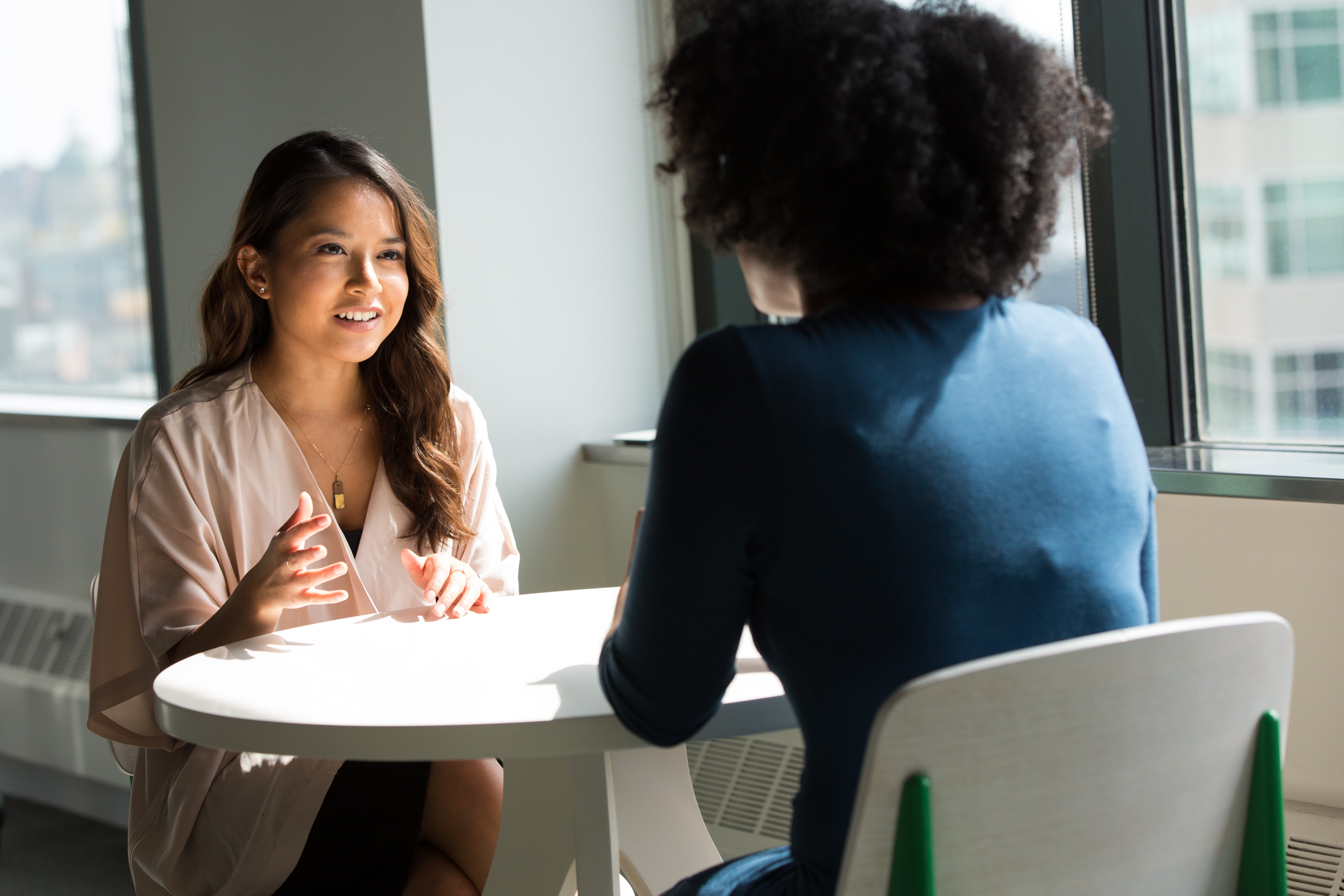 Practising your interview with friends can be a great way to prepare
Be brave, and adopt a 'growth mindset'
Gaya said that the job market is 'hot' at the moment, and students should be brave when applying for roles. She advised students not to be put off by big requirement lists on the job descriptions, as they are often a 'wish list'.
"When we put an ad out, it's like Christmas. It's a wish list. We want 100 things, and Santa doesn't deliver the full list. And that's okay. The top three or four are the priorities and even then, show your willingness to learn and say… 'I'd be willing to learn, I'm interested in getting better'. Show that you're committed and you're willing to grow."
Jean Baptiste then closed the session with a reminder that the very best place to go looking for help is within your university systems - Blackboard, Moodle, whatever the platform is. Those are the spaces where you'll find Studiosity, your careers services, PASS program, and more.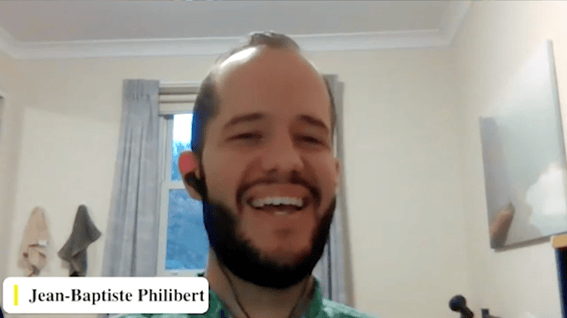 It's clear from the high registration numbers and levels of engagement in this session that there is a large appetite for these kinds of events from students, learning about topics that are important to student life.
We look forward to hosting future student-led events and we hope to see you there, then!
And of course, for fast ethical feedback on your CV or other written drafts, students can log in to their university's Studiosity service:
Check out the blog from our last event on connection and balance: Five key learnings from the first student-led panel event