Using Studiosity is a great way to get fast, useful feedback on your writing. Submitting your assignment is the first step, but what do you do once you receive that feedback? How can you best reflect on it and implement it to improve your work, and get the most out of it when you're on deadline?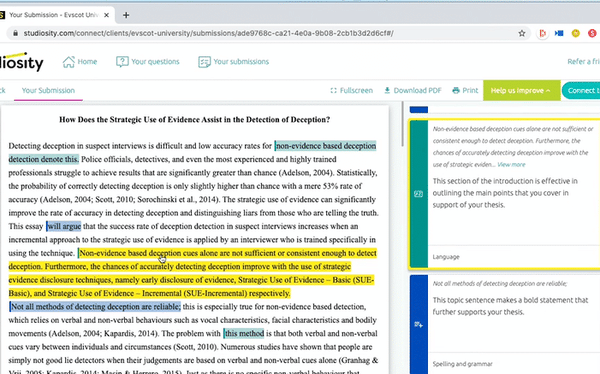 1. Manage your time
Remember to submit your assignments to your university's Studiosity service with plenty of time to actually address issues that a specialist highlights for you. We always aim to deliver speedy return times so that you can get the feedback you need when you need it most. Nevertheless, try to avoid submitting your assignment the night before it's due, since you may not be left with enough time to then go through your assignment again and edit it after you have received your feedback.
One handy way to help you step out your assignment process and better manage your time is using an Assignment Calculator, like our free one. It will give you a step-by-step guide on what to do when, with mini-deadlines for each step. Try it with your next assignment.
2. Look at structure first
When revising your writing, 'big picture issues' need attention first and foremost. While you may have punctuation or spelling mistakes identified, these issues are less pressing than a large-scale issue such as a missing thesis statement in your essay, or disorganised paragraphs in a case study. The overall structure of your assignment is crucial in presenting your argument or study, and your thoughts, in a clear manner.
Bonus tip: Clarify meaning - there's always a link in your feedback to our Glossary of Terms, which you can refer to whenever you're unsure of a specific word a Specialist has written. But if you need more explanation on any part of your written feedback - you can just click 'Connect to a Specialist' in the top right corner and discuss your feedback in real time. 🌟
3. Find more of the same error
If you read your feedback carefully, you'll notice that Specialists help you learn how to identify and address errors in your own writing. When a Specialist highlights comma splice errors for you, their feedback will include advice on how to address those error types. Take care to check other areas where you have used commas and compare against the examples that have been highlighted. You may find more comma splice errors that you can correct on your own by reviewing the example of a comma splice and the explanation for how to fix it.
So when you apply the feedback you receive across your whole document, and in your future writing, you're sure to improve.
Related reading: The difference between editing and proofreading your own work
4. Submit the next draft
Effective writing means rewriting, and you can submit the next draft of your assignment for further feedback to see how you're coming along. Remember to go over the initial draft on your own first, and make any changes or corrections recommended by the Specialist. You may find that over time, you receive less feedback on instances of the same mistakes as previously - which means you are improving. 👌
Receiving fast, ethical feedback is one thing - but what to do with it may not be immediately obvious. Your university supports you with this resource because they want you to succeed, so make the most of your free access tonight.