I had the pleasure of speaking to Sir Eric Thomas, a member of the Studiosity UK Academic Advisory Board, this month. We covered a whole range of topics, from the impact of universities in modern society to his distinguished and wide ranging academic career - as well as discussing the second most valuable asset in North London (hint: it's related to a certain red kitted football team...!)
---
Sir Eric Thomas, knighted for services to Higher Education in 2013, was President of Universities UK from 2001 to 2013 and Chair of the Worldwide University Network from 2003 to 2007. He chaired the Government Taskforce into Increasing Voluntary Donations to Higher Education which reported in 2004, the so called Thomas Report. Sir Eric started his career as a Consultant Obstetrician and Gynaecologist, graduating in Medicine from the University of Newcastle-upon-Tyne to later become the Head of the School of Medicine and Dean of the Faculty of Medicine, Health and Biological Sciences at the University of Southampton from 1995 to 2000.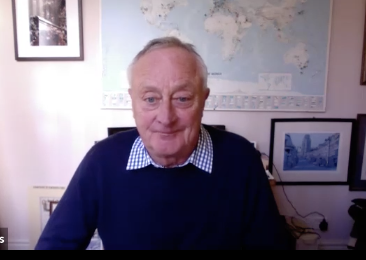 What initially drew you to your field of specialism?
I trained to be a doctor, and then after I graduated, I decided to specialise in obstetrics and gynaecology. I think the main reason people go into this field of work is because it's such a great pleasure to be present at birth and it's a very positive speciality, full of future. Then in the end, I specialised in reproductive medicine, infertility, IVF which was actually very intellectually challenging and it was at a very exciting time of the development of that specialism in the early 1980s.
I took a particular interest in a disease called endometriosis, which was the basis of my research career. In medicine, you can become an NHS consultant or you can stay in academia and you go on to become a lecturer, a senior lecturer, a professor, and at senior lecturer and professor level you also have a consultant contract with the NHS, so I specialised in reproductive medicine and then eventually endometriosis and did quite a lot of reasonably important work in endometriosis through the 80s and 90s.
By 1995, I had become the Dean of Medicine and running a medical school meant I tended to do less and less clinical work. Then I was appointed Vice Chancellor at the University of Bristol, and so at that stage, I did no more clinical work nor nor did I do any further research. With the University of Bristol as a £750 million pound a year organisation, you can't be a part-time surgeon and a part-time chief executive, that just doesn't work. So all of that had to stop when I became Vice Chancellor.
What role should universities and higher education institutes play in modern society?
It goes without saying that universities are now hugely important institutions. I'll give you a financial fact, there's a measure called GVA (gross value added) that measures the additional economic value of an institution, a region, a city. I think the annual GVA of the city of Bristol is about £13.3 Billion, and £3 Billion comes from the economic activities of the universities. So these are now massively important, not only in terms of education and providing the skills for the workforce for the future, but also as hugely important social and economic institutions in the cities. I think it's fair to say that if the universities of Bristol and the West of England closed down, the city itself would have to close down, that's how important they are. Now, the future of the city and the future of the university is completely entwined.
At this time of pandemic, when they're asking experts on the TV and the radio, count how many of them have the word Professor in front of their name. This expertise is being supplied predominantly, if not overwhelmingly, by universities, and the research is being conducted by universities, Oxford and AstraZeneca for example. So suddenly we've got a fantastic example of how important the research base, the biomedical research base in this case. But at Bristol, they're doing quantum computing and that could be revolutionary.
"Of course, the single most important output of a university for society is its students. Those are the people that go out and form the society of the future. If you think about it, every year, something like 5000 people leave the University of Bristol and disseminate into society, and some of those people will have a huge impact. "
If you could pick only one, what has been your best moment in your academic career?
The Wellcome Trust set up funding for five GCRCs (general clinical research centres), and every single medical school applied for one. You must remember that at the time, Southampton Medical School was a very young medical school, so it was thought that these research centres would go to the great and good and that a peripheral, relatively new medical school like Southampton didn't stand much chance. Anyway, we were one of the five with Cambridge, Birmingham, Edinburgh, and one other, and that was a very big success, that really was, that was a time when I think lots of people started to notice Southhampton medical school, and I worked very, very closely with Professor Michael Arthur (now Vice Chancellor Provost of University College London) and we worked very closely together at this time - we were handed a medical school. At the ages of 42 and 41, respectively! And now, when you think about it in retrospect, you think, who was mad enough to do that?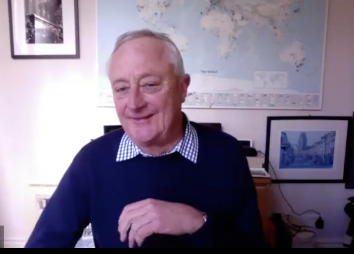 Outside of education, what are you passionate about?
Well, medicine and Vice Chancellor duties intend to be all consuming pastimes, that is the nature of the beast! I have 3 or 4 charitable trusteeships - I'm a trustee of IntoUniversity, which does remedial teaching in disadvantaged areas to try and get youngsters into university. I sit on the board and act as chairman of the fundraising panel for Moorfields Eye hospital. I'm also on his Royal Highness' Commonwealth Studies Committee, which does big leadership across the Commonwealth, and I sit on two university boards, the University of the Arts, London and the brand new university in Hereford called and NMITE, which is going to do engineering teaching in education in a very different way.
So those are the sort of things that motivate me, alongside playing golf extraordinarily badly and the fact that my son in law and I both have Arsenal season tickets. So we go off to the Emirates every fortnight together. A funny story - I always used to say, if you consider that the first most important north London asset is a house, what do you think the second most important North London asset is? And it's amazing what people would suggest. The first person who actually said an Arsenal Season Ticket is a very famous feminist academic from the London School of Economics!
What advice would you give to young people starting out in their academic careers now?
Stick at it, I think it's what I would say. It's competitive, but so are lots of vocations - I don't think academia is any more or less competitive than anything else. It's a different job now than it was 40 years ago but you're still very much in charge of what you do. I think sometimes academics don't value that, they don't understand what it's like in other parts of the working world, what it's like to be in banking or to be a partner at PriceWaterhouseCooper. There is a lot of you being told what to do in those kind of worlds, whereas in academia you can intellectually explore whatever you want to in your particular area of interest. You can rapidly become an expert, you get to meet other very intelligent people, you get to teach very intelligent students, so there are a lot of really good things about being an academic. But don't underestimate the amount of hard work that it will require and persistence.
There is a lot of you being told what to do in those kind of worlds, whereas in academia you can intellectually explore whatever you want to in your particular area of interest. You can rapidly become an expert, you get to meet other very intelligent people, you get to teach very intelligent students, so there are a lot of really good things about being an academic.
What drew you to become a member of the Studiosity Academic Advisory Board?
I was recommended by Professor Cliff Allan who was already on the advisory boardand he suggested to the Studiosity founders that they might want to consider me for the AAB. When I looked into Studiosity I really liked what they were offering - I think it's sensible, clear, it means that students get 24/7 access to student support outside normal hours, and that is the way that this generation communicates and therefore Studiosity complements the student support offered by the universities. I happened to be out in Sydney so I went to meet the team and I was very struck by how value driven the company is, the moral nature of the mission of what Studiosity does and the values that it embraces.
A huge thank you to Sir Eric for sharing his stories with us. You can read this piece from Professor Judith Sachs, another member of our Academic Advisory Board, here.