"If you want to end poverty in the world, educate women."
That was the directive of Dr Kakenya Ntaiya, to 500 of Sydney's business leaders, educators, and sporting icons, at the Trailblazers' lunch for women on Thursday.
Kakenya's story is remarkable, and well-known - her Ted Talk has clocked up 2.6 million views. Severe trauma of her own and of those around her, led her to found Kakenya's Dream to educate girls, end harmful traditional practices, and uplift her community. To the room at the SCG, Kakenya described her journey, from being engaged at the age of five all the way to completing her Doctorate in Education in the United States. (Also the first Maasai woman to go to university in the US.)
Her stories today were progressed and punctuated by the bravery of her mother. "My mother wanted a better life for me than she had herself."
Interviewed by ABC's Eleanor Hall, Kakenya shared the stage with the equally as astonishing and inspirational Mahboba Rawi OAM.

ABC's Eleanor Hall (centre), with Dr Kakenya Ntaiya (right), and Mahboba Rawi OAM (left), speaking at the LBW Trust and Women for Change fundraiser, at the Sydney Cricket Ground.
At the forefront of the Russian invasion of Afghanistan in 1979, Mahboba led protests of over 3000 people, at the age of 13, before being forced to hide and flee for Pakistan. The excruciating journey seemed to end when she finally reached Australia, until years later when she tragically lost her son.
"...because after the death of my son I made a promise to dedicate my life to suffering women and children in the country where I grew up, a country that has had so much invasion and war. I now have schools, refuges and health clinics in Kabul, and women and children are given help because of the donations and sponsorships Mahboba's Promise collects." SMH, June 2014.
In pursuit of education; scholarships in Kenya, Kabul, and Sydney
What brought these two special women together, at the Sydney Cricket Ground? Education for girls as a proven way to change the world.
"Educate women and you will educate whole families," Mahboba told us.
The LBW (Learning for a Better World) Trust and subsidiary Women for Change gathered everyone together at the SCG to raise funds to send more girls to school, in both Kenya and Kabul, in partnership with Kakenya's Dream and Mahboba's Promise.
Three young women are attending university in Kabul, thanks to full scholarships funded by the LBW Trust.
Further, 80 high school graduates from the Maasai community have attended tertiary education in Kenya, with funding from the LBW Trust and Women for Change. Additionally, in 2020, three students are completing their degrees in Sydney - thanks to partnerships at Western Sydney University, UTS, and Sydney University, as part of the LBW Trust's International Scholar's Program; and - of course - they have unlimited, free, personal access to Studiosity. Because improving life chances isn't just core to our mission, it's our only mission.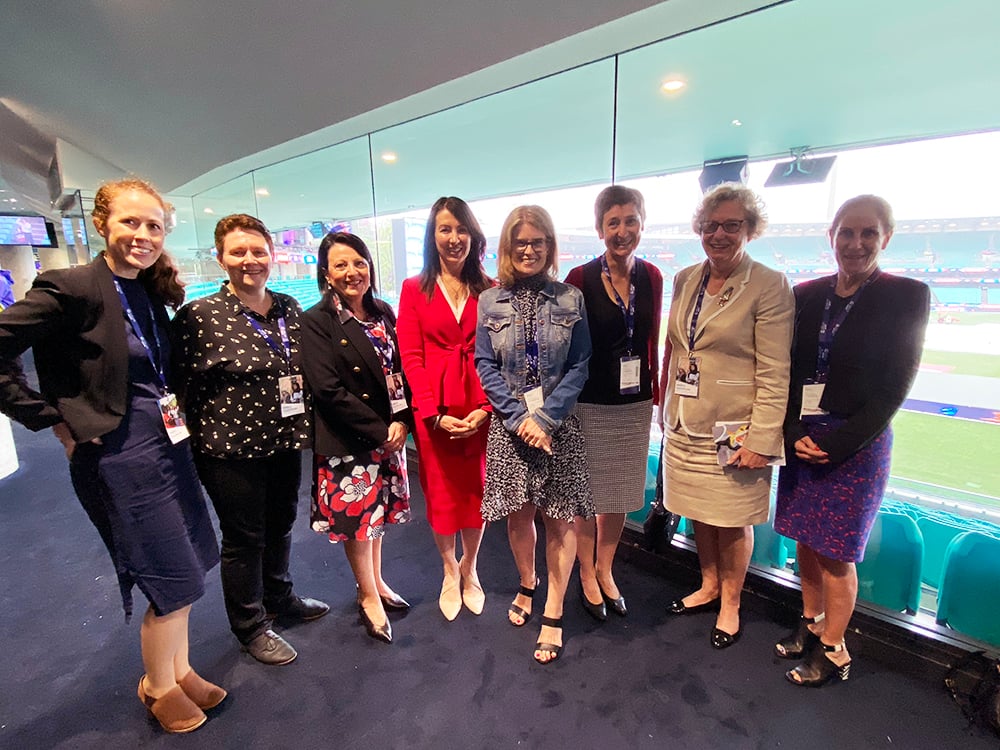 Left to right: Sarah Crossing, Studiosity; Denise Stewart, Studiosity; Prof Evelyn Picot, Australian Catholic University; Liz Smith, University of New South Wales; Caroline Hill, Harding Miller Foundation; Lisa McIntyre, Women for Change Board Member and Studiosity Board Member; Prof Judyth Sachs, Studiosity; Prof Denise Kirkpatrick, Western Sydney University.
📸 by @
jackaroo2000
Compromises in women's sport, and a brighter future
With the SCG behind us, it could not be more fitting to have Alex Blackwell, Patron of the LBW Trust, speak to her experience in women's sport. Alex described how far professional women's sport has come, where there is room to grow. We heard of her struggle to halt her medical degree to continue with cricket, and of Kate Blackwell, her twin sister, never being paid professionally despite playing cricket for Australia.
Then, with a panel of sporting icons - Belinda Clark OAM, Kimberlee Green, and Louise Savage OAM - ABC journalist, Tracey Holmes, facilitated more stories about the past struggles - and a brighter future - for women's sport.
A unique chance to bring together educators and leaders
It's fortuitous that we were all able to attend this inspirational day, as guests of Jack Goodman, Studiosity Chair and Founder, and Lisa McIntyre, Women for Change Board Member and Studiosity Board Member. LBW Trust Founder, David Vaux, is also on the Studiosity Board.
Together with leaders from the education sector, Western Sydney University, Australian Catholic University, the University of New South Wales, the GO Foundation, Harding Miller Foundation - we were all representing different institutions and people, crossing paths with shared visions for education.
P.S. Despite the weather, there was some cricket after all. For those following along, the first match - India and England - was well and truly washed out, but Australia went on to defeat South Africa in the second match. India vs Australia this weekend in Melbourne. 🏏
Update on 8 March: Australia wins the T20 World Cup Final!