We started this company because we know that a great education is the best foundation for a worthwhile career and a fulfilling life. That's why Studiosity does the work it does every day, supporting women and men and boys and girls to achieve their best academically.

When the opportunity arose several years ago, we jumped at the chance to begin supporting a wonderful charity, the LBW Trust: Learning for a Better World – that funds life-changing educational opportunities in the developing world.

And yesterday, Jack and I were privileged and touched to hear the amazing life story of one woman, Dr. Kakenya Ntaiya, who is transforming lives through education in the remote villages of Kenya.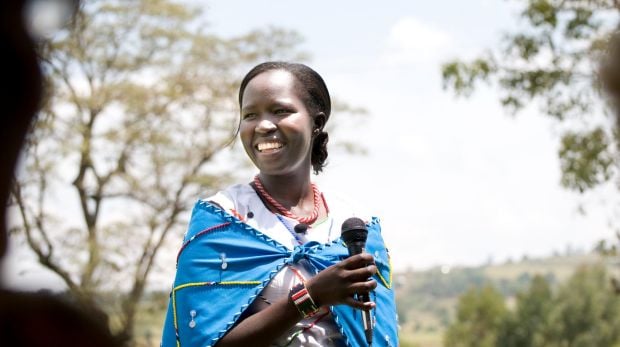 Dr Kakenya Ntaiya. Photo: Aaron Kisner for Vital Voices Global Partnership

I don't need to repeat her incredible life story here, as it was told so well in this recent Good Weekend piece. But it is worth reflecting on the strength of a 12-year-old girl who bargains with her father and agrees to undergo female genital mutilation in return for being able to get an education. And then goes on to get a degree in the United States, and a PhD – the first ever Maasai woman to do so. And then returns to Kenya to build a school.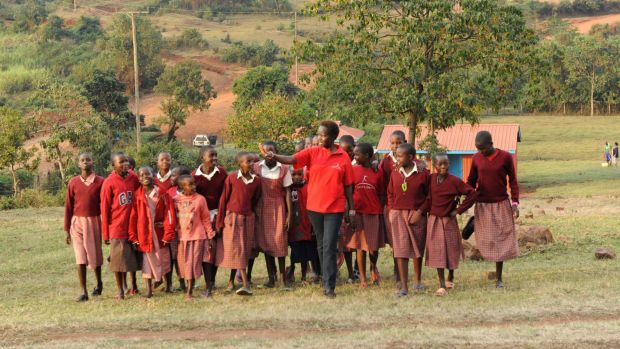 Dr Kakenya Ntaiya with her students. Photo: Liz Courtney

I'd also like to reflect on the memorable morning we had at WSU's Kingswood Campus yesterday. The LBW Trust brought Kakenya to Australia this week for International Women's Week, to share stories and advocate for women's rights to education in Kenya.
Western Sydney University, who do excellent work engaging with high schools throughout Greater Western Sydney, arranged this opportunity for more than 150 high school students (mostly girls) and their principals to hear Kakenya's inspirational story first-hand, from the woman herself.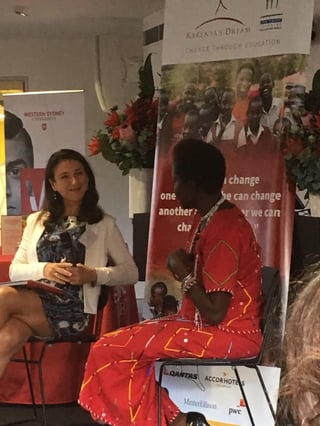 Journalist Eleanor Hall interviewing Dr Kakenya Ntaiya at WSU. Photo: Jack Goodman
The girls were excited and inspired, and asked her many questions, like
"What did the men in the village think?" (Although initially resistant to female education, they are now proud of their daughters!)

"What happened to the man who she was engaged to marry at age 5 years old?" (He is married to someone else and his daughter goes to Kakenya's school)

"Will she build more schools?" (YES!)
.@KakenyaN being MOBBED by students at @westernsydneyu #BeBoldForChange @lbwtrust pic.twitter.com/V8MWbcH69A

— Eleanor Hall (@eleanorhall1) March 7, 2017
The biggest and best surprise of the morning came when WSU's Deputy Vice Chancellor (Academic), Denise Kirkpatrick, announced that they would be offering one of Kakenya's students a full scholarship to WSU.
Seeing Kakenya's overwhelmed reaction, we were moved to tears. We couldn't be prouder to support remarkable organisations like the LBW Trust and WSU, because their endeavours align with our own mission, to make education accessible and affordable for everyone.
At the end of the session, Kakenya reminded us all that education is both a privilege and an opportunity. Don't waste it. #Beboldforchange
Lisa McIntyre is one of the 'Women for Change' champions for LBW Trust. She is a founding Director of Studiosity, sits on several other company boards as Chair or non-executive Director, and on two Foundations, and she is also a volunteer Primary Ethics teacher.
You can read more about her and our other directors here.