COVID-19 is playing tricks on all of us. It has taken many parts of society into the future – including an explosion in online communication for work and study. It has also put much of our daily lives on pause; but there is an upside to all this disruption. Fewer outside distractions wins you some rare time to look around, contemplate and make a game-plan for your future.
A certain je ne sais quoi
I grew up in Australia, did my two degrees (Commerce and Economics) at the University of Queensland, and then got my CPA. After that I moved to London where I met my husband - he's Canadian, and we ended up "settling down" together in a very French-speaking little town in Montreal.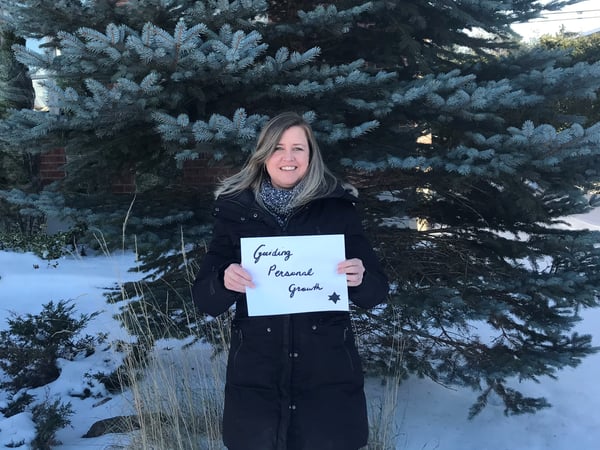 'Guiding personal growth' - the three words that summed up my year with Studiosity in 2019.
My CPA isn't really recognised here, and despite two years of French courses my French-speaking isn't the most amazing yet. It can be challenging being away from family, but I strongly believe that home is where you make it, and that if you look around, you'll find opportunities inside all challenges.
I was extremely fortunate to find work with Studiosity, in my native language and with the ability to work online, flexibly. As a Studiosity Specialist Mentor, I help and guide our network of brilliant Specialists to deliver the best online study support experience for each and every student who logs in.
>> Hear from more of our Specialists and Mentors over on our YouTube channel.
So I wanted to share a few thoughts on how to not only survive COVID-19 lockdown, but leverage this time to the benefit of your future.
Take time to re-evaluate what you want
While so much of our normal routine has been taken away from us, turn this negative into a positive and appreciate the chance to really hone in on what's most important to you. It's frustrating that our social gatherings have been cut off and sports games aren't happening. However, this gives you the rarest of opportunities; the chance to focus on yourself without the background noise that usually makes it impossible. Imagine that someone pressed pause on your world – what would you do? It might be tempting to fill this period of empty time with distractions like social media and Netflix, that aren't going to help you jump ahead. That's ok, but also think about what's important to you, where you might be going in life and how you're going to get there.
I recommend taking a cue from the wider world. This crisis has given us a glimpse into a future where technology is king, and our study, work, and play is often online. How ready are you to thrive in this system? Find ways to pad out your CV with skills and knowledge that will be essential to employers in all sectors. For example, mastering programs like Excel, learning to design a polished presentation or doing a crash course in coding. Lots of companies are offering free online courses at the moment – why not brush up on some skills that will be vital in the 'economy of the future'?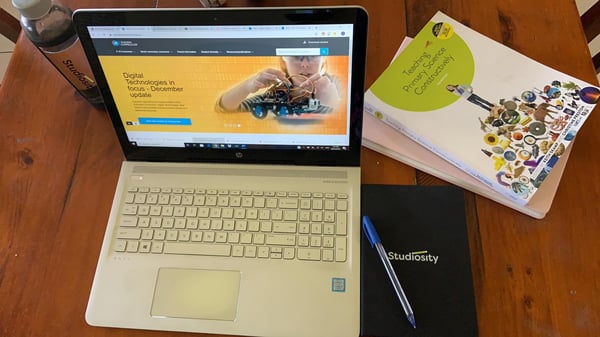 Get comfortable communicating online
The ways in which we communicate have dramatically shifted. Video-chatting with friends and online conference calling at work aren't new, but this moment in time has made them mainstream before many were quite prepared. It's common to feel a touch uneasy when having a conversation on the phone or computer; silences just don't sit quite as easily when you're not face to face. But in reality, the future of work will see chatting via video link to colleagues become an everyday occurrence, and more and more job interviews are even moving online!
Use this time to practice and slowly feel more comfortable communicating in this way. Think about what works for you and familiarise yourself with platforms like Zoom and Microsoft Teams. These channels are here to stay, so treat this time as a form of exposure therapy. The more you chat through technology, the more confident you'll become and by the time we are face to face, you'll be a better communicator than ever!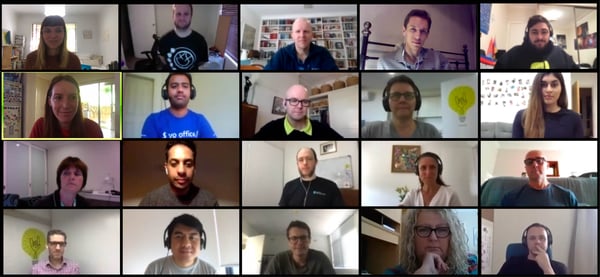 A typical Studiosity team meeting these days
Reach out and connect
Some people (myself included) have their kids home from school, some people are struggling with intense loneliness. Everyone is facing their own challenges, but that's the key - everyone is. There has never been a better time to reconnect with old friends, check in on your current networks and bring together groups or family for a big video call (as everyone knows how to work these things now anyway, and more platforms - like Facebook - are launching group video features all the time).
People will appreciate these digital connections like never before - yourself included. Organise an online trivia game, or even a watching party so you can still make human connection even while watching Netflix. There are lots of opportunities for human connection in the digital world (as everyone who works at Studiosity knows - that's what we're all about).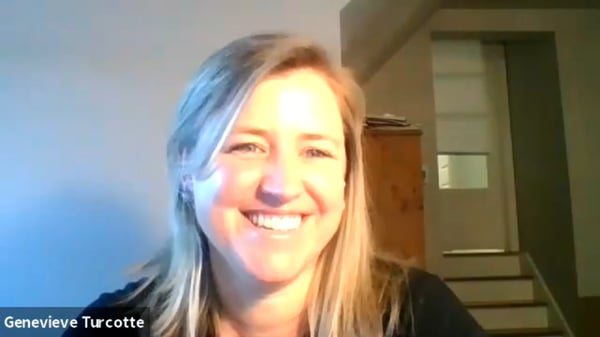 It's not an ideal time, that much is certain at least. It's hard. However, just taking some time to re-evaluate what you want, connecting with others and upskilling yourself, you might just come out the other side of it all slightly better off. Stay safe and stay sane. Au revoir!
---
Genevieve Turcotte is a Specialist Mentor with Studiosity. She lives in Montreal, Canada with her husband and two children. Genevieve loves helping our Specialists develop their own skills through the Studiosity platform, and in her spare time she likes to bake decadent desserts, spend time with family and speculate about when we will be able to travel internationally once more.