It's that time of the year again. Christmas is just around the corner, and most people are finishing up school/uni/TAFE/work and getting ready for their annual summer holiday.
And what better time than now to lose yourself in a novel! Reading will not only keep your brain stimulated over the break, but it will help with creative thinking, improve your vocabulary and simply provide you with a wonderful form of entertainment or inspiration.
We've put together a list of recommendations for your holiday reading. We hope you like these as much as we did.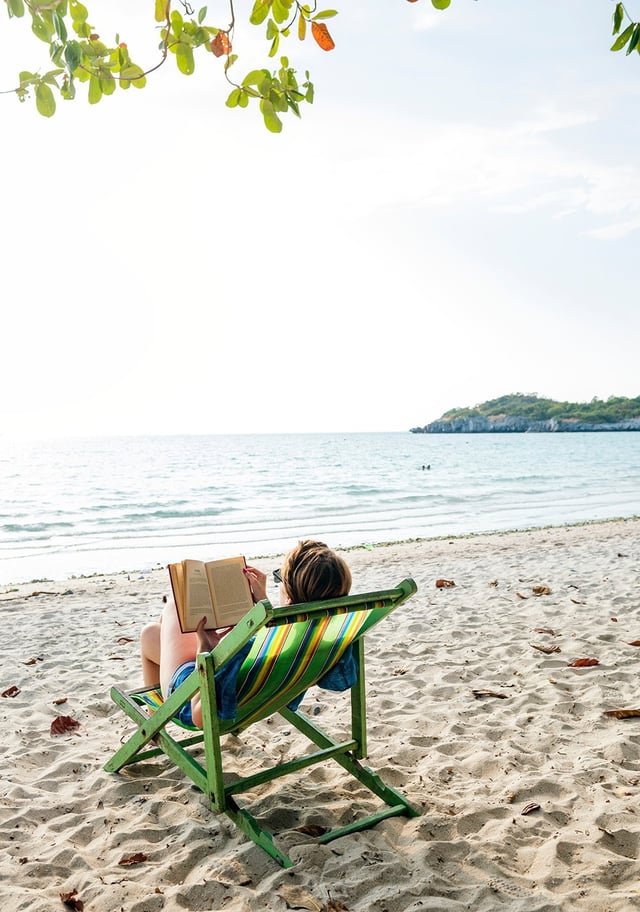 The Art of Fear, by Kristen Ulmer
(Recommended by Mike Larson, CEO)
I recently finished 'The Art of Fear' by former extreme skiing champion Kristen Ulmer. There's no doubt Kristen has taken on some of the scariest peaks in the world, and later in her career moved past overcoming fear, to embracing it. I found this book to be a thought-provoking read from an inspiring lady.

Hillbilly Elegy by JD Vance
(Recommended by Chris Fitzpatrick, General Manager)
I've just finished reading
Hillbilly Elegy
by JD Vance - a present from Christmas last year!
It's a memoir of a guy that came from a poor white family in Kentucky, had a very difficult upbringing with no father figure (other than his grandfather), a mother who was a drug addict, violence at home - generally a pretty rough upbringing. He ended up graduating uni and then going on to Yale Law School, so his story is about how so many people in the US struggle and yet some can still 'make it'. At the heart of the story is the importance of family and education - his grandmother effectively raised him and even though she was a pretty rough character, she always insisted on giving him a decent education.
Not the most happy read but interesting nonetheless!
Monkeys with Typewriters: How to Write Fiction and Unlock the Secret Power of Stories by Scarlett Thomas
(Recommended by Evelyn Levisohn, Marketing Manager, APAC)


Actually, I would recommend reading anything by Scarlett Thomas. She's one of my favourite writers, and even if you aren't intending to become a writer
this book
is a joyful exploration of the secret power of stories, and how to tap into that power. My other favourite book of hers is a novel,
The End of Mr Y
. She writes fantastic, intellectual stories with strong female lead characters. So if that's your kind of thing (or if you want to know more about the craft of story writing), get stuck in!
When Breath Becomes Air, by Paul Kalanithi
(Recommended by Stephanie Saunders, Marketing Manager, APAC)
I highly recommend the book '
When Breath Becomes Air
'. It's an amazing book about a neurosurgeon who is diagnosed with terminal cancer at the height of his career and how he processes life, philosophically and biologically. Warning - it's a true story and also heart-wrenching, but a fantastic read. :)
The Book Thief, by Markus Zusak
(Recommended by Nadia Sundstrom, Partnership Manager)


This book
is set in Nazi Germany and tells the story of a little girl and the traumatic experiences she endures. I love this book as it highlights a passion for books and words that I also share, whilst taking you on an emotional roller coaster highlighting an important time in history. I have read every one of Markus Zusak's books. I love the rhythm of his writing as well as his unique way of getting you attached to a character by highlighting their quirks.
Go Set a Watchman, by Harper Lee
(Recommended by Jack Goodman, Founder, Executive Chair)
This is the
book
that Harper Lee wrote before
To Kill a Mockingbird
, and it's a far more truthful look at the American South. Sadly, most lovers of
Mockingbird
can't or won't tolerate it because it paints Atticus as a (pragmatic) white supremacist. Watchman tells the truth as it was in the 1950s and still is in 2017.
And...
The Sellout, by Paul Beatty
Another great American novel about race, this one a satire.
This one
has some strong language in it, and a lot of cultural references from the 1970s-2000s, so it can be a bit tricky to follow the concept, however, is fascinating and a real shock to the system. Highly recommended.
It's interesting because both these books came out well before the current president was elected, and yet they reveal something about America that is highly relevant as we head into 2018.
Tools of Titans, by Tim Ferris
(Recommended by Gerard Benn, Tertiary Partnerships Manager )
Tim Ferris is known as the 'Oprah of Podcasts'. He has over 100 million subscribers to his podcast, where he interviews "world-class performers".
This book
is a summary of the highlights from his interviews. It is a short-cut into the minds and secrets of exceptional people, their habits and tips for success. Each chapter is devoted to an interview and this way, the book is great for a quick read before bed as you can literally open it up anywhere and skim through the highlights of one of his interviews. He builds rapport with each of his subjects, asks fascinating questions and gets really interesting answers.