Dave Puplett, Head of Library Services at the University of Greenwich kindly agreed to share a case study on the wide-ranging student support services at Greenwich, and a look at some of the key NSS outcome comparisons.
You can watch the full webinar recording

here (42:23)>>>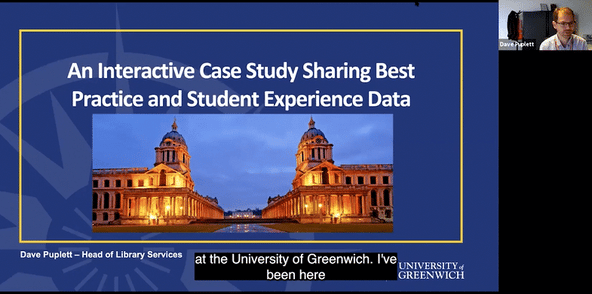 Background
The University of Greenwich has 19,000 students based in the Greenwich campus alone. About a quarter of these are part-time, and a quarter of those are postgraduate. In every aspect of the student body you will find diversity; whether they're distance learners, mature students, study mode, or which campuses they are based at - either Greenwich, Eltham, Avery Hill, or the shared campus with University of Kent and Canterbury Christchurch in Medway.
University of Greenwich also have a lot of students studying via their international partners based all over the globe, making the them a fully international university in terms of not just where students study, but also in terms of the background of students who come to Greenwich in the UK to study. Being hugely diverse is really exciting, but it also has challenges:
"People come to us with such a wide variety of backgrounds and they'll be here on different days of the week. They'll have different qualifications, levels of study, and that means we need to be really dynamic and flexible in what we do to help support them. They're also studying a really wide range of disciplines."
The Library Services team responsibilities
The Library Services team led by Dave includes the following teams: Collections; Youth Services; Academic Support, which includes the Academic Support Librarians and Academic Skills Tutors; and the newest addition - Academic Learning Enhancement.
"We support students at every stage, both when they come into the library and ask a question, but also at the design stage of their programmes. And because we have also been tasked with supporting them when they are almost at the pre-arrival to university, right through to the moment that they leave us, we see every aspect of student life.
"We've got a lot of support from our leadership around the university to basically put our hand up and say, this is what we think students need and get the right tools in, in order to help support that. But also to recommend changes to the way that the university is organised, set-up and run, when we think it's going to benefit student outcomes.
"Having the combination of skills, tutors and librarians in one team is very complementary and it also gives us credibility to have those conversations with the wider faculty. And this is where the Studiosity service works really well."
University of Greenwich has partnered with Studiosity since 2019, and the Library Services team was seen as the natural home to lead on it because of their ability to influence and support the whole university, not just individual students. The team were delivering a lot of their support one-to-one and so wanted to achieve a wider scale of success:
"The idea of implementing Studiosity at Greenwich wasn't our own idea, it was brought to us by the Deputy Vice-Chancellor for Academic, but we really seized on the opportunity because it wasn't seen as something that was going to replace anything we were already doing, but it could really complement what we were doing. But it did actually save us a bit of time because our tutors and librarians would often get students coming in and saying, "can you give me help with my essay?" Of course, we can still do some of that, but we don't want to be sitting there all day long, helping students with grammar or telling them that their sentences are too long.
"We developed our arrangement with Studiosity in such a way that it empowered our team to find some extra time to work with the faculties on where they could invest extra support in supporting the students about the quality of their academic skills and direct students to Studiosity in their own time. And in fact, also in quite an approachable way, where some students would come to us directly, but a lot of the students would not. And this actually had the effect of lifting the overall standard."
Student outcomes
Like all HEIs Greenwich had to hastily adapt during the pandemic - but were able to adapt particularly quickly because they had lots of services that were ready to pivot to an online environment. The academic support team were not having to learn on day one how to deliver an online training session for example, as they had a good combination of physical and digital support readily available, embedded into their digital services around the university. Studiosity being one example of the services available that students could access anytime, anywhere.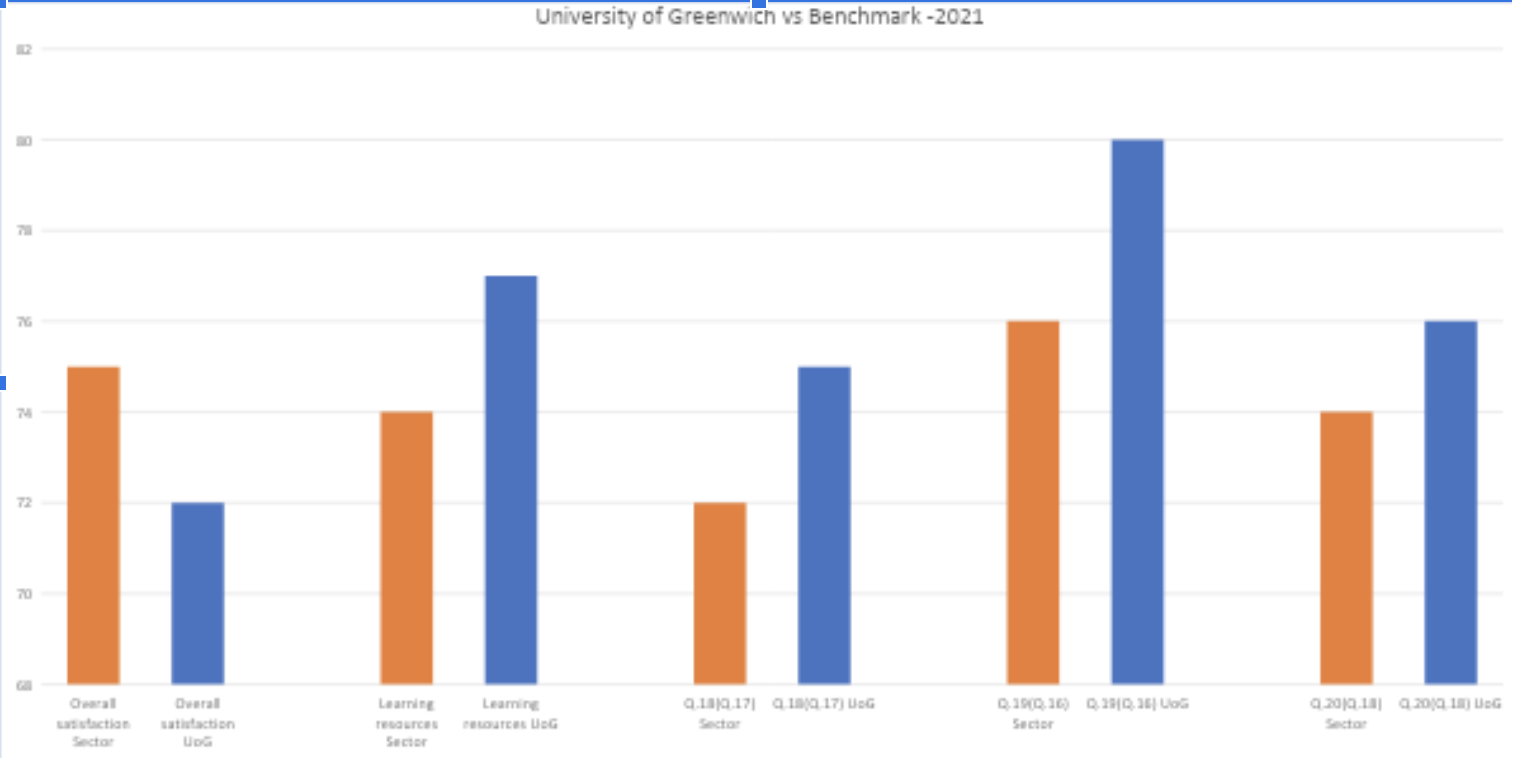 2021 NSS benchmarking - orange representing the overall sector and University of Greenwich in blue. From left to right: Overall satisfaction; Learning resources; Q18; Q19; Q20.
Dave explained that they looked to the NSS results to better understand how they were doing, and from a financial perspective to ensure they were extracting the right value. The results showed that despite the sector as a whole dropping, Greenwich's drop was slightly less as visualised in the above graphic.
>>>Watch the full webinar to hear Dave explain more about these positive student outcomes.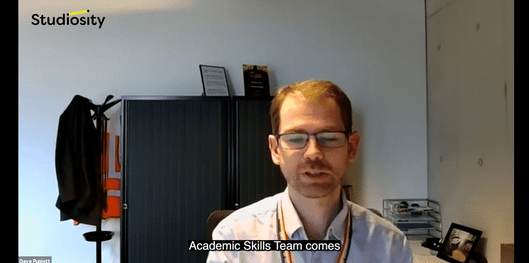 Thank you to Dave Puplett, Head of Library Services for taking the time to deliver this case study during the very engaged webinar.
You can read the University of Greenwich full Case Study here.
You can download the full webinar transcript here (check your downloads for the Word document).