Presented online by Neil Mosley, Digital Learning Designer at Cardiff University at the EMEA Online Symposium 2020.
You can view the highlights video featuring Neil's presentation here.
The 2020 EMEA Online Symposium brought together key speakers from the education sector to provide support, advice and start conversations around online learning for our attendees from across the region, sharing their insights and knowledge during a time of change and transition in the education sector.
Neil Mosley, Digital Learning Designer at Cardiff University, presented his challenge to universities to change, think and do things differently, especially in light of the current situation caused by the pandemic, with considerations for universities for the forthcoming academic year.
Know the past to understand the present
A look back at the progression of online education over the last 10 years confirms that it's been a notable decade, with a number of ways in which online education has grown in UK universities, such as the advent of MOOC platforms, creation of OPMs and various in-house changes. Many large and successful companies such as Canvas, FutureLearn and Khan Academy, not to mention the ubiquitous Zoom, have come on the scene - examples of companies external to universities that have become key to delivering online education. The hype around MOOCs led universities to invest, with around 40 universities partnering with MOOC platforms, paying 6-figure sums over the last 6-8 years and recruiting dedicated teams to support this activity. In turn, this led to some universities making strategic moves into online education, such as Coventry University, King's College London, the University of Edinburgh and Imperial College London. This being said, Neil believes it's fair to say that online education is still largely an adjunct to core educational activity of universities.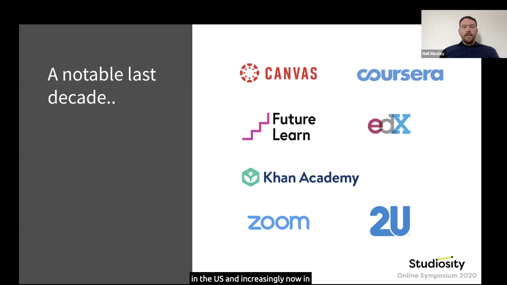 Where are we now?
Today, we see a limited internal appetite for online education, with growth being driven by MOOCs and external players. There are many considerations for universities when evaluating online courses - teaching staff may not be prepared for the necessary changes; there may be limited support for digital education within an institution; and question marks remain over the technology - will the existing edtech support active, engaging online learning, or is new tech needed? Is it accessible on a range of devices?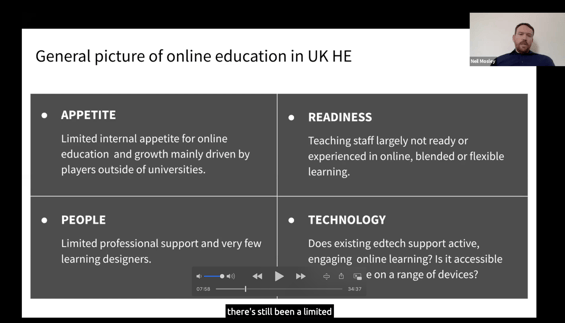 Looking ahead
"If the next academic year begins on an online basis, platforms will need to be better quality than the temporary - and sometimes brilliant - adaptations put in place (due to the pandemic)
Simon Marginson, Director for Global Higher Education, University of Oxford
Faced with uncertainties for the next academic year, Neil suggests focussing on three areas:
Invest and invest wisely if you can, in people and where necessary, technology
Learning design is crucial to good quality online learning and there are a lot of things to think about to deliver a quality learning experience for students and staff. Some things to consider here are moving from synchronous to asynchronous teaching; collaboration opportunities for students and teaching staff; creating a community; obtaining feedback and reflection; delivering authentic assessments.
Invest in learning designers - learning designers take a holistic approach, working closely and collaboratively with academics throughout the lifecycle of designing courses/modules for digital/online delivery, and with many learning designers already working remotely, universities can access a greater pool of candidates.
Technology considerations: does your education technology really support active and flexible online learning? Does it support asynchronous learning? Does it work across a range of devices, especially mobile? Evaluation here is key before investment!
Seriously consider forming partnerships
OPMs and MOOC providers may provide an opportunity for partnership in the rapid upscaling of online provision. Alternatively, they may or do they offer training programmes and resources for staff development.
Other universities - can other unis help you with what you need? There are many synergies in what we teach - can we explore sharing and licensing of materials?
In light of the current situation, this one is self explanatory!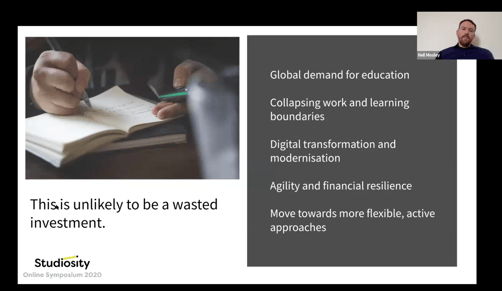 Many thanks to Neil for taking part in the EMEA Symposium 2020 and sharing his thoughts and insights with us.