Professors Cliff Allan and Liz Thomas, plus our special guest panel enjoyed the lively and engaging debate during our UK helpseeking webinar Thursday 10th September, 2020.
---
With the new academic year upon us in the UK, COVID-19 has already brought and continues to bring significant change to higher education and the student experience. Online teaching, learning and assessment and student support has accelerated enormously over a very short period of time and are now increasingly becoming core elements of provision rather than what before was a complementary add-on to study support and learning provision.
With new first year students now arriving at university, some whom have had little formal education (or none at all) since March because of the closure of schools, and following a relatively chaotic post-results admissions experience, this new cohort may be anxious about what to expect and what their experience is going to be. So what might this mean for student help seeking? Might we begin to anticipate a significant increase in demand from students, what type of help might be sought by students? Which students will be seeking help? How might that be organised and arranged across universities?
Our webinar UK student helpseeking 2019 vs 2020: what will be COVID-19's impact upon study support this year and beyond? was borne out of our experiences of and research into student seeking study support in the context of increasing online provision for education and helpseeking services that many of our universities now provide, particularly in this kind of post-COVID environment. With Professor Cliff Allan, former VC of Birmingham City University on hosting duties, delegates heard first from Professor Liz Thomas, an independent researcher and consultant who summarised her two recent cross-institutional studies into online help seeking, the behaviour of students who are using those services, which students are using them, the impact and the experience that they've actually had and what it might mean for the sector as we move forward in the COVID world of increasing online support for students.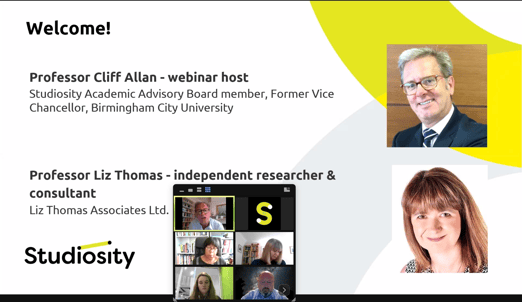 Our panelists Professor Marilyn Holness OBE, Director of Student Engagement at the University of Roehampton, Professor Alison Metcalf, Pro Vice Chancellor for Learning and Teaching and for the College of Health, Wellbeing and Health Sciences at Sheffield Hallam University, Jonathan Powles, Vice Principal and Pro Vice Chancellor for Teaching, Learning and Students at the University of the West of Scotland, and Lauren Edwards, Student Union President at Plymouth Marjon University shared insights from their institutions, answering many questions from attendees and enjoyed lively discussion and debate.
Watch the full webinar video on our Vimeo channel.