"Oh man - is anyone else not getting this, or is it just me!?"
This is one of the worst feelings you can have while studying, wondering if anyone else is having the same problems that you are with the course. It makes such a difference when studying for an exam, to have a friend or classmates who are in the same situation as you, that you can lean on for support and to work with to get you back on track.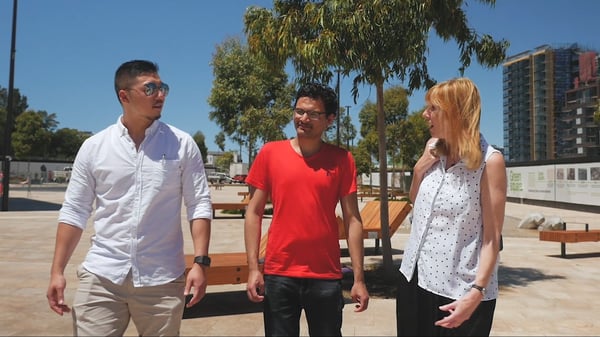 Dean, Aakib and Tracey chatting at a Studiosity meetup in 2019. See the video.
Universities and schools have been amazing at offering online support from teachers, lecturers and other support services, but being in isolation means we've lost the opportunity to chat to other students in person and support each other. But that doesn't mean you have to miss out! Here are some tips to creating a sense of community 'via correspondence', when you're studying exclusively online.
1. Group chat. Set up a group Messenger or WhatsApp chat - seems like an obvious one but sometimes if you don't take the lead, nobody else will get it done. So, go for it!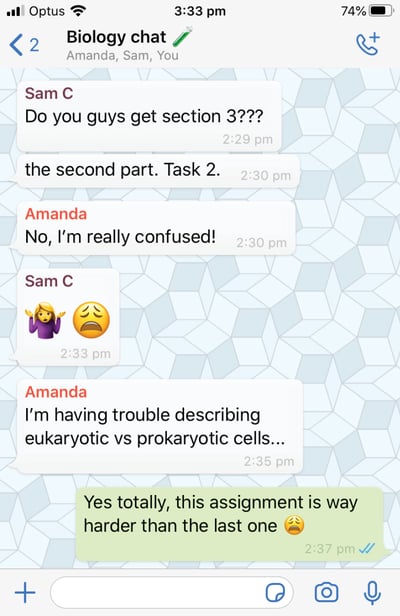 2. Class discussion. Ask that the class is given some time to discuss amongst themselves during an online lesson, without the teacher involved.

3. Small working groups. In a class of 50 or more students, it can sometimes be overwhelming to try and coordinate a group discussion. Suggest smaller groups to work together to review topics – it's an effective way to collaboratively learn and keep each other accountable.
4. Meet in real time. It's easy to post on a community board a question and wait for someone to respond or provide feedback, but this is a passive way of communicating. By keeping a schedule and meeting in real time on a regular basis, you retain accountability, as well as routine. It's also a great way to motivate each other and provide support to each other through the learning process.
5. Use video chat. It creates a much better atmosphere, and people are often more willing to contribute if people have their video on. Some students feel more comfortable with their camera off and prefer to ask questions in the chat box rather than speak, and that's ok. But if you set the example and encourage other classmates to get actively involved, it'll be for the benefit of everyone in the class.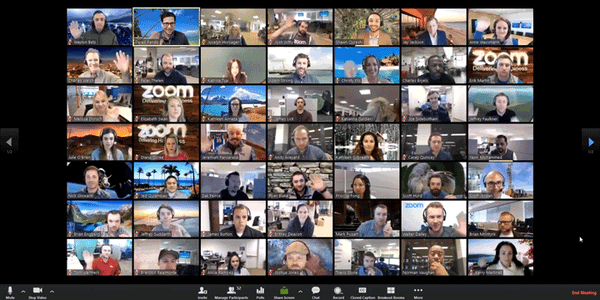 Img via zoom.us
6. Lean on experts. The student community is so important, but make sure you stay on the right track with the academic content and core concepts. Check in with your tutor or lecturer – and if you're not able to reach them, don't forget you have Studiosity, where you can connect with a specialist 24/7 for help with all core subjects (English, Maths, Science) and academic skills.
7. Consistency. It's not easy for everyone to coordinate their schedules, depending on your study situation. If possible, keep to your regular class schedule so it's easier to keep on top of everything. It gives both you and your classmates structure. Speak with your lecturer or teacher on their approach, and how they can be involved with your groups.
8. Step up to the challenge. It's easy to procrastinate, or not attend a session to two, but by keeping yourself (and your peers) accountable, you're ensuring some structure and a sense of normality in such a foreign situation. It's not easy to get everyone on board. It may take some time, and there will definitely be a few people that will drop off but if you maintain regularity, your commitment will encourage others to follow suit.
Even as things start to move back to some sense of 'normalcy' in the coming months and years, strengthening connections among your peers and adding digital elements to your face-to-face interactions will only serve you in the long run. Let's face it, connecting online isn't going away; it'll only grow as time goes on. So let's make it a natural complement to our face to face study experience.
---
Peter Crisp studies International studies and Media, majoring in PR & Advertising because he loves trying to understand what motivates and interests people - and how experiences impact perspective and choices. He hopes to pursue a career in communications after graduating. Outside of uni (and pandemics) he is always outdoors at the beach or the snow or playing sport with friends.