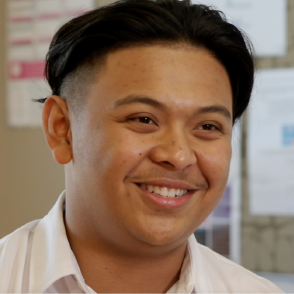 Here's how Studiosity is helping school students thrive.
"Knowledge - Integrity - Respect"
- Butler College school motto
Like all schools, Butler College has a strong commitment to providing a supportive education environment. The first part of their school motto is knowledge. They want students to become lifelong learners, and to set them up to thrive in whatever they do next.
Our out-of-hours core subject and writing support services have helped countless Butler College students to succeed with their studies. We spoke to three key individuals from the school and WA education board to find out more.
Armando Giglia, Founding Principal at Butler College
"Put simply, Studiosity is an opportunity not to be missed. It helps our students become exactly what we want them to be - lifelong learners."
How does Studiosity foster self-directed learning for students?
"Both the core subject support and the writing skills services have enabled our students to become more critical and nuanced in their work. Studiosity isn't about telling students what the answer is - it's about helping them learn to get the answer themselves, and apply that to other aspects of their learning."
How do teachers benefit from students using the service?
"Our teachers have definitely noticed an increase in quality - they see Studiosity as partners in the learning process. Teachers provide the core knowledge, and Studiosity gives the extra support that provides students with an extra push. In many cases, Studiosity has been the trigger that's helped students attain a university place and unlock the level of learning they're truly capable of."
"What's great about Studiosity is it applies to all students. High flyers improve even more, and lower performing students get the extra help they need - particularly if they respond to visual or other learning cues."
What support are you now able to provide ESL students?
"We've seen huge success among those who speak English as a second language - as an Italian, I know what it was like to have to constantly translate everything, it naturally slows you down. Studiosity enables our international students to go at their own pace, whereas in the classroom the teacher may not be able to do this."
How does Studiosity fit into the modern lives of students?
"Everything in young people's lives these days is online and on demand. With Studiosity, their learning is too."
What is one of the most positive effects you feel the service has had on the students at Butler College?
"I've noticed the students who use the service are a lot less stressed. If you're less stressed, you're happier, and when you're happier you're better able to learn. It's a lasting testament to the value of Studiosity and the outcomes it produces."
Geoff Kinkade, Principal Consultant Gifted & Talented in WA Department of Education
"I'm a great believer in encouraging critical, investigative thinking, of getting students to formulate their own questions. Teachers will never be able to cover everything in class, and giving students the tools to be able to think more curiously, to formulate, research and answer their own questions is absolutely essential.
Studiosity enables critical thinking. The Subject Specialists don't simply answer questions, they help students discover the ways to find the answers. This empowers them to become more critical in their approach not just to the questions they bring to Studiosity or their teachers, but to everything they learn, both in their time at school and beyond.
The service has also helped a lot of students with their core numeracy and literacy skills, and has enabled many to succeed in their NAPLAN assessments."
Click above to see how Studiosity helps students at Butler College.

Drew, Butler College student
"I came to Australia from the Philippines, and originally struggled with English. Studiosity specialists ran through my essays, turning them around in a day or two instead of the three or four days it would normally take teachers. They'd show me examples of where my English was going wrong, and this helped me spot other times where I was making the same mistake."
"I've wanted to go into marine engineering for a while now. This involves having a good understanding of key skills in science and maths. Studiosity has helped me understand not just the questions themselves but the concepts around them, which is something I can carry forward to uni."
"Studiosity has shown me that nothing is impossible. It's just that you have to be more determined on what you need to do and what you're passionate about, and Studiosity can help you get there."
To find out more about how Studiosity helps school students from all walks of life thrive, reach out today.