A classic videogame by any metric, Minecraft has the added bonus of it being a constructive, thoughtful game suitable for all ages. Minecraft is essentially lego, allowing players to place blocks in a 3D world to create buildings, art, or even complicated machines.
Minecraft is a great tool for creativity. Like painting or lego, it doesn't ask the player to solve maths questions, but rather lets them think in a defined space, and make use of the tools they have available. Even Sydney's Powerhouse Museum has a network set up to allow kids to spend an afternoon playing and building, and then be able to show their creations to friends and parents.
A beautiful view of a farm at dawn built by our very own Director of Tutoring Services, Ciaran Smyth.
Minecraft is split into two modes: Creative and Survival. In either mode, the player is presented with either a flat, empty expanse or a world of randomly generated terrain. Creative is simple; players have unlimited resources to build whatever they want, without any constraints. Survival is a more traditional gaming experience, where players have limited resources, and must first collect any blocks they wish to use for building.
Personally, I'm a fan of architecture, especially cathedrals. I spent a good few hours planning and building a large stone structure, trying to create something grand by only using stone and glass blocks, and letting lighting and space define the structure, instead of color.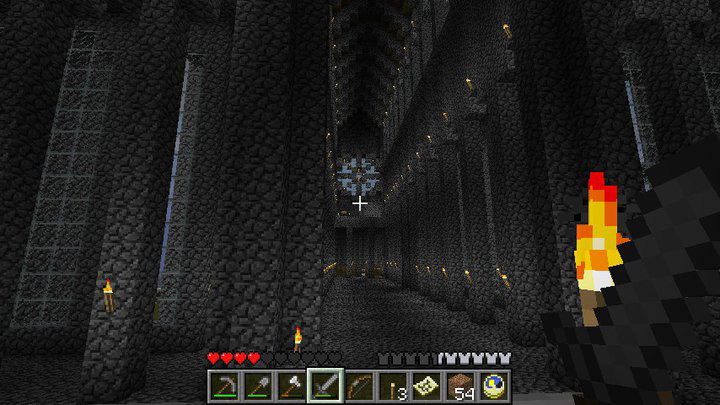 I probably spent more time with a pencil and graph paper than I did actually doing the construction.
Even outside of construction, the world is fun to explore. The terrain generator makes interesting continents, islands, caves and mountains that are just lovely to look at, in spite of the fact that it's all made up of cubes.
The advantage of Minecraft is that it's safe and kid-friendly. The only things I'd mention are that there is some combat (you can see me holding a sword in the picture above), but this is cartoony, and can easily be disabled entirely. Some of the caves can also be filled with spooky noises, but again this is easily avoided.
If you're a fan of Game of Thrones or Lord of the Rings or other fantasy epics, have a look through google's image search to see some of the locations recreated in minecraft, resulting in some of the most impressive visuals in contemporary gaming.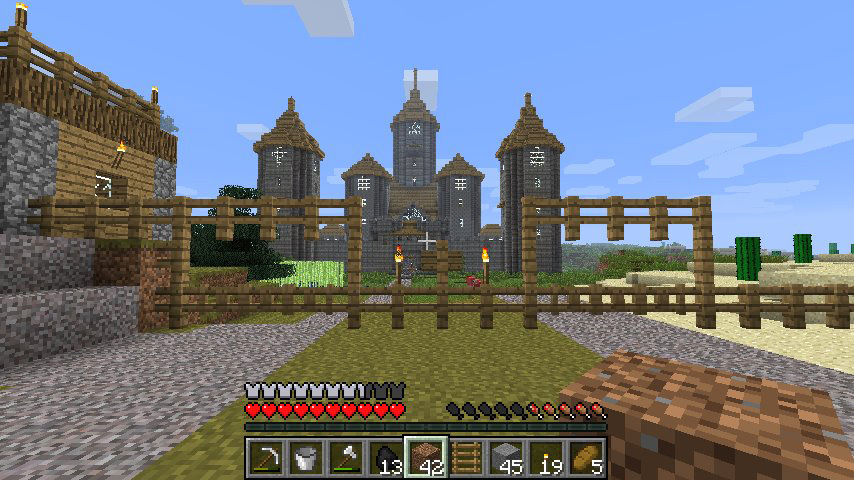 Like anyone who's given lego to play with, one of the first things I did was to build a castle
If minecraft has a fault, it's that since you can do anything (or at least, anything involving the arrangement of different blocks), it can be hard to find direction. Unlike The Sims, the things the players create do not need to serve a purpose or even be terribly practical, so players must judge for themselves the worth of their creations. Minecraft also has multiplayer, allowing many people to collaborate on a single work, but it can be a little fiddly to set up.
Minecraft has also expanded in a really interesting way. Many bookstores contain guides for Minecraft, explaining the game's systems and fleshing out the game's lack of a solid tutorial. Minecraft merchandise is also widely available, which may seem odd for a game with no characters or storyline to speak of, but the game has a charm of it's own that explains why there are so many minecraft-themed backpacks.

Bottom Line: I wholeheartedly recommend minecraft. It's fun, it's beautiful, and it allows plenty of creativity without any mess or cost (other than the initial purchase). The game works as a single-player experience, or multiplayer, and encourages collaboration. Since it is so popular, there's no lack of resources, guides, and tutorials to help new players learn.
Studiosity is an online study help service, connecting Australia's best and brightest educators to students during homework time. Sign up now to see how it works.