A few weeks ago, the nation's vice chancellors - supported by hundreds of deputy and pro-vice chancellors, deans, and other members of the senior leadership teams - assembled in Canberra for their annual gathering at the Universities Australia Higher Education Conference. With the summer holidays behind them and the academic year barely underway, it seems logical that the mood would be relaxed, upbeat and optimistic, much the way many of us recall feeling at the start of the school year, with a clean backpack full of fresh notebooks, new pens, and sharp pencils.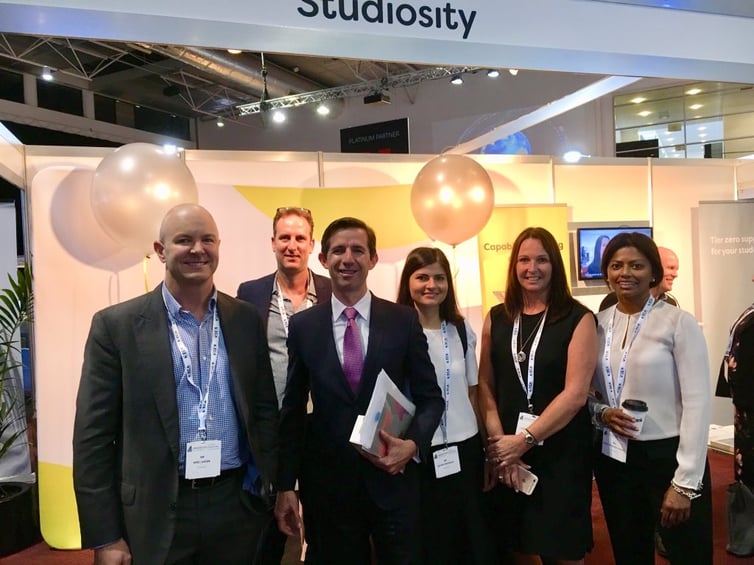 The Studiosity team meeting the Minister for Education and Training, Senator the Hon Simon Birmingham, at UA.
From left to right: Mike Larsen (Studiosity CEO), Gerard Benn (Partnerships Manager), Simon Birmingham, Mona Pradella (Marketing Manager), Dr Lesley Halliday (Head of Academic Services), Héma Prakash (Head of Partnerships).
And yet for most of us in the sector, and particularly those who have attended for the last several years, there was a sense that unis as a whole are on an accelerating trajectory into an uncertain future. What are the forces that are propelling us on that journey? They fall into three broad categories: digital disruption, employability, and financial sustainability.
Do unis actually have a stranglehold on education?
First, digital disruption. Every year for at least the last half decade, the UA conference has featured multiple speakers talking about the latest technological innovations and their impact on the way universities deliver one of their two core products: teaching and learning. And while many like to point to the lustre coming off MOOCs since their stunning debut in 2012, the fact remains that since then every university in Australia has, to a greater or lesser degree, headed down the path of engaging with their students and staff in virtual spaces.
At a plenary session entitled "Dispelling Dystopia," the significance of artificial intelligence or "AI" came to the fore with Genevieve Bell headlining a panel on the differences between "strong" and "weak" AI, the choices we make regarding the data we are prepared to use for "thinking" algorithms, and how much we have to fear for the future. As one observer tweeted, "Prof Bell questions why unis think they have a stranglehold on #highered."
Prof Bell questions why unis think they have a stranglehold on #highred #UAConf2018

— Anton Crace (@AntonCrace) February 28, 2018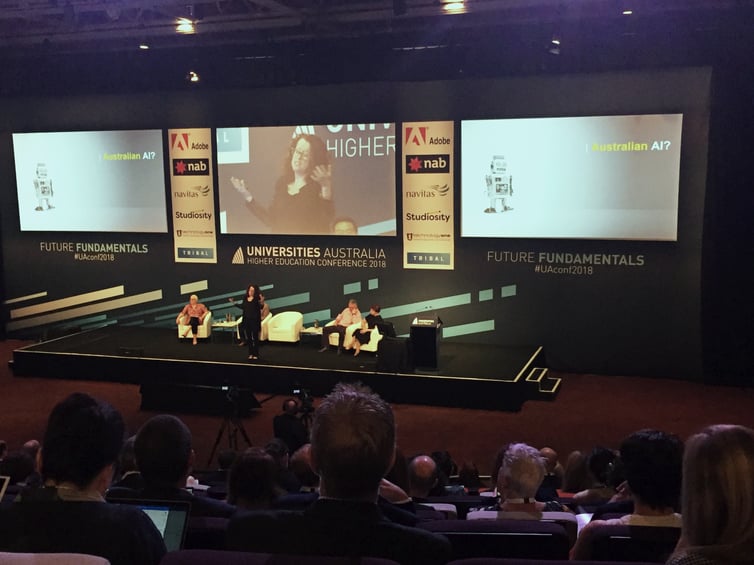 Genevieve Bell at UA2018, headlining a panel on the significance of Artificial Intelligence in higher education.
There's more to long-term happiness than a college degree
Second, employability, which is inextricably tied to digital disruption. At his keynote, Bruce Reed, a former advisor to several Democratic US presidents and the co-chair of the Future of Work Initiative at the Aspen Institute, gave the audience a whirlwind of what technology is wreaking on employment in the United States. On one hand he painted a picture of employment that, over the last decade, nearly all jobs have required some level of college education.
Reed: of 12m jobs created in the US since the GFC, more than 99% went to workers with at least some college education. #UACONF2018

— Jonathan Powles (@JonPowles) February 27, 2018
At the same time, he also pointed out that "The same forces disrupting work will disrupt learning."
Bruce Reed reminds us that "The same forces disrupting work will disrupt learning." A point well taken - well educated and curious lifelong learners will have less to fear from robots. #UAConf2018

— Jack Goodman (@jackaroo2000) February 27, 2018
His key takeaway: the world of employment is going to change dramatically, with countries like the US and Australia becoming much wealthier. We have choices to make about how that wealth is going to be distributed. Having a good college education will help individuals navigate that change, but, more importantly, "making it into your 20s with your dreams intact," and becoming a lifelong learner will be keys to long-term happiness. As he explained in his "Future of Learning" slide: "If work is insecure, learning must be lifelong and certain."
Hon Bruce Reed @AspenInstitute on automation, future of work and future of learning #UAConf2018 pic.twitter.com/riS3GgAFch

— Helen Zimmerman (@Helen_Zimmerman) February 27, 2018
Plibersek's and Birmingham's views on financial sustainability are not so far apart
Last, financial sustainability. Both Simon Birmingham, the Minister for Education, and Tanya Plibersek, the Shadow Minister for Education, spoke at length about their commitments to the sector. And while they sought to draw hard distinctions between how they view Canberra's relationship to our universities, there was far less difference between them than might be expected.
Birmingham spoke about the need to find a stable, long-term funding arrangement for the sector, underscoring the rationale behind his decision to place a hold on indexing of commonwealth grants and a cap on enrolments at 2017 levels.
Plibersek, on the other hand, while continuing to back the demand-driven system as a driver of more equitable outcomes for all Australians, arguably represented the bigger risk to the sector. She presented Labor's vision for a "root and branch reform," which would include both universities and TAFEs, which are universally recognised to have been short-shrifted by government over the last decade.
"We're up for a serious conversation about root and branch reform." - Plibersek #uaconf2018

— Lewis Price (@lprice1993) February 28, 2018
Almost certainly, should Labor get elected and the review be undertaken, there will be a new framework for the entire higher education sector developed that will reallocate government's limited resources from our well-funded universities to the vocational side of the equation. Plibersek promised stable three-year funding agreements, but if we have learned anything over the last decade, it's that neither side of politics can guarantee anything that relates to stability.
.@tanya_plibersek making some big, brave claims to "guarantee stable 3 year funding agreements." But the last decade has shown politicians can only guarantee the spectacle of their own infighting. #UAConf2018

— Jack Goodman (@jackaroo2000) February 28, 2018
And when you think about it, the most disruptive thing affecting universities these days is the fact that nothing at all seems to be stable.
With a vision to make the highest quality academic study support accessible to every student, regardless of their geographic or socio-economic circumstances, Jack Goodman founded Studiosity 15 years ago. He now is the Executive Chair of the company and continues to drive the mission to help more students, everywhere, every day.