As part of Study Australia's #InThisTogether campaign, we're talking to international students to get their perspectives on study and life in Australia, and what their journey has been (before, during and post-COVID19).
---
From social work in Indonesia, to a Masters in the capital
Studying in Australia was always something I wanted to do, because Australia has a really good reputation for the quality of its education. I was working as a Social Worker in Indonesia, working with NGOs and communities, and I wanted to expand my skills and enhance my networks with practical, hands-on experience - that's why I decided to study a Masters of International Development at the University of Canberra.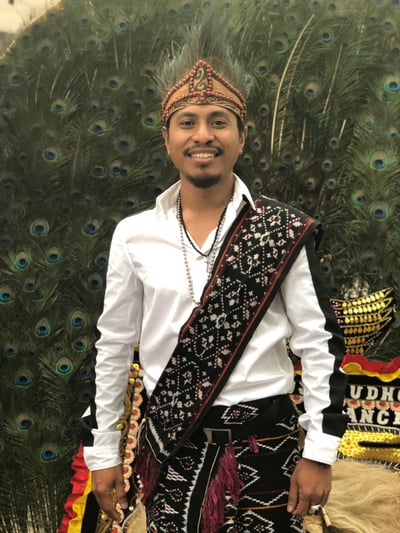 I quickly learned that Australian universities treat their students, and particularly international students, with a lot of support and services. The quality of the experience was very high - not only were we supported and listened to around how to get the most from our academic experiences, we also always had 24/7 online support and help developing our English language and writing skills.
Developing strong leadership skills
The opportunity to improve my English writing and speaking skills, and the confidence that gave me, is what led me to become a student leader. I was the Indonesian Student Association President in Canberra, and also the Vice President of the Australian association too. I spoke with and on behalf of many international students at various events, not only in Canberra, but also in other states and countries. I attended international conferences in Sydney and Melbourne, fully funded by the Australia Award, which provided benefits to my Master degree.
I was selected to attend the Universities Australia conference in 2019, brought along as a guest of Studiosity, as I was on their Student Advisory Panel. When I was there, I saw that not many students get the opportunity to attend, but I feel more student leaders would benefit from attending and hearing the national outlook on higher education in Australia. The staff introduced us to important university and government people at that conference, who seemed genuinely pleased to talk to us students as well.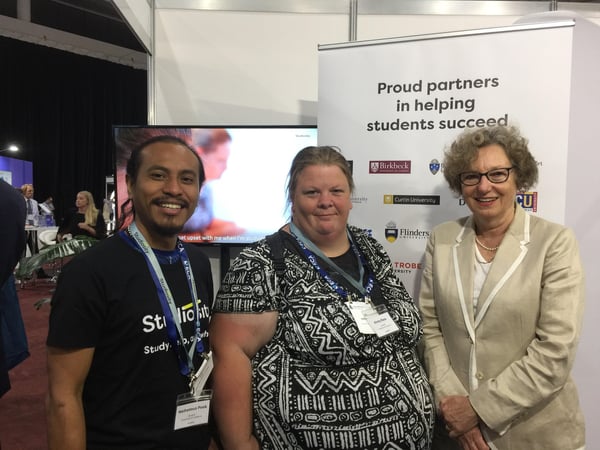 Me, Kirsty (another student from UC) and Professor Judyth Sachs at the UA conference in Canberra, 2019
I was also able to travel to Malaysia to attend a Symposium for international students. This not only gave me the opportunity to gain some knowledge, but also to enhance my networks as I mentioned before. I met many different representatives and government officials, shared my ideas and talked with them, and discussed interesting things.
Enhancing my networks with incredible contacts
At one of these events I met some Australian Government officials, who were in a program to learn Bahasa, my native language, and they invited me to present a talk in Bahasa at one of their meetings, about the NGOs I worked with in Indonesia.
I still maintain contact with some of those incredible people that I met. At the student conference in Melbourne, we discussed the momentum of democratic action - how can young people like us play a role in our nation's development? What kind of things can we do to help our country to become more developed? There were many experts, including officials from Indo, governors, national officials, and also leaders from the Australia-Indonesian Business Council, who came to talk about business and economic opportunities and how they can help, for example, with graduate jobs.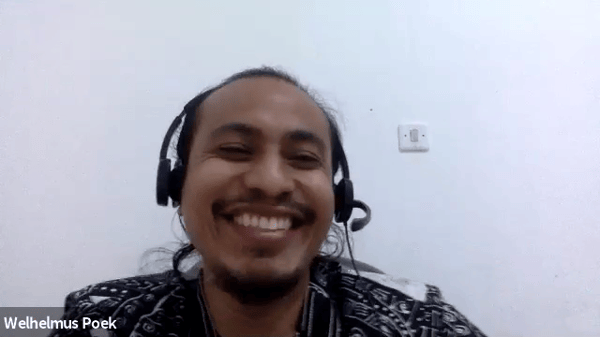 Post-graduation employment opportunities
Australia has a really good reputation for education, and graduates from there are always at the top of employers lists back home. Doing a Masters in Australia is certainly one of the reasons that last year, an organisation back in Indonesia offered me a great job, in my field.
That meant I had guaranteed employment when I graduated. Now I'm working in a stable job, in the field of social work that really interests me - and in a time when employment and job stability is so fragile. I feel extremely fortunate, and owe a lot to Australia and the University of Canberra, for all the opportunities I had.
Tips for other international students
As International students who come from different cultures, languages, as well as a different education system, it is normal for us to feel stress or anxiety when studying in Australia. To deal with these situations, here is some of my advice for International students:
Build your friendships and get involved in any social groups that can benefit your academic performance, as well as social life in Australia. We also need entertainment or fun activities to keep us from feeling lonely or stressed. Joining social groups can help with that.
Work on your time management. Having good skills in managing your time is one of the key factors for study success in Australia.
If you feel bored or stagnant, travelling can be a good medicine. Take some time to travel around Australia, or meet friends in other states. It's a huge, beautiful country with so much to see.
See if you can apply and attend some conferences that will be meaningful for your personal and professional networks, and use these events to discuss or learn more about things that you are interested in.
Try to expand your horizons - don't just join groups where everyone is from the same background or the same country. Branch out! It's the best way to
Take advantage of any support services provided by your university, including academic support (such as Studiosity), which will boost your academic performance, including writing skills and English ability.

Read more about Study Australia on their website
---
Thanks again so much Welhelmus, and best wishes from all the team at Studiosity with all your endeavours.