I had the great pleasure of sitting down with one of the super-successful women at the forefront of our company (and industry), Judyth Sachs. I wanted to talk to her about International Women's Day, what it means to be a professional working woman and how she views that role's significance within the education sector.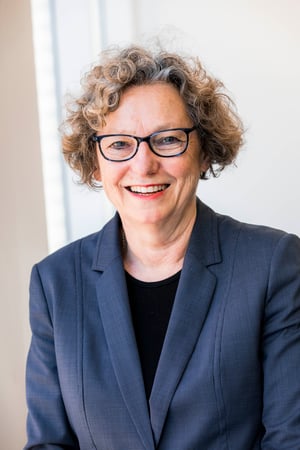 Professor Judyth Sachs has an extensive, varied and interesting career in education, between schools, universities and private companies. She was PVC Learning and Teaching at The University of Sydney, Deputy Vice Chancellor and Provost at Macquarie University, and was appointed as Special Advisor in Higher Education at KPMG. Judyth has been on the Academic Advisory Board of Studiosity for many years, but joined our team in a larger capacity last year as the Chief Academic Officer - informing the development of our services and identifying opportunities for research collaborations with our partner institutions.
"International Women's Day is important because it makes us stop to recognise women who have been successful, reflect on how they got there and begin larger conversations to celebrate the achievements of women across society."
The importance of having role models in the spotlight for young people, and especially young women, should not be taken lightly. I asked Professor Sachs if there was any specific person that influenced or inspired her when she was entering the professional world.
"I am not sure there is any one person who has influenced me in my career. I do know that to be successful, you need to be authentic. When I came to the University of Sydney in 1996 as the first woman Professor of education, I didn't have any role models of female professors. So I think I was trying to fit into an idea of what I thought a Professor should be. And until I gave myself permission to just be me - a bit irreverent, playful - I wasn't happy. But when the real Judyth finally emerged, it was like a mantle of oppression being lifted."
"Be yourself. It's exhausting trying to be someone you aren't".
So, does she have any advice for young women starting out their careers in education?
"Firstly, be yourself. It's exhausting trying to be someone you aren't. The other advice I would give is learn the rules for promotion. You need to have a strong research record, teach well and meet the requirements for service. However, being a good citizen is also important, and having a mentor is invaluable. If you find a good mentor they can help you shape your career and use their networks to open doors for you. Also, be willing to take risks and don't stay in the one instruction all your professional life. You can become institutionalised."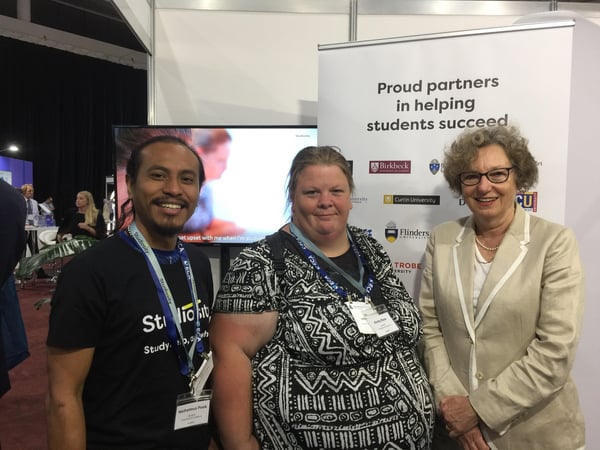 Professor Sachs with Welhelmus & Kirsty, students from University of Canberra representing Studiosity
at the Universities Australia Higher Education conference, February 2019
I asked Professor Sachs whether she thought there was enough representation now, for women in education.
"I think that gender equity in higher education is still a work in progress. We only have to see the difference in the number of women who are Vice Chancellors in Australian universities. There are 40 universities in Australia and only 12 female VCs. This will reduce to 11 when the
VC of Deakin retires later in the year
. There are also fewer women at a professorial level in universities."
"The landscape of education has changed a lot over my career. Equity is certainly part of the discourse, moreso now, leadership programmes for women are evident in many professional learning initiatives, and there are more women in senior roles who do provide examples of success."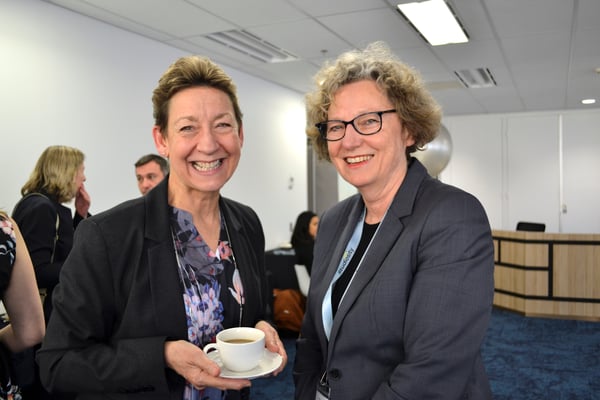 Associate Professor Tracey Bretag with Professor Judyth Sachs at the 2018 Studiosity Symposium
Lastly, I wanted to know why Professor Sachs has dedicated her career to education. Why is it so important, in her opinion?
"I believe in the transformative power of education. It is not only the content and skills received during your education but the ability to work with people, understand the settings and contexts in which you work - what in sociology is referred to as cultural capital - that lay the foundation for this transformation. During my career in universities I have seen students lives bloom through learning, and the application of that learning."
"Teachers and educators are fundamental to this - many teachers, through their expertise and passion for their discipline, generate true excitement in their students. These teachers are great role models, especially for young girls."