"Get feedback. Get it early and often. You want as much feedback as you possibly can. If you do that and you're doing it often, your work is bound to improve".
- Prof Mitch Parsell, University of Tasmania
Solid formative feedback is one of your best tools for improving your academic writing. So how can you make sure you're getting plenty of it? First, we need to understand exactly what it means and why it's so beneficial.
Formative vs Summative feedback
Formative means feedback that is given over the course of an assessment, during your learning process. You get this kind of feedback before you get a grade or mark.
Summative feedback comes at the end, after you've completed your assessment, and comes alongside the result - your grade or mark.
So you can already see how getting 'formative' feedback could be very helpful, as it has the potential to change the outcome: with the right formative feedback, you can achieve a higher grade.
From Studytuber Ruby Granger's video: 'How I write first class essays'
How formative feedback benefits your learning
Prof Mitch Parsell uses an excellent analogy about a number guessing game. "If you're guessing a number between 1 and 100, and you're not given any feedback, it's going to take you quite a long time to guess that number. But if you're told with each guess, whether your guess is 'too high' or 'too low', you're going to get to the answer much, much quicker. So this is just a really clear indication that if the feedback is targeted and it is specific to you, your improvement over time is going to dramatically increase."
"The empirical evidence is really clear that formative feedback is one of, if not the best way, of improving student learning outcomes."
Prof Parsell also pointed out that your confidence levels can make a difference too - "basically, the more confident you are, the more self efficacy you have, the more you believe in your own abilities, the better your performance."
So what makes
good

feedback?

The feedback needs to be timely (going by the number-guessing analogy, coming after each guess), and also personalised.

"Imagine that you are told that your guess is higher or lower, but only after you've had four or five guesses. Or imagine that you were told not that your guess was too high, but the class as a whole guessed too high. Your performance is not going to improve anywhere near as much as if you were told instantly and you were told about your number, "your guess was too high or too low". So this again, really simple analogy demonstrates that timeliness is absolutely critical to the effectiveness of feedback, and it shows that personalisation, or what I tend to think of as targeted feedback, is absolutely important. I need to know how my performance needs to be improved and it needs to happen almost instantly, or as close to instantly as possible."
"I need to know how my performance needs to be improved and it needs to happen almost instantly, or as close to instantly as possible."
Fortunately for you, if your university partners with Studiosity, this kind of feedback is simply a few clicks away - and it's free. As soon as you have written a draft, or even part of a draft essay or assignment (it could be a business report, a case study, a piece of creative writing, a reflection), you can send it off for very fast and totally personalised feedback.

How Studiosity's Writing Feedback works
When you upload your document to the Writing Feedback service, it enters a queue, and then someone in our network of incredibly awesome writing specialists logs in and picks up a document to review from the top of the queue. Your document is converted into our unique annotator tool, so that the specialist can read it, highlight passages, make comments, and jot down their general notes and feedback all at the same time, from within their view. (That's why it's so quick!)
When they have finished reading and commenting on your work, you receive a notification via email that your feedback is ready to collect. This will happen within 24 hours from when you uploaded the document - and very often, much quicker than that (average return times are between 4-6 hours most days).
What you will receive is overall feedback from the specialist - talking about your work as a whole, what areas of strength and weakness the specialist noted, and their overall impression of the writing. Then, you tab over to see your own work, highlighted to show examples of what the specialist is referring to, within your own document.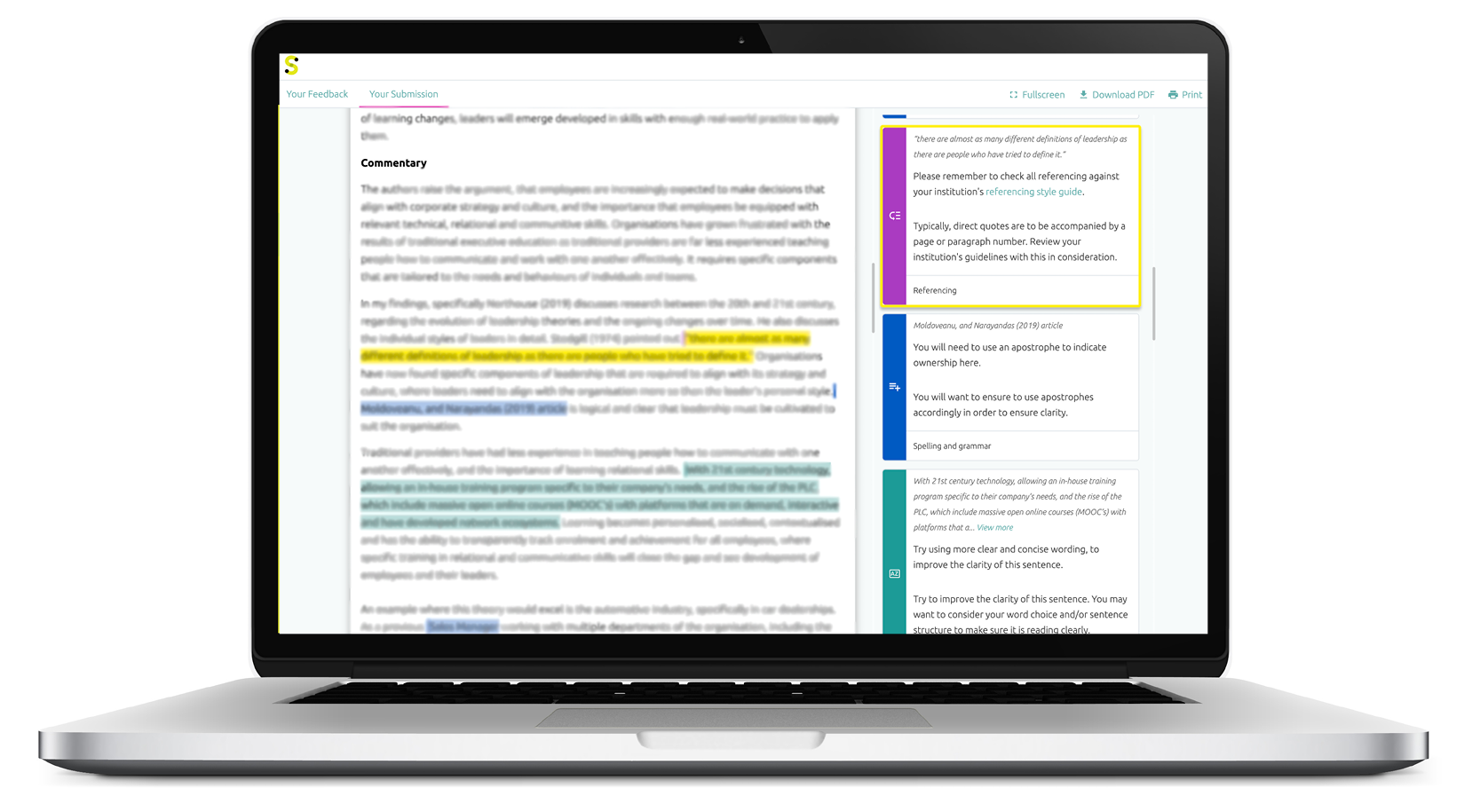 Why universities endorse Studiosity's feedback
The most important thing to remember about the Writing Feedback service is that it is not proofreading. And this is exactly why over 70% of Australia's public unis (and increasing numbers of universities in the UK and Canada) support, endorse, and promote Studiosity use for their students. The feedback is designed and delivered to provide you with guidance, encouragement, and strategies to help you make your own work better.
It's help, not answers. It's feedback, not proofreading. What it does is shine a spotlight on where you can improve, as well as show you what you're already doing well - thereby boosting your confidence that you can actually do this. 🙌
"Very thorough. I felt reassured after seeing comments throughout my essay. Feel wayyyy more confident now."
- 1st year student, Macquarie University, September 2021
... and it actually works.
Students who use Studiosity to help with their writing achieve higher grades, as many independent university studies have shown. One such study out of The University of Adelaide found that not only did students who used Studiosity receive higher average course marks than non-users, but they were also more likely to have improved their GPA scores over the previous year, than non-users.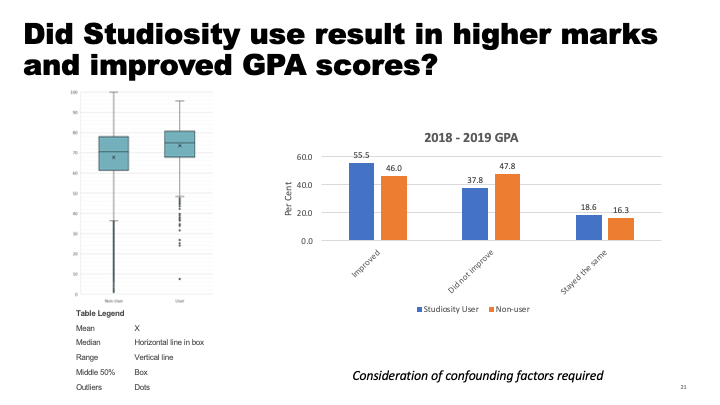 Excerpt from Prof Philippa Levy's presentation at the Students First Symposium, 2020. Read the summary here.
How can I use feedback to benefit my studies?
Read your feedback carefully, to ensure you understand what the Specialist is trying to communicate. If you notice the same things coming up again and again, you'll likely start to look for those things in your own writing as you write it, which is how Studiosity's feedback helps students to improve their academic writing over time, as well.
If there is any part of the feedback that you don't understand, you can connect instantly with a writing specialist who can look at the feedback and help you in real time, as well. There's a button to do so when you're viewing your feedback.
Finally, Prof Parsell and I talked about how getting feedback should be a normal, embedded part of every student's study journey:
"Feedback needs to be kind of normalised. Everyone needs to recognise that everyone does it. I can't imagine that there would be an academic paper published without having other people look at it."
Get free, personalised, and timely feedback thanks to your university's partnership with Studiosity. Find your free access point now.