"Is it time to get rid of exams?"
"If we don't change assessment, nothing will change, because assessment drives behaviour."
"We created this system, and now we have game-playing conditions."
Why assessment is cultural
And is tied to motivation, industry, quality control, and "sorting" students.
Studiosity's latest 'Students First' Symposium, "Testing times" attracted more than 500 registrations from within the higher education sector. "All of you here today have made a call for change," observed Chair Professor Judyth Sachs.
Prof Sachs opened the event, and persistently closed, with the question to panellists: "why do we assess students?"
Core ideas that emerged in the rapid 75 minute event were largely underpinned by culture, whether sector, institutional, or amongst students.
1. Assessment remains unchanged because it is motivational. "I'm an A+ student," means something to many students, Prof Bosetti explains. A trial at the University of British Columbia saw assessment move to Pass / Fail only, which caused friction with student preference for knowing exactly how they performed. "It's a status-driven world," as Prof Crossley states. Prof Julia Christensen Hughes, President at Yorkville University adds, "Human behaviour demands goalposts. Without a deadline, being able to focus the mind, how much learning would we get done?"
2. Assessment is critical for public safety and quality control. As Prof Merlin Crossley DVC UNSW explains, "we certify pilots – you have probably been on one of their planes - that is critical to assess." Prof Lynn Bosetti of the University of British Columbia adds that assessment ensures institutional reputation.
3. Assessment is part of Higher Education's agreement with industry. "Assessment is a signal," said Prof Claire Macken at RMIT. "The university's role is to prepare students for a future workplace." But as Prof Macken points out, that has clearly been disrupted of late, and universities should question whether they are 'just' accrediting bodies. Employers aren't looking for micro-grading in units, they are looking for competency, extra-curricular, as well as core assurances for meeting standards.
"It's like a driver's licence. I need one, but I don't need to do a test every time I get in the car."
4. Assessment has traditionally supported logistics (the sorting hat), but does it need to be? Prof Macken draws comparisons with the year 12 accreditation – the "ATAR" - in Australia. "It's a magic ticket, but we know everyone has early entry into university now anyway. But the ATAR gets you 'in.'" Then universities give grades to further 'get you into' the workforce. Prof Crossley calls assessment the "sorting hat" and argues that it has gone too far: are some students now at university because everyone else is there, too? For some students, certification is essential but not weekly assessment. "It's like a driver's licence," says Prof Crossley. "You need one, but I don't need to do a test every time I get in the car." Yet widening participation has positively increased opportunity for many students, and it was left undiscussed whether the cultural treatment of assessment, motivation, and opportunity within the student experience diverges between Group of Eight, Russell Group, or U15 and other universities.
"If we don't change assessment, nothing will change, because assessment drives behaviour."
Prof Christensen Hughes summed up: "If we don't change assessment, nothing will change, because assessment drives behaviour."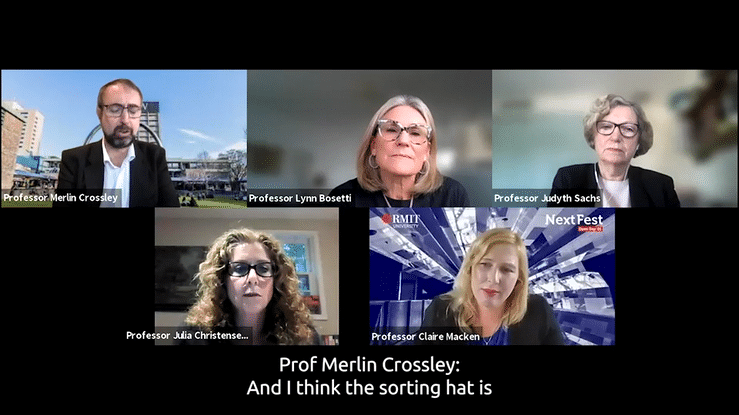 Cheating and resourcing
And why the two are intertwined.
"At one point in history no one knew how to teach. But we added resources," describes Prof Christensen Hughes. Is the same needed now for assessment? "We need people with that expertise, so that assessment isn't the last thing we think of, it's the first." "As instructors, we haven't been taught how to design learning environments, beyond just curriculum design," says Prof Bosetti. And as Prof Macken points out, "Amazing teachers often have to choose to put time into something that isn't teaching," namely research, particularly at large public universities with the pressure to keep high rankings.
There was also open discussion by the panel about the casualisation of staff. While it opens up opportunities for PhD students, concern was raised about what the trend means for workload, assessment resourcing, and access to expertise.
"When we create game-playing conditions, students will create game-playing behaviours," says Prof Christensen Hughes. An idea that echoes the 2018 Australian-government commissioned findings by Prof Bretag and Prof Harper: students will cheat when they believe the opportunity is there, and when they don't feel supported to learn. "When people feel out of control, they feel anxious," says Prof Crossley.
"When we create game-playing conditions, students will create game-playing behaviours."
"And COVID has smashed motivation," says Prof Macken. If assessment is inherently designed to motivate, 2020-2021 might have created serious issues for integrity and student behaviour around testing. "It's heartbreaking what students are living through," says Prof Macken.
Participant comment: Kerry Taylor says: "I have been a tertiary teacher for only 5 years, and I came in cold from a research career. I teach technical stuff (computer science) to both large and small classes (30-300) at the undergrad and postgrad level, to both domestics and internationals. I have tried every assessment style and form I have heard in this meeting so far. I am not happy with any of it, TBH, and I struggle with academic misconduct and I see how much it damages the honest students. I would love a no-assessment approach. Nobody however has said that so many students will not attempt any learning task without award of marks. This is the unspoken reality, even for extremely high-performing students from time to time. So how does no-assessment work please? Is it impossible?"
Practical changes
From holistic institutional strategy to practical change, major themes emerged around peer learning, alternative digital channels, and removing systematised grading entirely.
- Force yourself to change "the exam that never changes." Make the exam public, in course syllabus, make it available to all future students, to level the playing field. You are forcing yourself to admit that those questions are already known, they are taken out of the "game."
- Offline peer feedback might be more useful to a student than racing through a 2-hour lecture, where students are looking for clues about what's in the assessment rather than learning.
Participant comments: Anna Branford says, "Coming from a careers-focused perspective on assessment design, I'm very curious about the role of peer-review, which seems to have such potential in terms of establishing great peer-networking practice as well as authentic collaboration. And perhaps some role to play in practical labour-saving issues? But of course, many of the same challenges apply as with group assessments. It'd be wonderful to hear any insights on this."

Participant comments: Jason Pearce says, "Agreed, Claire. My experience as a student was let down by poor user experience in the learning environment. Simple navigation, instruction and accessibility are fundamental to success for a diverse student population beyond the learning material itself."
- The sooner students can engage in the profession, and not the theory, the better. In a psychology course, students were set up like peer reviewers, the papers that made it through peer review were selected for a journal set up just for these assessment purposes.
- If the goal is to provide evidence of meeting a certain standard, this can be done in many new ways: podcasts, videos, social media, portfolios. Can a student apply what they have learned? The panel even heard about a law student who submitted work as an embroidered cushion.
Participant comments: Adnan ul Haque says, "A constructive debate is what we want from students to develop not only knowledge, skills, and abilities but a confidence to argue and counter argue with logics."
- We need closer upfront alignment around assessment between lecturers and tutors.
- First year students do not need to be graded. It requires an enormous amount of resources without the return.
Participant comments: Jill Cummings says, "I am thinking about Professor Crossley's recommendation to abandon exams in Year 1. Should we also move towards more Pass/Fail courses at this level?"
- Use the digital tools available, more opportunity for group work and personalisation and avoiding "losing" students.
With thanks to:

Chair: Professor Judyth Sachs
Professor Claire Macken, DVC, RMIT
Professor Julia Christensen Hughes, President, Yorkville University
Professor Merlin Crossley, DVC, UNSW
Professor Lyn Bosetti, Dean Education University of British Columbia
Full recording: studiosity.com/studentsfirst