It's Studiosity Symposium week and that means we announce new services, features, and open the floor to hear feedback for future service development from the people who matter most. Without doubt, the most heated topics were change management, student employability, and student care (domestic and international). Most anticipated? The student mobile app. Here's the photo-heavy recap.
Why host a Studiosity partner symposium? Because 20 universities, 50 people, two days.
We've been collecting both user and institutional feedback for years to go into our services, but there have never been 20 universities and 50 people in the same room for two days, taking the mic and telling us their 'wish list'; a lot of powerful moments.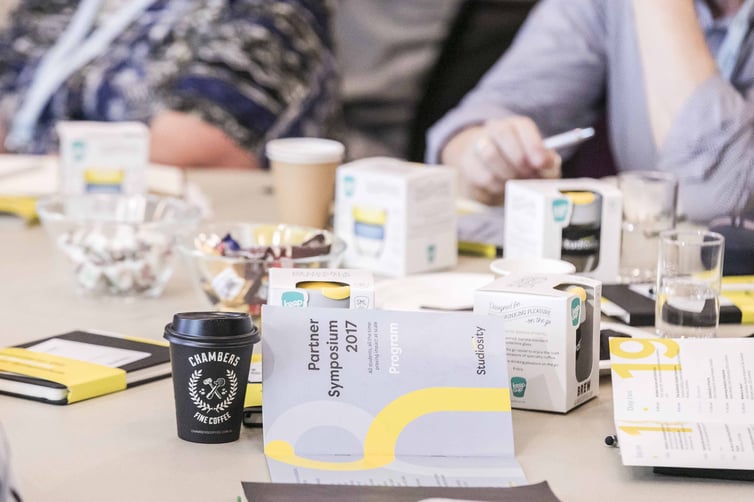 Image: Fuel for the discussion - Studiosity Symposium 2017. Thank you, Inlighten Photography.
1. Our reveals: The student mobile app and Studiosity 'SOS'
'Studiosity SOS' (on-call help outside of open hours) was deliberated, as well as the potential of a 'peer to peer' Studiosity service. Still early days for both, it became apparent that nothing quite like either exists, so we'll continue to explore and seek guidance from university experts.
The mobile app takes the crown for most eagerly anticipated new Studiosity development. Whether for university outreach programs and future students, ease of access in remote and regional areas, or diverse university enrolments, we heard mobile is the great student equaliser, and fulfills even more of our anytime, anywhere mantra. Delegates saw a mobile preview, were brought up to speed on the roll out over the next few months, and asked questions about its functionality and further development in 2018.
Image: Professor John Rosenberg, Former Senior Deputy Vice-Chancellor and Vice-President (Global Relations) at La Trobe University, with Professor Simon Barrie, Pro Vice-Chancellor Learning Transformations at Western Sydney University and opening speaker for the Symposium, which was also hosted at the state-of-the-art WSU Parramatta CBD campus. #longphotocaption
Industry benchmarking for digital student support, and further ROI from research were recurring topics of debate. There was some more problem-solving around the student experience and employment prospects for both domestic and international students, and positive discussion around the place of Studiosity to help. (Interestingly, this was followed later in the week by concerns that Australia's third-largest export could be in trouble.)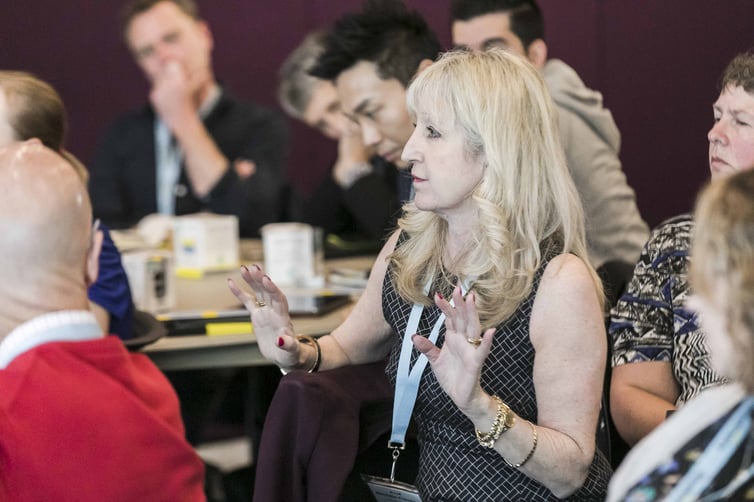 Image: Professor Michele Fleming, Pro Vice Chancellor (Student Life), Deputy Vice Chancellor (Students) at Flinders University.
2. Discussions around the room: Tier Zero, data, partnership, integrity, and quality control.
It's impossible to capture the energy of the room, or the tone and quality of such thoughtful comments, so here's just some of the discussion:
What is "Tier Zero" for student support? An efficient way to support 100% of students, all the time, anywhere, and a method of support never before delivered to students. New for us - we heard from delegates that morale increases within their student support teams when Studiosity serves and lifts away the nightly, repetitive, core skills questions from students, triaging more in-depth questions to experts in the university (Tier One, Tier Two...).
How can Studiosity data be best used to quantify the value and return of support? The function of digital, scalable student support is irreplaceable - does this mean that further proof (causation) is the unattainable "holy grail" as some delegates suggested? In some ways yes, but we believe it's still worth a continual search for more proof of student outcomes, retention, satisfaction.
"Partnership" was trending, in terms of stepping away from old, passive supplier-recipient dynamics. For instance, this whole symposium acknowledges that Studiosity can't do this without the partnership of our universities. Then, we heard from our Student Experience team, that the service is based on being partners with the student users. Likewise, universities are working in partnership with students to rethink the student experience and employability outcomes.
Should a 1970's model of peer support be the stand-alone option? Does it suit 100% of students, all the time? What are the gaps that can be served for a better student experience?
What quality controls does Studiosity have, how are they different from on-site university team support? Different, but no less stringent. See 'Tier Zero', above.
How is Studiosity different to any other supplier? It's the only thing we do, and we don't do it without feedback and partnership.
Image: Associate Professor Jessica Vanderlelie, IRU Vice Chancellors' Fellow, talks student success.
3. Change management; when incrementalism isn't good enough
On Monday evening at Lachlan's Old Government House (stunning location, with service to match), we heard from Michael Burgess, Chief Student Experience Officer at Western Sydney University: "Incrementalism isn't good enough." The criticism was directed at those institutions making small changes in lieu of real change, a bold call-out and perhaps preaching to the converted at a Studiosity event. Even so, eyebrows were raised, and it probably points to great things to watch out for over at WSU.
Image: It's not every day you get a selfie with Professor John Rosenberg. Doctor MingMing Diao from Western Sydney University sends this one straight to Insta.
4. Our special guest keynotes: positive, innovative, and progressive leaders in the sector
Jessica Vanderlelie, IRU Vice Chancellors' Fellow took us back through time to address modern-day employability, and the responsibility of universities to look at data to help the student, not the system.
If you're at the @Studiosity Symposium, don't miss IRU VCs' Fellow @jessVanderlelie on Data Driven #Innovation for Student Success #highered https://t.co/5QHDWn0BVE

— IRUAustralia (@IRUAustralia) September 18, 2017
Fab @IRUAustralia work shown by @JessVanderlelie @studiosity Symposium: Nat Case Studies of student & grad success https://t.co/8OVJn4jdLC pic.twitter.com/Prz5EDxmHl

— Sally Kift (@KiftSally) September 18, 2017
Associate Professor Chris Tisdell, Deputy Dean in the Faculty of Science at the University of New South Wales, took us through a powerful look at equity in education via digital disruption.
@DrChrisTisdell sharing his insights from 10 years of digital teaching. Inspiring! #syusergroup @studiosity

— Jessica Vanderlelie (@JessVanderlelie) September 18, 2017
Professor John Rosenberg, former DVC (Academic) at Deakin, former Senior DVC (Global) at La Trobe University, introduced the Studiosity Academic Advisory Board, starting with an industry overview, including challenges for academic talent and workforce management, the digital revolution's impact on the campus, and, a challenge that umbrellas it all, change management.
@studiosity Prof John Rosenberg: Challenges for unis in 2017. Oz HE has had 7 Education Ministers in 10 yrs. #disruption pic.twitter.com/9cXtngpzdX

— Sally Kift (@KiftSally) September 18, 2017
Sally Kift, former Deputy Vice Chancellor at James Cook University, said "we need to stop problematizing students." Drawing on an extensive body of research, Sally showed in practical terms what's needed to improve the student experience.
Breathless after @KiftSally's talk at @studiosity Symposium. Embedded support absolutely crucial in student retention. #SYusergroup pic.twitter.com/c4DHKqqYar

— Claire Urbach (@CULinguist) September 19, 2017
Image: Studiosity CTO Adam McNeil explains new methods for accessing and using student success metrics
FOMO? You can catch up:
View the presentation slides here and watch the recorded sessions.
Delegates came from far and wide, including a few international flights. You made this a one-of-a-kind event, and without you we wouldn't be in this position to positively contribute to a better student experience and university success. Your expertise and input is invaluable, thank you again for your partnership and continued support for Studiosity's mission.
Image: Kathryn Lowry, Program Manager at Deakin University; Héma Prakash, Head of Partnerships for Studiosity; Jack Goodman, Founder and Executive Chair of Studiosity.