Transitioning from your former school years to the daunting and seemingly-serious halls of University can be terrifying. Particularly given the flood of information you'll receive, on what to bring, who to meet, and how to make your university days 'the best years of your life'.
Despite the influx of 'what to do and what not to', as a third year I can tell you it gets a whole lot easier (that is until you get to the dreaded 'so what is your plan for after Uni' questions 🙈). In my years of study, I like to think I've made almost every mistake there is to make, especially in adapting to new writing styles and the dreaded referencing. So I'll share what wisdom I have in the hopes of making your academic transition as simple as possible, so that you can focus more on social events, meeting new people, eating copious amounts of pesto pasta and adjusting to your new uni student life.
Step 1: curb those moving in day nerves
Whether you have the social skills of Boris Johnson or Sheldon Cooper, this day is daunting. Your parents will start uncomfortably introducing you to your flatmates, and start telling you to 'push yourself', to make sure you 'leave your door open to look inviting', and to 'be friendly and smiley'. In reality, everyone is as scared as each other, and you will have all received the same stomach-churning advice.
So relax, remember you're in the same position as everyone else, and enjoy figuring out who you resonate with most! Also, try not to worry too much about whether you've brought everything you need, it's easy to figure it out as you go along and remember your university is probably not stranded in the Pennines, so you can most likely buy things once you get there.
Step 2: learn to fend for yourself
Though you will have probably spent the last 18 years hearing just how much your parents do for you, it doesn't truly sink in until you have to do it all yourself (but don't tell them that 😉). Cooking for yourself, (and not just using Deliveroo) alongside dealing with communal washing machines, is probably the least fun part of moving out of home. However, your first week is a great time to perfect it, or near enough.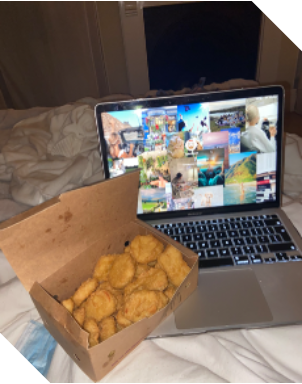 Tip: Nugget grease & computer keyboards don't mix well.
Step 3: explore the Freshers Fair
The prime time for freebies! Freshers fair, if nothing else is an absolute dream for free things, which can help ease the sudden hit your bank account will have experienced from the seemingly good idea of buying everyone a round of drinks on your first night.
Not only is it a chance for free pizzas, pens, notepads, and iced coffees, but it's a great place for realising what your university can offer you. There are hundreds of Societies (& new ones popping up all the time), so it's almost guaranteed that there will be one for your particular interests/passions. It's also a great way to break out of the comfort zone of your flatmates and meet new people.
Step 4: get to know your city and make yourself at home
Usually, Freshers Week involves an awful lot of mingling, teary parents, and phone calls home. In between all this, make sure you give yourself time to settle into your new environment. See what your city/campus has to offer you, while the sun is shining, and you're stress free! This will make 'taster sessions' for any societies less scary too, as you'll know your way around.
In an effort to feel at home, I secured a Pret Subscription, spent a fortune in Urban Outfitters and tried to get used to the perpetual threat of seagulls (I moved to Exeter from the midlands). Make sure you find local things that make you happy, because it's important that during times when you're alone, you can still enjoy yourself.
Step 5: don't sweat the first Lecture
By now, you have spent the week going out with your new friends, socialising, and possibly feeling a bit exhausted from it all. Then suddenly your first lecture arrives, and you might feel a little panicked, wondering whether you'll like it, and perhaps even a little nervous of whether you're prepared. Don't stress, there's usually no expectations on Lecture 1 so your main goal is sussing out where to sit and finding your course-mates.
There are often Facebook groups made for your course on this first lecture day, so make sure you get in on that so you don't feel left out. But don't panic if no-one mentions it, you can always join later!
Step 6: approaching your first deadline
The Mothership of all the steps! The first deadline, despite often not counting towards your grade, feels like being thrown in the deep end before you know how to swim. Suddenly, you'll hear people talking about 'Harvard, Vancouver, Oxford' which are more than simply nice places to visit and are actually quite important. Referencing is possibly the biggest difference between uni and school, and can take a while to get used to.
Let me assure you: everyone feels the same, so ask your lecturers, personal tutors, and those around you for advice. Thankfully, when it comes to structure, and grammar and even use of sources, Studiosity can help! Studiosity is a free service, where you can connect to live experts and get quick writing feedback in less than 24 hours (Molly Mae would be so proud). While they won't write your essay for you, this is a way of checking the things your lecturer won't want to, and making sure that your structure is all okay meaning all you need to worry about is the content.
Step 7: enjoy the next three years
The most important thing to take away from these steps is to just enjoy your time. All the worries that seem terrifying the night before, will seem like nothing once they are done. This is a new, exciting change in your life, and some of it you'll love, some of it you won't, but it's about learning to enjoy it all.
Try not to put too much pressure on yourself to match the experiences your friends from home seem to be having on their social media (remember, no one posts the 'bad bits' but that doesn't mean they're not happening!) There will be hundreds of people to meet and things to do, but there will also be things you miss - and that's okay too! Just try your best to make it what you want it to be, whether that is being a promoter of the tennis society or a Social Sec for Debating.
You've got this!
---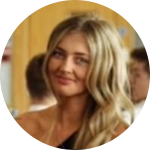 Lydia is a final year student at the University of Exeter studying for a BA in Politics with Theology. She is currently applying to several MA courses and hoping to work in either political publishing or communications.
You can find Lydia on LinkedIn or on Instagram @lydiagrocott.