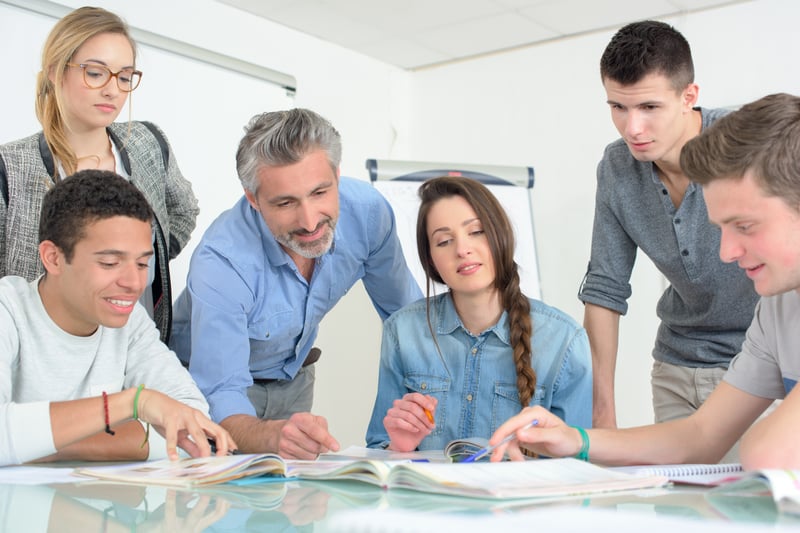 Feedback is an essential part of the learning process no matter the subject matter. People will always want to improve their performance, whether at work, school or university, or even just learning a new hobby, which is possible through constant feedback.
Formative vs. summative feedback
The two main types of feedback available are formative and summative. Formative involves feedback given during the course of an assessment, while summative is provided after the assessment has been completed, and comes in the form of a grade or mark.
While summative plays an important part in benchmarking students, and ultimately assessing their final degree class, it is formative feedback that plays the more important role in learning and development.
Formative feedback in universities holds several advantages:
Provides the opportunity to improve - It helps to highlight areas where the student is going wrong before they get graded, meaning students have the opportunity to improve their work and increase their final mark. With the new cap on loans ($150,000 for medicine, dentistry and vet science and $104,440 for everyone else), undergraduates are investing more of their own money into their degrees. Universities need to ensure they get the grades to make this investment worth it, and formative feedback is one way to achieve this.
Gives students confidence - Formative feedback gives students the confidence going into the final, summative marking that they've done everything they can to improve.
Useful for lecturers - If lecturers can see that multiple students are struggling in one particular area, the way that topic is taught can be altered ahead of the final grading.
Helps students become self-regulated learners - Formative feedback means students can take control of their own learning. Unlike summative feedback, it doesn't just say whether an answer is right or wrong but also how to get there, which students can apply to future learning and assessments. Feedback allows every student to assess their own work for personal development, not just those who reach for the highest grades. Self -regulated learning enables students to accelerate their critical thinking and prepare themselves for life beyond the study books.



Implementing formative feedback in practice
In order to be effective, formative feedback must be timely, constructive, motivational, personal, manageable and directly related to assessment criteria and learning outcomes (Race, 2006; Irons, 2008; Juwah et al, 2004; Race, 2001).
With student numbers at an all time high (over 1.3 million attend university, according to Universities Australia), supplying formative feedback at scale has become increasingly difficult. Particularly difficult is the timeliness aspect - with hundreds of people in courses, lecturers don't have capacity to provide feedback on assignments for all students before they are due.
As such, many students are dissatisfied with the quality of feedback they are receiving. This is due to lack of motivation and the suitability and aptness of the feedback's communication method (Hounsell, 1987; Chanock, 2000; Winter et al, 2004; Carless, 2006).
Thanos Hatziapostolou (International Faculty of the University of Sheffield, Thessaloniki, Greece) and Iraklis Paraskakis (South East European Research Centre, Thessaloniki, Greece) recommended in a research paper completed in 2010 that the formative feedback process would be most effective if taken online.
Studiosity and formative feedback
This is where Studiosity comes in. With online, 24/7 study help available, students are able to connect to the service anywhere, anytime to chat to a live Subject Specialist through the Connect Live service or submit a piece of writing for review through the Writing Feedback service.
Young people have grown up in a digital world. As a result, it makes sense to deliver feedback online too.
As a result, students who use Studiosity receive significantly higher marks than those who do not. For example, those that used the platform at James Cook University's mean GPA was 4.49, nearly one GPA higher than those who didn't use the service (3.57). This was regardless of gender, ethnicity, OP class, or mode of delivery.
For Prof Judyth Sachs, Chief Academic Officer at Studiosity, the value of formative feedback is clear:
"The fact that it enables change to be made is so important. In any interaction with life we're always getting feedback that enables us to change our behaviour. Formative feedback gives students that opportunity for self-reflection and monitoring of their own skills. They can use those in a way that does have an impact on grades, which is ultimately what students want.
That's why we're so driven in our goal to make Studiosity available and accessible for all students, everywhere. We want every learner to have the same chances to complete their studies successfully."
To find out more about Studiosity, contact the team today.
---
References:
Carless, D. (2006). "Differing perceptions in the feedback process". Studies in Higher Education, 31(2), 219-223.
Chanock, K. (2000) "Comments on Essays: Do Students Understand What Tutors Write?", Teaching in Higher Education, 5(1), 95-105.
Hatziapostolou, Thanos; Paraskakis, Iraklis, 'Enhancing the Impact of Formative Feedback on Student Learning through an Online Feedback System', Electronic Journal of e-Learning, v8 n2 p111-122 2010.
Hounsell, D. (1987). Essay writing and the quality of feedback. In J. Richardson, M. Eysenck, and W. Piper (Eds.), Student learning: Research in education & cognitive psychology. Milton Keynes: Society for Research into Higher Education & Open University Press.
Irons, A. (2008) Enhancing learning through formative assessment, Routledge, London.
Juwah, C., Macfarlane-Dick, D., Matthew, B., Nicol, D., and Smith, B. (2004) Enhancing Student Learning though Effective Formative Feedback, The Higher Education Academy.
Race, P. (2006) The Lecturer's Toolkit – A Practical Guide to Assessment, Learning and Teaching, 3rd Edition, Routledge, London.
Race, P. (2001) Using Feedback to Help Students Learn, The Higher Education Academy, [Online].
Winter, C. and Dye, V.L. (2004) "An Investigation into the Reasons Why Students Do Not Collect Marked Assignments and the Accompanying Feedback", CELT Learning and Teaching Projects 2003/04.