Earlier this week the ABC aired an investigation into Australia's universities entitled "
Degrees of Deception
."
As the title suggests, the report dug into an issue that's been known about for years, though not often discussed: The conflict of interest that sits at the centre of much of the international student recruitment and education business.
Here's the issue: Universities have been under growing pressure for years to supplement their government funding with additional sources of revenue. Full-fee paying international students have proved a great boon to their bottom line, generating something like $15-billion in revenue in 2014 alone. But it's hard work to find, evaluate, qualify and enrol these students, so most universities outsource the job to third-party recruitment firms whom they pay on a commission basis.That's the first conflict of interest (and it is why paying commissions has been banned in other countries, such as the U.S.). Agents are incentivised with commissions, and some unscrupulous ones will fudge a student's academic record or, more likely, their English language skills, to ensure they are granted a place at a university. There doesn't appear to be a system of negative consequences for agents who deliver under-qualified students to our universities.
What happens when these students arrive in Australia? It would appear the desire to keep them enrolled (paying in some cases $15,000 or more per semester) is so high that some universities put pressure on their academics to pass these students, even when their language skills and/or academic performance are well below an acceptable standard. This is the second conflict of interest.
Enough summarising. The report was worthwhile, as far as it went, though it could have done without the dramatic sound track. This is a story of misplaced incentives that has led to the current situation. So, what is to be done?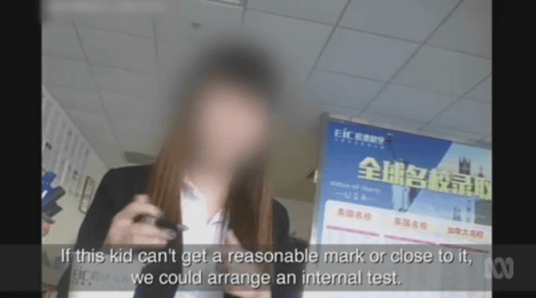 'Degrees of Deception', presented by Kerry O'Brien and investigated by Linton Besser and Peter Cronau, aired Monday 20 April 2015 on ABC's Four Corners.
Here's a simple, straight-forward answer that I doubt any vice-chancellor would dispute. Assuming that the majority of international students who are paying such high fees are keen to learn and to succeed in their courses, then the answer is clear. Universities that recruit and accept these students have an obligation to deliver sufficient foundational, remedial, language, and academic support to ensure they are able to pass their course without any special favours or intervention by deans. And those students who are unable or unwilling to make that effort should be informed as promptly as possible that they are unlikely to obtain a degree and thus be spared spending wasteful thousands on tuition.
This is, essentially, a question of selling a product that is fit for use. Just as any company would be justifiably punished by the authorities for selling a product to customers whom it knew could not reasonably make use of that product, universities should only be enrolling students they believe have a reasonable prospect of passing. There's a strong case to be made that our universities should be running their own academic and language skills evaluations of all international students prior to enrolling them. In addition, they need to be reviewing their own data around student performance as it ties back to the various recruitment firms who source these students.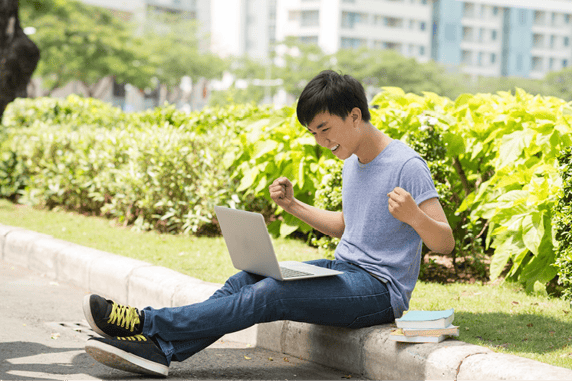 Jack Goodman suggests that Australia's universities need to ensure international students pass more rigourous pre-enrolment assessments, and that those students who do enrol need to receive more academic, social, and cultural support.
One final point. The other side of this story has been the cheating scandal afflicting a number of universities whereby international students have been caught purchasing essays that will enable them to sneak past plagiarism checking software. To-date, the affected universities have been under pressure to expel students and to run internal investigations to stamp out cheating. While these steps are important, and universities need to be rigorous and vigilant in this regard, it misses the larger point.
If our universities are serious about educating international students, then they either need to be far more rigorous in their pre-enrolment assessments, or they should be providing far more academic, social and cultural support for the international students they accept. This applies equally to the myriad pathways colleges which have sprung up over the last two decades and that serve as the stepping stones into bachelors degrees for tens of thousands of international students.
At the conclusion of the program, Kerry O'Brien commented that it was disappointing no vice-chancellors made themselves available to respond to the allegations. I hope that, in the near future and with further reflection, all our vice-chancellors, as well the directors of the nation's pathways colleges, will speak with a clear voice about their commitment to providing comprehensive and appropriate academic, social and cultural support for all international, full-fee paying students.
As long as our higher education institutions want the benefit of such student revenues, and also recognise the importance of protecting their own reputations and the value of the degrees they grant, they will move quickly to take such steps to restore the public's confidence.
About the author:
Jack Goodman
President, Friends of Libraries Australia
@jackaroo2000
Jack has over two decades experience working in Australia's education sector to grow community engagement and build stronger local economies. He is the Founder and Executive Chair of Studiosity, a Sydney-based organisation helping innovative universities and pathways colleges transition to digital education. Jack was appointed as President of Friends of Libraries Australia (FOLA) in 2014, and has a bachelor's degree from Princeton and a Masters in Philosophy from Cambridge University where he was a Marshall Scholar. Just recently, Jack has been published in The Conversation, Australian Policy Online, and the Australian Library Journal.