Why is academic integrity of increasing concern and discussion amongst Australia's universities right now? Because the sector as a whole is so large (1.5-million students) and valuable (3rd largest export, worth ~$38-billion in 2018), including close to 500,000 international students, and the nation can ill-afford a crisis of confidence in its quality and the integrity of the degrees it awards.
Such is the need for discussion and change around academic integrity, and a challenge to the status quo, that TEQSA - the national regulator of universities and higher education providers - is currently holding 20 events across the country on the topic "Academic Integrity in Australian Higher Education: A National Priority."
These three-and-a-half hour workshops are intensive, detailed, and highly prescriptive.
They walk participants through a series of steps, beginning with a definition of Academic Integrity — "acting with the values of honesty, trust, fairness, respect and responsibility in learning, teaching and research" — through the many steps in development, deployment and enforcement of the policy.
The workshop I attended was led by UniSA authority on the topic Professor Tracey Bretag, and was designed to communicate TEQSA's expectations for every higher education provider in Australia. This was not a "nice to have" or "optional" discussion. Rather, it was a highly prescriptive lesson in taking the issue seriously, as evidenced by the careful attendance checking of everyone in the room.
A great turnout today @ICMS_Campus for another @TEQSAGov #academicintegrity workshop! Thanks everyone for your generous and collegial approach to sharing best practice. pic.twitter.com/9fOf3nb8Tb

— Tracey Bretag (@TraceyBretag) November 5, 2019
Is there an epidemic of cheating at Australian unis today?
Professor Bretag didn't say, though she did talk about three risk factors that she and other researchers have identified, particularly in relation to "contract cheating" - that is, having someone else complete your assignment (regardless of whether money changes hands). They are:
Language other than English. Students from non-English speaking backgrounds obviously face greater challenges completing course-work in English.
The perception that there are "lots of opportunities to cheat." When that's the case, it is easier to fall into the trap, and to believe others are cheating, as well.
Dissatisfaction with the teaching and learning environment. Students who feel disengaged from the learning process may cut corners in order to pass.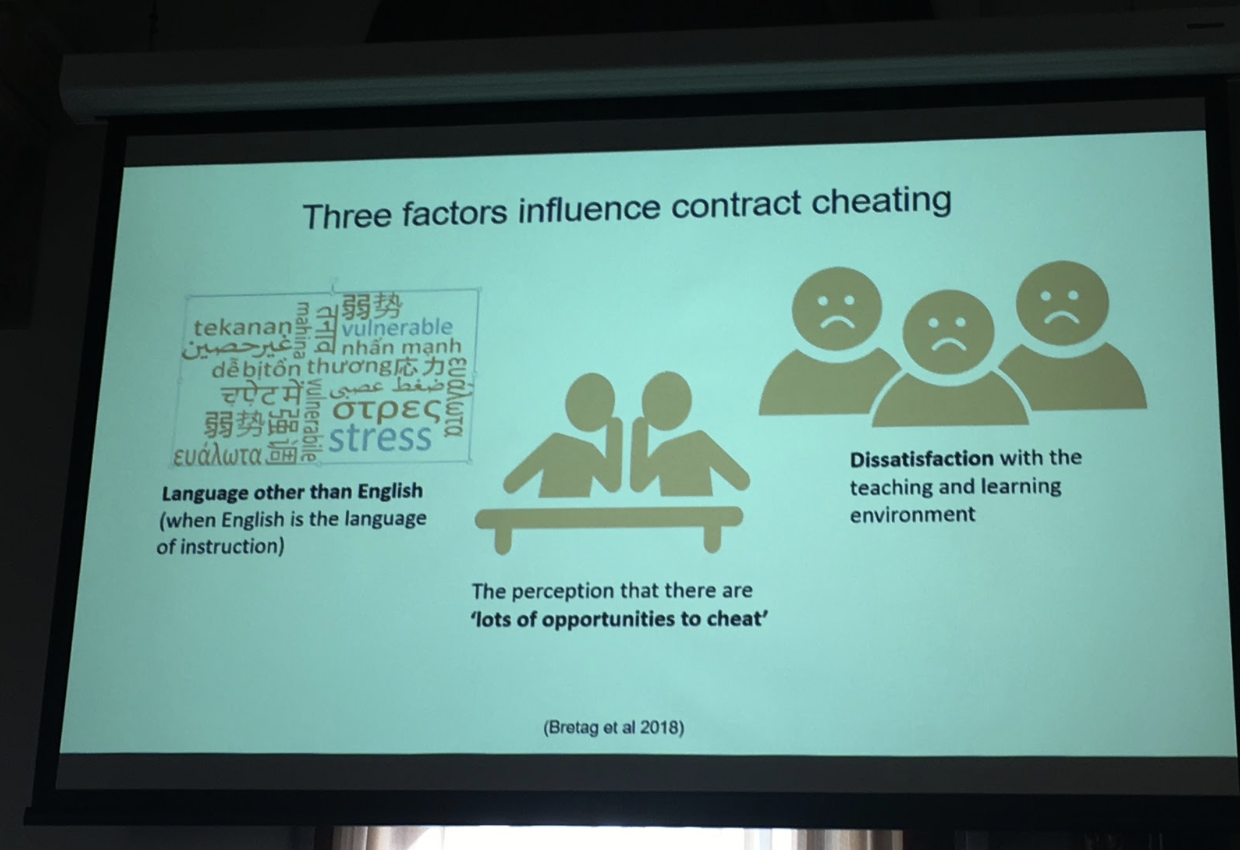 Underlying all of these factors are the economic pressures that students and universities face. The nearly half-a-million international students in Australia are largely from non-English speaking backgrounds, and their English skills, according to Bretag, are often not what they should be to tackle university-level work.
When you ponder the investment these students and their families are making, and the growing reliance our providers have on these revenues, it's not surprising that some students feel compelled to cheat, and that providers are reluctant to crack down on them.
There are two other factors exacerbating the current situation.
Size and scale. Particularly at our public universities, which average more than 35,000 students, opportunities for personal interaction with professors and tutors are often hard to come by for students.
Our digital lives. Our mobile lives mean students are spending less time on campus and expecting to be able to access their course requirements on their phones and laptops.

Part of the solution lies in developing a culture around Academic Integrity.
And part of the solution needs to address these risk factors by looking for ways to increase interactions between students and their lecturers and tutors. Additionally, students need to receive "sufficient feedback to learn from the work they do." This is an ongoing challenge when teaching "at scale," and it's within this context that Studiosity came up twice during the discussion:
Our Academic Writing Evaluation - AWE - service is designed to deliver rapid feedback to any number of students, against a rubric that shows educators strengths and weaknesses for individuals and the group, allowing for easy identification of individuals who may need additional support to complete university-level work.
Our 24/7 Connect Live and Writing Feedback services provide highly personalised learning experiences for students via their mobile phones and laptops, wherever they happen to be, ensuring that moments of anxiety and stress don't lead to poor life choices, like purchasing an essay or dropping out of a degree.
"Students engage in cheating practices NOT because they come here planning to do so - it's because they don't get enough support." @TraceyBretag @TEQSAGov #academicintegrity

— Jack Goodman (@jackaroo2000) November 4, 2019
And as Dr. Bretag explained, at UniSA, when students are tempted by the myriad links to contracting cheating websites, their network blocks the request and suggests they give Studiosity a try. It's ethical, high quality feedback, and it's provided at no charge, by the uni.
>> If we can work together to provide every enrolled student with readily-accessible, personalised learning support, then we improve academic outcomes, reduce the risks of contract cheating and minimise the need for the painful process of enforcing the rules of Academic Integrity.
Jack Goodman is Founder and Chair at Studiosity.