TED has talks for everyone on everything from science to technology to education to art. But with that sheer amount of choice, it can be hard to keep up with what TED has to offer.
We asked around the Studiosity office for people's favourite TED Talk, and we think you'll like the playlist we've curated - it's packed to the brim with insights, bright ideas, creativity and inspiration!
Tyler DeWitt: Hey science teachers - make it fun
High school science teacher Tyler DeWitt was ecstatic about a lesson plan on bacteria (how cool!) and devastated when his students hated it. The problem was the textbook: it was impossible to understand. He delivers a rousing call for science teachers to ditch the jargon and extreme precision, and instead make science sing through stories and demonstrations.
Mike, CEO: "I love this one because with a little quirkiness and a splash of comedy, Tyler shows us how to inspire kids to unlock the secrets of the universe."
Sarah Kay: If I should have a daughter
Sarah Kay tells the story of her metamorphosis — from a wide-eyed teenager soaking in verse at New York's Bowery Poetry Club to a teacher connecting kids with the power of self-expression through Project V.O.I.C.E. — and gives two breathtaking performances of "B" and "Hiroshima."
Han, Software Engineer: "My faouvite talk is Sarah Kay on teaching spoken word poetry to middle schoolers."
Michael Moschen: Juggling as art... and science
Michael Moschen puts on a quietly mesmerizing show of juggling. Don't think juggling is an art? You might just change your mind after watching Moschen in motion.
Jack, Founder: "It's a talk about juggling as an art form, and I suppose part of what's remarkable is that it's not just a talk. It's performance art."
Jamie Oliver: Teach every child about food
Sharing powerful stories from his anti-obesity project in Huntington, West Virginia — and a shocking image of the sugar we eat — TED Prize winner Jamie Oliver makes the case for an all-out assault on our ignorance of food.
Chantelle, Director of Community Partnerships: "This is my all time favourite TED Talk - it's the only one I've watched all the way through, it's super awesome..."
Ramesh Rasker: Imaging at a trillion frames per second
Ramesh Raskar presents femto-photography, a new type of imaging so fast it visualizes the world one trillion frames per second, so detailed it shows light itself in motion. This technology may someday be used to build cameras that can look "around" corners or see inside the body without X-rays.
Andrew, Software Engineer: "This is so cool - the camera is able to show light in motion. Plus it can see around corners! Lots of real applications that could come from this sort of thing, pretty amazing."
Ursus Wehril: Tidying up art
Ursus Wehrli shares his vision for a cleaner, more organized, tidier form of art — by deconstructing the paintings of modern masters into their component pieces, sorted by color and size.
Peri, Client Services Manager QLD: "This is hands down my favourite talk. Ursus made me laugh and think about personal approaches to defining 'problems'. One person's artwork can be another person's 'problem'. Getting students to define their problem and articulate a good question is like tidying up Van Gogh."
Conrad Wolfram: Teaching kids real math with computers
From rockets to stock markets, many of humanity's most thrilling creations are powered by math. Conrad Wolfram says the part of math we teach — calculation by hand — isn't just tedious, it's mostly irrelevant to real mathematics and the real world. He presents his radical idea: teaching kids math through computer programming.


Fiach, Tutoring Service Coordinator: "A solid grounding in calculation is critical to the development of higher maths skills, but it's not all there is to maths. Maths is a tool that is used in a diverse range of careers, but maths education often doesn't excite students with the endpoint of the techniques they are learning. I learned so much maths - and physics - from games like Kerbal Space Program, where you know the goal of the calculations, and can tweak values to see in action the relationships between the different elements of the problem."
Mitch Resnick: Let's teach kids to code
Coding isn't just for computer whizzes, says Mitch Resnick of MIT Media Lab — it's for everyone. In a fun, demo-filled talk Resnick outlines the benefits of teaching kids to code, so they can do more than just "read" new technologies — but also create them.


Ann, Assistant Director, Tutoring Services: "It's mostly the ending of this talk that I want to endorse. More young people should be encouraged to get engaged with the building blocks of technology; coding and design principles are valuable things to learn and understand, even for those who don't directly intend to move into a computer science position professionally."
Bunker Roy: Learning from a barefoot movement
In Rajasthan, India, an extraordinary school teaches rural women and men — many of them illiterate — to become solar engineers, artisans, dentists and doctors in their own villages. It's called the Barefoot College, and its founder, Bunker Roy, explains how it works.
Merrill, Director, National Tertiary Partnerships: "Barefoot College, changing the world one illiterate grandma at a time. A night school for poor children who look after goats during the day, where women build solar cookers, illiterate grandmas are dentists, Indian women teach Afghan women without words or written materials how to build solar powered villages, and puppets are made of world those otherwise useless bank reports. Incredible."
Arvind Gupta: Turning trash into toys for learning
At the INK Conference, Arvind Gupta shares simple yet stunning plans for turning trash into seriously entertaining, well-designed toys that kids can build themselves — while learning basic principles of science and design.
Rhandy, Director of Product: "Amazing to see how simple things can be used to make fun toys for kids that are grounded by science and design."
Cameron Russell: Looks aren't everything. Belive me, I'm a model
Cameron Russell admits she won "a genetic lottery": she's tall, pretty and an underwear model. But don't judge her by her looks. In this fearless talk, she takes a wry look at the industry that had her looking highly seductive at barely 16 years old.
Caroline, Director Consumer Marketing: "A refreshingly honest appraisal of an industry that thousands of kids aspire to, and why it's not a career path. Cameron Russell is a highly successful international model with 10 years of experience but she puts her success down to being the winner of a genetic lottery that is as rare as a powerball win. She often gets asked by girls if she thinks they could be a model with they grow up. Her response? "Why? You know? You can be anything. You could be the President of the United States, or the inventor of the next Internet, or a ninja cardiothoracic surgeon poet, which would be awesome, because you'd be the first one."
Joe Smith: How to use paper towel
You use paper towels to dry your hands every day, but chances are, you're doing it wrong. In this enlightening and funny short talk, Joe Smith reveals the trick to perfect paper towel technique.
Rob, Software Engineer: "I love this - it's a short practical talk on making your life and the environment better."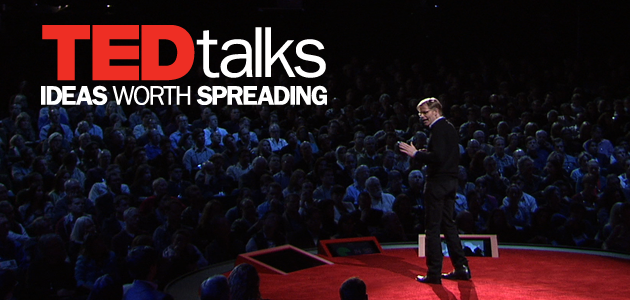 Do you have an all time favourite TED Talk? We'd love to hear it, tell us in the comments below.