Presented online by Sarah Knight, Head of Change - Student Experience, Jisc on 1 April 2020, as the opening session of the EMEA Online Symposium 2020.
You can view the highlights video featuring Sarah's presentation here.
The 2020 EMEA Online Symposium brought together key speakers from the education sector to provide support, advice and start conversations around online learning for our attendees from across the region, sharing their insights and knowledge during a time of change and transition in the education sector.
Our first speaker of the event, Sarah Knight, Head of Change - Student Experience at Jisc, presented a look into the findings of the Jisc 2019 digital experience insights survey report, with key recommendations on how universities can support an excellent student digital experience.

Theme 1: the digital lives of learners - how students use their own devices for personal use and for learning
Sarah Knight: The research begins with some unsurprising statistics:
HE students own and use more devices than FE students - about 8/10 own a smartphone
5% of FE and fewer than 1% of HE students said they didn't own any personal device - students are utilising their smartphones more and more
These findings suggest that we need to make sure that our learning design needs to be available and accessible on other devices apart from the usual desktop/laptop.
Moving on to the most popular device activities:
FE: making notes/recordings (57% weekly)
HE: accessing lecture notes (85% weekly)
Sizeable numbers of students say assistive technologies are vital to their learning or that they choose to use them FE: 14%, HE: 19%)
There seems to be a general lack of awareness amongst students around the accessible features that are built into current devices, such as the ability to record voice notes in Microsoft Word, therefore a better understanding across the board would help to create a more level playing field.
Students were also asked to give an example of a digital tool or app they find really useful for learning, and there are probably no surprises that Google, Moodle, Classroom and Microsoft were mentioned the most, but the word clouds illustrated the huge breadth of tools that students mentioned.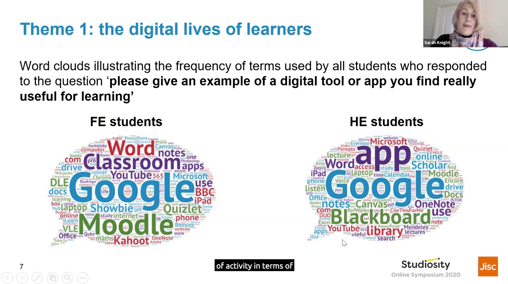 Theme 2: digital in the institution - students
There were a high number of positive responses from both FE and HE students when asked about their institution's digital provision, with the following key statistics:
70% of HE students agreed their organisation supported them to use their own devices
Reliable WiFi was accessible to 82% of HE students and 71% FE students
61% of FE and 54% of HE students agreed that their organisation protected their data privacy - a trend towards a significant improvement on this year on year
In terms of key takeaways, the message is clear:

Get the basics right by offering reliable cross-campus access to WiFi
Provide good quality digital resources - students in HE expect recorded lectures to be available and would like more consistency in audio quality and timeliness of upload
The second most important concern for HE students is access to quality academic content, with students reporting feeling frustrated if libraries lead them to articles that are not available
Provide a variety of support options and signpost these well
Actively promote health, wellbeing and online safety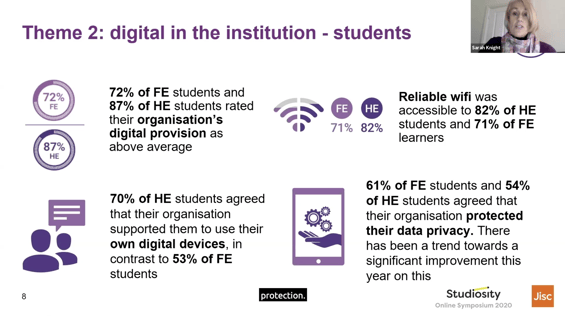 Theme 3: digital at course level - students
The data for course level painted a varied picture, with some positive findings and flagging up areas of concern:
70% of FE students and 75% of HE students rated the quality of digital teaching and learning on their course was above average
Around a quarter of students never work online with others, an area of concern when considering the skills needed to succeed in the workplace
Around half of students agreed they could find things easily on their VLE
Approximately a third of students agreed they were told what digital skills they would need before their course started
70% of HE students and 49% of FE students agreed that digital skills were important for their chosen career but only 42% HE students and 40% FE students agreed their course prepared them for the digital workplace
Only 3 in 10 students agreed that they were given the chance to be involved in decisions about digital services
The key messages were:
Encourage collaboration to emulate business practices - colleges and universities could do more to promote workplace practices
Students want to be in control of their own learning progress - organisations can support learning autonomy with online access to grades and feedback
FE and HE sectors are diverging in their approach to providing learning environments, with FE using free-standing systems like Showbie and Google Classroom, whereas in HE there is convergence with institutional portals
Embed digital skills through curriculum design - support students to develop digital skills prior to study, during induction and throughout their course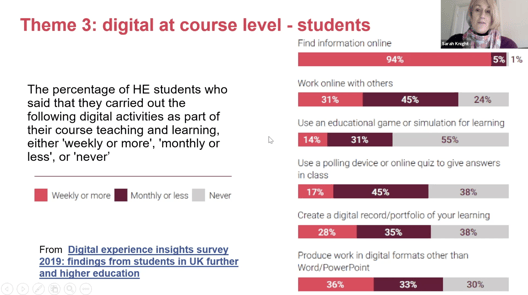 Theme 4: student attitudes to digital
75% of HE and 63% of FE students agreed they were more independent in their learning
76% of HE and 58% of FE students agreed they could fit learning into their life
Around 4 in 10 students wanted digital technologies to be used more on their course
Majority of students prefer to learn using mixture of individual and group work, but sizeable minority preferred to study alone
The key messages for this last theme:
Make it easy for learning to be a part of everyday life - access to personalised programmes and progress data, apps to conduct tasks e.g. managing time and taking notes, encouraging learner autonomy
Make learning interactive and engaging - students are generally happy with the amount of technology that features in their learning but there is demand and potential for more use
Involve students - colleges and universities working with their students on partnership projects around curriculum innovation and technology are realising benefits of seeing their students develop not only their digital skills but also transferable skills for the workplace such as teamwork and collaboration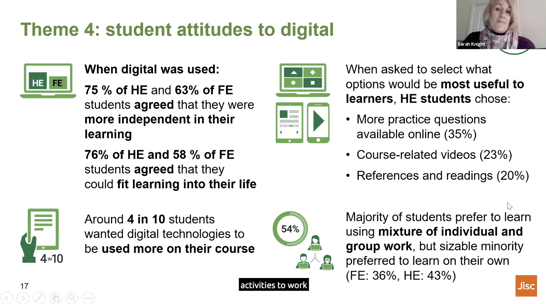 >> Watch Sarah's presentation here.