University of Sunderland
About:
University of Sunderland was established in 1901 in the city of Sunderland, North East England, and has over 24,000 students. As well as the North East Coast, they also have campuses in London, Hong Kong, plus global partnerships with learning institutions across 15 countries.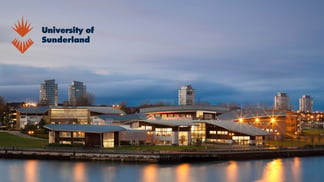 The University of Sunderland is integral to the city and the region with its "Life-Changing" mission, through transformative experiences for their students, plus career-focused and professions-facing teaching. The University strives to make a positive difference to society, creating a distinct local and regional impact.
The University is also one of the UK's leading widening participation universities and was named The Times/Sunday Times University of the Year for Social Inclusion in 2021. They were also shortlisted for the Times Higher Education University of the Year in 2021, and are a renowned research university with over 70% of published research rated as either world-leading or internationally excellent in the 2021 Research Excellence Framework.
Why Studiosity?
Sonya McChristie, Learning Design Manager, University of Sunderland explains why they partnered with Studiosity and how they are using the 24/7 study service to support their student's academic writing needs. Watch the video (04:47):
"We started with Studiosity as a pilot last year and we wanted it to be a strand, a tool to help us to improve that withdrawal rate issue and help to improve student attainment as well to get better grades."
Collaboration & Outcomes:
University of Sunderland have been running the Studiosity pilot for the 2021/22 academic year for their first year undergraduate students. Currently in the evaluation phase, usage rates are exceptionally high at 33% (having increased from 25% at the time of the interview with Sonya McChristie) of the entire first year cohort using Studiosity, and they are already anticipating the continuation of Studiosity in year two for their 2022/23 new first year intake.
The University has used Studiosity in a unique way; they have a targeted 'Write it right' intervention for their first year undergrads as soon as they start the first semester. The set assignment is not an academically assessed piece of work, but it allows the university to immediately identify any issues with the quality of their academic writing, and crucially to implement early additional support. This intervention has been initiated directly to help improve both attainment and retention rates.
"...so far student feedback is overwhelmingly positive. They love the service and get a lot from it. Feedback from our academic colleagues as well is also very positive. So they're getting students going to them and saying this service has really helped."
Key performance measures - student satisfaction:
Writing Feedback: 96% satisfaction across 2,706 documents submitted and returned (with 81% extremely satisfied)
Connect Live: 81% satisfaction across 56 sessions with a Specialist
5 hours average Writing Feedback return time
Key metrics from 2021/22:
Over 1,202 students have used the service
60% of student help seeking out-of-hours (outside of 9 am - 5 pm)
22% of student help seeking during weekends


What happened when Studiosity was embedded into a core psychology module?
Jon Rees, Senior Lecturer in Psychology, University of Sunderland analysed the impact of a formative task including Studiosity feedback on the first-attempt pass rate of their students, it was clear that students who engaged with formative feedback were much more likely to pass the module on their first attempt.
"There is a significant and strong association between doing the formative assessment and passing at first attempt ... the odds of passing at first attempt if engaging are 31.18 x higher than those not engaging"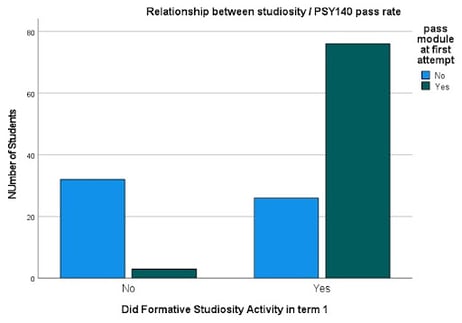 Jon Rees, Senior Lecturer in Psychology: How Studiosity Was Embedded Into A Core Psychology Module. Read the full research outline here.