Sheffield Hallam University
About:
Sheffield Hallam University, established in 1992, is one of the UK's largest and most diverse universities, currently supporting 30,175 students of whom 4,400 are international students.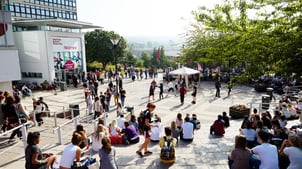 Sheffield Hallam University offers over 700 courses, with the new Hertha Ayrton STEM Centre, a regional hub of excellence opening recently to offer courses in science, technology, engineering and maths, and is also one of the largest providers of nursing and midwifery education in the UK.
Why Studiosity?
Sheffield Hallam University students are from many varied backgrounds, including a large commuter cohort, that often need additional support and additional help. With out-of-hours support being the number one request from students, the university needed to look at other ways of providing 24/7 support, in addition to their existing 'core hours' offering via the central skills centre and skills team.
During 2020, the pandemic clearly threw up a set of unprecedented challenges for the entire sector, with many students being forced out of the study mindset for months. Studiosity was one of the tools used by Sheffield Hallam University to help to re-engage students and develop their online learning skills, considered by the university as key to their longer term success.
Collaboration & Outcomes
Studiosity services were also implemented by Sheffield Hallam University to align with their access and participation plan. The university combined their internal data alongside Studiosity data, in order to best define the cohort, support those most at risk of not proceeding with their studies, and ultimately improve retention rates. There is a clear and definite alignment between the university goals and Studiosity's mission; the program aims to be as inclusive and accessible as possible, with the provided data from Studiosity forming part of a complete picture of who is seeking help and how they are progressing with their studies - allowing for example, specific focus on male students who are recognised as being less likely to seek help.
Jennifer Fearon, Head of Skills has been instrumental in helping to create a successful partnership with Studiosity and stresses the essential collaborative approach:
"...part of the work that we've been doing over the last three years with Studiosity is for students to understand that it's very much a part and parcel of our academic skills development. "
Key Performance Measures
Sheffield Hallam University was one of the first innovators in the UK to offer 24/7 study support via Studosity, beginning the partnership in 2017, offering Writing Feedback and Connect Live services to their first years. In the subsequent year they widened out access to the entire student cohort; from first year to final year of study, across all courses. For the 2021/2022 academic year, they also offered the peer-to-peer service Student Connect, to all Level 4 students.
Student Satisfaction
Writing Feedback: 94% satisfaction across 49,068 documents submitted and returned
Connect Live: 81% satisfaction across 1,253 sessions with a Specialist
Student Connect:

82% satisfaction

across 117 peer-to-peer study help sessions
9 hours average Writing Feedback return time
Over the entire duration (Dec 2017 - Jun 2022) of the Sheffield Hallam University/Studiosity partnership:
Over 12,565 students have used the service
50% of students seek help out-of-hours (outside of 9 am - 5 pm)
21% of student seek help during weekends