University of Lincoln
About:
Situated in the heart of a beautiful and historic English city, University of Lincoln was first opened at the Brayford Pool Campus in Lincoln by Her Majesty the Queen in 1996, however the University can trace the roots of its predecessors, the Hull School of Art, back to 1861.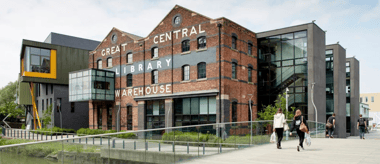 In the decades since, with more than £375 million invested in the Brayford campus, and £21 million into the Lincoln Medical School building, the modern facilities, close links with business, and world-leading research earned University of Lincoln The Times and Sunday Times Modern University of the Year in 2021, and placed them in the top 30 universities in the UK for student satisfaction in the Guardian University Guide 2023.
Offering a wide variety of programmes, the University is organised into two colleges: the College of Arts, Social Sciences and Humanities, and the College of Health and Science. The University has a vibrant international community, with students from more than 100 countries, plus a global alumni community made up of more than 90,000 graduates from across 135 countries.
Why Studiosity?
The School of Education historically has had a small MA programme, with the majority of students being home students. However, since 2020/21 the programme has had a very large increase in numbers of international students.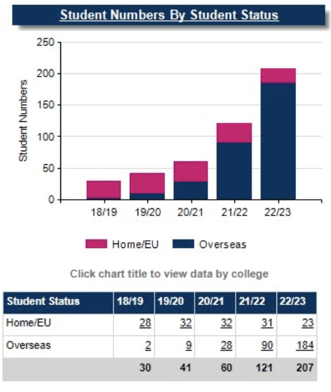 The MA students are asked to complete an initial formative assessment half way through their first core module. Personal tutors found that much of the feedback they were giving on these ~1,500 word assessments was on academic writing skills and referencing, as opposed to the student's areas of interest in education studies.
Despite academic writing skills and how to cite literature being a focus for many of the seminars, as well as a large range of support via the School of Eduction Support team, the Academic Librarian and the International College, it became clear that more help was needed.
Claire Randerson, Dean of International and PGT Students, a new role created in 2022/23 in response to increased numbers of international students in their MA programmes, is part of Student Success Team, with a primary focus of enhancing the student experience, was instrumental in the University reengaging with Studiosity: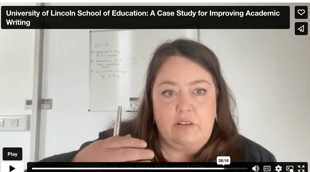 "the newly created Student Success team were able to present a really successful case to the University that the existing support that the University provided for students across the range of university services, would be very usefully complemented by the round the clock and very flexible support that that Studiosty offer"
Dr Alison Smith, Lecturer in Education and co-lead for the MA Program, is the college academic rep for Studiosity, and part of the advisory group who are responsible for the successful roll-out of the service to their students. Dr Smith explains that whilst the increased number of international students has positively enriched the University's school community, this also meant a complex navigation of different student expectations and experiences through their MA, where they currently mainly have written assignments for the core and elective modules within the degree. Students' concerns were mostly focused on writing style and academic integrity, with referencing being a particular focus. Using Studiosity as a standardised support mechanism to provide fast, high quality feedback on their academic writing skills was therefore important for the University:
"we still felt that there was more support that could be offered to our MA students, to help them with their academic writing skills, to help them with their confidence in knowing what we're doing is going to help them succeed in their assignments. And this is where we found that Studiosity has come in"
Outcomes:
Both student and staff feedback have been overwhelmingly positive. Positive feedback ranges across high student engagement numbers, the ease of use, satisfaction with received support, as well as improved attainment. Following use of Studiosity, 82% of students went on to engage with wider University services, and staff reported improved work being submitted by students, leaving them free to focus on actual content as opposed to academic writing style and referencing.
79% of students accessing Studiosity achieved a pass grade or above
32% of these students achieved a merit or distinction
63% of students not accessing Studiosity achieved a pass grade or above
Only 7% of these students achieved a merit or distinction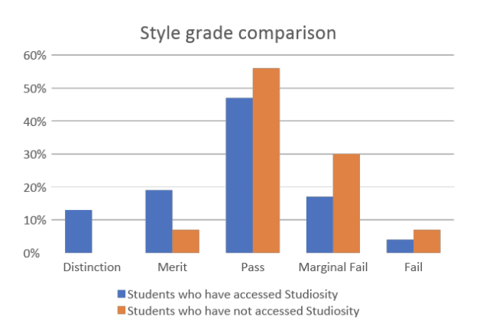 Staff feedback:
"I had a group tutorial and the work I looked at was better than expected, except for the one student who had not used Studiosity. She sent a revised draft earlier this week and it is much improved. Feedback from students is good, too."
"I noticed a difference in terms of the formative feedback I was providing for those who had used Studiosity. For those who had, I was able to talk more about developing critical arguments, rather than use of language and structure."
"There was a difference in the feedback I could give. It was great to focus on the actual content rather than being distracted by the communication skills. I really hope students use this much more in the future if possible."
Key performance measures - student satisfaction: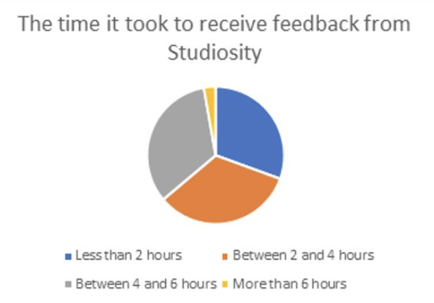 Key metrics:
680 (3000 with access) students have used the service from 1st Jan 2023 - 31st August 2023
66% of students seeking help out of hours
21% seeking help at the weekend
Most students received feedback in all the Studiosity focus areas (structure, choices of language, argument/idea development, spelling/grammar and use of sources), however they found feedback on the use of sources to be most helpful
Students who have engaged with Studiosity have, on average, submitted 2.5 times (at the time of this research, they had 3 assignments to submit). This shows a sustained use of Studiosity for those students over the semesters and that submitting to Studiosity is becoming embedded as part of the assessment process for our MA students.
Watch the University of Lincoln School of Education Case Study video (43:00]: