University of Exeter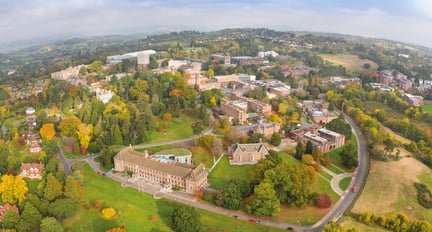 About
The University of Exeter combines teaching excellence and high levels of student satisfaction with world class research at campuses in Exeter and Cornwall in the UK. They are one of the very few universities to be both a member of the Russell Group and have a Gold award from the Teaching Excellence Framework (TEF), evidence of their established international reputation for excellence in both teaching and research.
The university has been dedicated to discovery and changing lives through education since 1851 when the Exeter Schools of Art and Science were founded. In 1922 they became the University College of the South West, receiving their Charter in 1955, achieving full university status and becoming the University of Exeter.
They were joined in 1978 by St Luke's College of Education (est. 1840) and in 2004 they opened the Penryn Campus, expanding the provision of higher education in Cornwall. Currently, in the academic year 2020/21, there are 27,296 students across all three campuses.
Why Studiosity?
As a research-intensive university there are many varying demands on the faculty staff and so the University of Exeter was looking for a service to complement their existing student support provision and take some of the pressure off staff. During 2018 they had a big increase in numbers of students, particularly international postgraduate students, so they were also looking for ways to provide more personalised support for them.
Studiosity presented a solution which built on their existing Study Skills teams across the university, expanding the availability of study support to 24/7/365 and significantly increasing the number of students who could receive same-day help at any point throughout the year.
Outcomes
Exeter has a very diverse community of students including a large number of international students. Entry requirements are very high, which means that the students coming into the university can sometimes be reluctant to reach out for support. However, students want to achieve the highest grades they possibly can and so whilst they do get a lot of feedback from the university tutors and wider support teams, any additional feedback to reassure them that they are heading in the right direction with their work is very well received, and the reason for a high level of uptake of study help via Studiosity.
In the 2018/19 academic year, University of Exeter ran a pilot in the Business School. The Writing Feedback and Connect Live services were offered to all students across all programmes, including undergraduates and the full suite of postgraduate programmes.
Key metrics from the initial pilot in 2018/19:
In 2019/20, the pilot was extended across three colleges and a business case was built during the second year to secure funding which came partly from the access fund, but mainly from central university funds, for a three year partnership.
Key metrics from 2019/20:
Student engagement: 25% (students who used the service once or more)

Number of uses: 8,610

Student satisfaction rate: 92% (with 63% rating it 'Extremely Satisfied')
In the building of the business case the University ran some initial outcomes analysis and found there was a loose correlation between achievement and the use of Studiosity. There was also high uptake from students from disadvantaged backgrounds. This was of particular significance as one of the key criterias was to ensure Studiosity was accessible to all students. Due to the number of students studying remotely, especially in the business school where students are based in many different countries around the world, being able to offer personalised support online at any time of the day and night was especially important.
Due to the extra level of scrutiny following the additional Studiosity feedback, the university are seeing much more fluently written assignments coming through, creating the additional staff benefit of work that is easier to mark.
Student feedback on the service is overwhelmingly positive and many students report that using Studiosity helped to improve their confidence in their writing abilities.
Watch the Future of Learning video, produced by ITN Productions in partnership with ALT, to hear more key benefits to University of Exeter students>>>