Connecting with our Academic Advisory Board is always insightful, and this interview with Dr. Mamdouh Shoukri was especially so. In the following interview, Dr. Shoukri shares powerful remarks from an incredible career in engineering and academia, as well as advice and thoughts for the next generation of change-makers.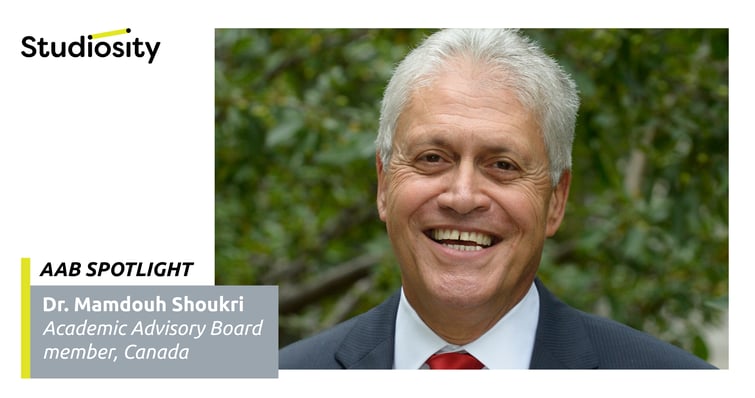 Dr. Mamdouh Shoukri is the Former President of York University, where he served two terms from 2007 to 2017. Prior to his last appointment, Dr. Shoukri spent over 30 years at McMaster University, where he completed his education and occupied many roles from Associate Professor to Dean of Engineering, and lastly Vice President, Research and International Affairs. Dr. Shoukri is credited for leading McMaster to become one of Canada's top engineering schools.
Dr. Shoukri came to Canada from Egypt as an international student, and over 50 years later, his long list of accolades led him to being named to both the Order of Ontario and appointed a member of the Order of Canada in 2013 for contribution towards academic institutions in Ontario, as an engineer and as an administrator.
How did you start out in academia?
After my graduate studies, I was in industry and fortunately, I was in an R&D capacity. I really wanted to work in the industry to see how things are and how can I apply the very fundamental knowledge that I was trying to learn in real situations. I ended up in R&D by choice and I really enjoyed that because at the time the nuclear industry was significantly engaged in research and, at the best and the top level in the world.
So I had that exposure, which enabled me to publish and do research while working in industry. So when I was invited to apply for a job in my home department, I was very prepared. I joined the academy at the level of Associate Professor - I never worked as an Assistant Professor. That was a huge opportunity because I basically took what I was doing in industry and started looking at it from a more fundamental point of view that enabled me to build a very strong, significant research group that graduated a number of people who are now professors, and a number of people who made huge contributions, and are even now retiring.
How is McMaster significant to you?
McMaster has special place in my heart because I came to the best country in the world via McMaster. Not only was I able to be educated at McMaster, I received a wonderful education and wonderful opportunity to learn, it was also a wonderful four years of introduction to my new country. Moreover, after I worked in the industry, and I was very happy in the industry, they managed to convince me to come back to teach and do research at McMaster. I'm glad they made that decision, and that I accepted that situation. It's been a wonderful place.
I was very fortunate because my colleagues at Mac supported me and I was able to do everything I wanted to do. I later was invited to be the Department Chair, which did not affect my research output, but halfway through my time as Dean, I stopped research. But I continued to teach for a long time, even as a Senior Administrator, because I found teaching to be a very rewarding experience.
What drew you to the field of engineering?
I was in Egypt when I started in engineering, and that is where I got my first degree. There was a strong sense that in the country that industrialization is the way to go to move from an agricultural society to become industrialized. So engineering was attractive in that sense. I became fascinated with the subject of energy and how energy shortages or availability of energy can help drive economic development and social development. But there was at the time I chose the path of mechanical engineering, which was the so-called field of fluid sciences, which is really the power consumed with energy-related topics or fundamentals of it. And that's why I continued to work on the topic of energy.
And, as it happened in Canada in the 70s, nuclear energy was one thing that attracted a lot of us as one of the main solutions for the energy crisis. I believe that ensuring that we have the energy to support the economic and social development is essential, so the research will continue to take different directions depending on need. I think the world will always depend on people who are engaged in research and application.
What role do you think universities and higher education institutions play in modern society?
Oh, a lot. First, let me not forget mentioning one important thing: universities are the place that prepare the next generation of citizens, or a significant part of the next generation of citizens. If we would like to continue to see improvement in human life, we need people who are able to think critically.
The universities, as a place, help prepare the next generation of workers by providing them not only with the technical knowledge of the science and social sciences, but an understanding of the world. Universities prepare them for the next phase of life, but also provide them with very important critical thinking skills and the ability to weigh things, measure things, and make decisions. And for the citizens, it's also a significant vehicle for social mobility and I don't want to ignore that. The university is where both fundamental research and applied research take place. This research can be used directly to create economic and social value, or can be picked up by people who will turn it into products and services that provide better life for humanity. Universities are also the place where important societal issues can be debated openly and freely.
So it's really three things: university's impact on people who are there, the impact on society as a whole, and it being a place for debate and discussion of important things. I see their voices as the conscience of society.
"I was told that the I studied the wrong thing by going through engineering and not becoming a social scientist, which is probably true."
What have been some highlights of your academic career?
I think the most important thing in terms of teaching that I was able to bring to the classroom was some of my industrial experience that I thought was seen by the students as valuable, and that was very clear to me. I think one of the highlights is the number of students that I graduated who went on to become very, very successful. Some of the results we produced has been used by industry.
I am actually very gratified by what I did as a university administrator. At McMaster Engineering I was very young to be a Dean. McMaster Engineering was very special in the sense that it was one of the most research intensive engineering schools in the country, however, it was small. Certainly one of the my proudest moments is when I came to the conclusion there is a need to grow, but not at the expense of the research. So I think that what happened next, during my seven years as Dean, is something I am most excited about. It was significant to almost double the size of the faculty and be among the top engineering faculties in the country.
I'm also very proud of my academic administration is because of my background in terms of linking my research to applications. I realized also, as a Dean and later as the Vice President for research, that while McMaster is one of the most savvy social conservatories in the country, it lacked an effort to translate that research into products. So, I initiated the study that eventually led to the development of the McMaster Innovation Lab, which is now in existence. I designed the governance model, and it was created as a way to link McMaster research to industry and innovation. That is one of my proudest accomplishments.
Of course, what happened at York I'm very proud of. My mandate was to transform York from a large university used in the contribution to social sciences, and in proportion significantly less contribution in the area of health science and engineering, into a more balanced university without losing the fundamental essence of it as a university. I think we succeeded in doing that, by creating a Faculty of Engineering and creating a Faculty of Health that I certainly planned and led. I'm very proud of what I did.
So, overall: my contribution to the teaching and research, my contribution to expanding McMaster Engineering, creating and building the McMaster Innovation Park, and the transformation of York. Of course, in all these things, you don't always do what you plan. If you do 60 percent of what you planned or hoped to do, you've done okay. But on reflection, I'm very happy with what happened.
"You can have ideas and you can have dreams. And in order to accomplish, there are two things you need to do. One is to find the people who support that vision, who are willing to work with you. Two, listen to them. You have to listen to them because collectively they have better ideas than that you can dream of having."
So, I can list a ton of people who made allof these things happen, but I certainly was very fortunate to be in important positions at the time these things happened.
What advice would you give to students starting their academic studies?
Well, work hard and understand that the collision environment is something that enables you to do good work. Understand what you're trying to do and how it fits in the bigger picture. And maintain integrity.
I was asked by a group of York students as I was leaving, "What do you think are the attributes of successful academics?". That was on the spot and I found only two things to say: one is integrity and all the things that comes with it. The other one is empathy, the ability to put yourself in other people's shoes, even people who disagree with you. These are very important things that I think help an academic.
How have you seen the importance of student wellbeing change throughout your career, now versus when you started out in academia?
The relationship between the universities and their students has evolved. It will always be a relationship of really good mentorship and helping them prepare themselves for the future. We're consistent in advocating for the students and supporting the students, but over the years we need to accept many different things. Accept that we have been short on supporting mental health needs. Accept that we may have acted in ways that that showed superiority.
"You have to listen to students. You don't always have to agree with what they say. But you have to listen carefully because students provide you with insight that you may lack."
I think universities have become better over the years in listening and understanding their students. I spent 10 years at York University and I always felt that we should respect and listen carefully. And in fact, in many instances, we've did things because the students pointed them out. I think universities have become better.
Look at the student who faces an exam and breaks down: why is this happening? Is there anything we can do to fix this? How we can help with issues of intimidation, abuse, and so on? I think people are paying far more attention now to issues of discrimination. We're trying to get students to reach their potential, whatever that potential is. I would dare to say, both institutions and universities are probably the best places to deal with societal issues.
Outside of academia, what are you passionate about?
Other than football, I am very passionate and I care about issues of human rights. Not linked to a specific problem, but issues of human rights in general. Issues of equality or inequality, whether that's gender, race, colour or religion, I'm very sensitive to the subject. I spent a lot of time reading about the subject. Maybe I'm not active in advocacy particularly at this age, but this is something that I have had interest in throughout life.
People who work with me may acknowledge that I'm always driven by issues of equality, equity and human rights. So, my interest include sports, social issues, and I have a special interest in history, particularly the history of religions - how they evolved and how they evolved, how they have provided humanity with form of order at certain times but can become a tool for abuse and discrimination and violence. I find human nature to be interesting.
I don't spend time reading about energy generation anymore, but spend my reading time about history, about issues of human rights. Surprisingly, with all the wealth the world has, people still suffer all over the world. Many people still cannot go to bed at night with dinner, many people can't find medical or health care. This is something hard to believe if you look at the world collectively with all what we have. So there is the kind of the social side of my interest, which is which is dominant.
Soccer? I want my team to win. But in other things, I'm not sure there are winners or losers with you when certain countries or individuals manage to accumulate so much wealth meanwhile other people are hungry.
If you could describe your teaching style in one word, what would it be?
I think engagement is probably the best word. I was never a person who would stand there and read something or write on the board. I would write on the board a lot, but engagement is important.
I'm going to give you an anecdote. It was my third year of mechanical engineering and I asked my class if they had any feedback. One of my students said, "I'm not sure if it is a complaint about you or my colleagues, but I find that you repeat what you said, or summarize what you said, every time a student walks in late." I reflected on that and realized that I had difficulty speaking to people and noticing that some are not following me. They were right and that was my spontaneous reaction. Somebody would walk in and I would say, "OK, let's look back and repeat what we discussed." I never knew that I was doing that. But once this student pointed out as a complaint, I didn't take it personally. I think this is probably a good anecdote to show my sensitivity to issues. If you're not following me, then there's no point. I was not there just to be a recording machine. I want engagement when I teach.
What drew you to getting involved with Studiosity?
In the beginning, I said, "No, I'm not interested. I'm busy." I was open to giving advice, but eventually I agreed to become more involved. I realized that there is a huge value in providing knowledge as needed, because a huge part of the student body come from homes of recent immigrants. And many of them, in fact, have continuous part time jobs in the order of 10 hours a week. And many students would graduate over five or six years, by design. They earn their degree in a different way, and they can struggle. If you assume that many of the students working part time may have family to look after, Studiosity is convenient for them. It makes the playing field equal. It is only fair for them to be able to get information when they need it, because they may not have the time to go to the specific hour teaching assistants or instructors offer to get the information.
Studiosity provides a wonderful opportunity for students who are busy to access knowledge. I saw that as part of adding value to students, to bring more of an equal opportunity. This is the main reason why I feel that it is very useful. That's why my discussion with Studiosity has always been around the quality of those who are providing the service, making sure that it does not lead to adversely affecting the integrity of education.
"So I have I started with social issues. I'm ending the social issues. That is my passion, but I'm an engineer."
-----
Thank you to Dr. Shoukri for sharing his stories and advice. You can read an interview with Dr. Noreen Golfman, another member of our Canadian Academic Advisory Board, here.